MACON, Ga. - If anything could go wrong Saturday for the University of Tennessee at Chattanooga, it did.
And now the road to the Football Championship Subdivision playoffs just got exponentially harder.
Not all is lost for UTC after its 10-6 loss to Mercer in a key Southern Conference game at Five Star Stadium, but there's no doubt that it hurts.
The Mocs (6-4, 5-2) obviously wanted to win, but they wound up doing seemingly everything they could to lose despite totaling 285 offensive yards (171 passing 114 rushing). Cole Copeland threw two interceptions and lost a fumble. Running backs Ailym Ford and Tyrell Price also fumbled, the first for each this season. Aaron Sears missed an extra-point attempt and two field-goal tries, including one from 22 yards.
Meanwhile, the defense limited Mercer (7-2, 6-1) to just 163 yards of total offense and made some big plays.
UTC linebacker Ty Boeck, a Soddy-Daisy graduate, intercepted a pass and returned it 85 yards before running out of bounds at the Mercer 10-yard line late in the third quarter. But on the ensuing UTC possession and in a moment indicative of the day, Copeland and tight end Chris James couldn't fully connect on a third-down play in the end zone - James made a diving grab but dropped the ball once he hit the ground - and Aaron Sears missed his second field-goal attempt a play later.
"You're not going to beat anybody, it doesn't matter," UTC coach Rusty Wright said. "You don't deserve to win, honestly, and I can say that because we played hard, the kids fought their butts off defensively. We did offensively, too, but we just can't make those mistakes and win football games."
Ford's 10-yard touchdown run made it 6-0 early in the second quarter, but less than seven minutes later, the Bears went ahead with Fred Payton's 4-yard touchdown pass to Drake Starks and the extra-point kick.
UTC could still make the 24-bracket for the FCS playoffs. In fact, the Mocs' chances are better than average.
They'll be back at Finley Stadium for their regular-season finale against The Citadel (3-7, 2-5) at 1:30 p.m. next Saturday. Meanwhile, Mercer has to travel to face East Tennessee State University (8-2, 6-1), with the winner receiving the SoCon's automatic postseason berth.
If UTC wins and ETSU wins, Mercer won't have the seven Division I victories necessary to qualify for the playoffs, as the Bears elected to play a 10-game season with one contest against Georgia's Point University, an NAIA program. That could open the door for teams such as UTC and reigning SoCon champion Virginia Military Institute (6-4, 4-3) - if it can beat Western Carolina - to slip into the bracket.
"We just have to reel everybody back in," offensive lineman McClendon Curtis said. "This week everyone was locked in, and it had been a long time since we faced any adversity as an offense. Next week we just have to regather everybody and focus on what we're supposed to do to give ourselves an opportunity to go out there and win."
Photo Gallery
UTC football at Mercer on Nov. 13, 2021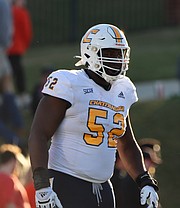 SATURDAY'S STAR
In addition to the interception, Boeck had seven tackles to help UTC shut down what had been a potent Mercer rushing attack, with the Mocs limiting the Bears to 56 yards on 42 carries.
SATURDAY'S STAT
The Mocs had nearly as many turnovers (five) as they did points (six).
TURNING POINT
Mercer kicked a 38-yard field goal to make it 10-6 1:31 to play. It seemed the Mocs would have one more shot at a comeback, but the Bears elected for an onside kick, with the ball glancing off UTC freshman defensive back Reuben Lowery before Mercer recovered it. The Bears then ran out the clock.
FINAL THOUGHT
Saturday was the second time this season the Mocs had a spotlight game of sorts, with the season opener against Austin Peay at Finley Stadium the first such contest. As was the case against the Governors, the Mocs did not get the job done. Things could still happen and the Mocs could make the playoffs, but if that doesn't happen, they can look back at performances like the one in Macon - where a big win was there for the taking - as to why they didn't.
Contact Gene Henley at ghenley@timesfreepress.com. Follow him on Twitter @genehenley3.