Increased food and transportation costs, labor shortages and supply chain disruptions are hitting local food banks hard as need ramps up during the holiday season.
Transporting food to the food bank is the biggest challenge right now, said Angela Eubanks, operations manager for the Chattanooga Area Food Bank. Transportation costs have increased by about 30%, with the cost of bringing in a truckload of food going from $300 in the past to around $500 now.
Since the cost of transporting a half-filled truck is the same as a full truck, it's particularly important right now to maximize that space, she said.
The key is getting creative, Eubanks said. That could mean coordinating orders with other organizations, such as a food bank in Nashville, to share the cost both of the truck and the food, or ordering larger quantities of different products from a single vendor in order to get a discount.
"While I may not be able to get a full truckload of green beans, I may be able to mix and match green beans with carrots, peas, sweet potatoes, canned potatoes and maximize [a shipment] from that vendor to where they'll give a bulk discount to fill the truck," she said.
Photo Gallery
Food insecurity in the Chattanooga area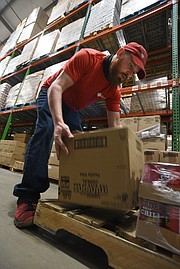 Sourcing fresh produce is not a problem, apart from higher prices, but frozen items such as chicken and turkey are harder to get. Beef, ham and some other pork products are also in low supply, Eubanks said.
"A lot of the retailers are having the same issue, so while we're all trying to get turkeys for the holiday season we're counting on smaller truckloads or donations," she said.
The food bank also has been sure to place orders for in-demand items well in advance in anticipation of potential delays, said Jennifer Fritts, the food bank's director of community engagement.
"We want to make sure that we're still providing the individuals and families that we serve the traditional products that we have that they need that are nutritious that their families normally eat," Fritts said, adding that even though the food bank planned well to ensure an adequate supply of food ahead of the holidays, donations are always needed.
Right now, the most needed foods are proteins, rice, beans, stuffing, soups and anything that's easy to open and microwavable, Eubanks said.
But the best way to help is to donate money, because even though the food bank is paying more for food - last year the food bank could provide four meals for $1, and this year it can buy three for the same amount - the food bank still is able to purchase food at a much lower cost than a person would pay at a retail store.
Another issue for the food bank is a lack of volunteers to sort and pack food, which requires the food bank to purchase more expensive, pre-packed produce, Fritts said.
[READ MORE: What it's like to be a Chattanooga Food Bank volunteer]
The food bank relies heavily on volunteers, but they dissipated with the start of the COVID-19 pandemic and many have not returned. Although the food bank is hiring temporary employees to do the work, it's difficult to fill those jobs, she said.
With the recent increase in food costs, Chattanooga-area food pantries have also seen in the past few months an increase in need, particularly from older adults seeking help for the first time, said Ken Sauer, who helps operate the Red Bank Community Food Pantry.
"We figure perhaps the grocery prices are getting so high that folks living on a very fixed income, maybe just living off of Social Security or something like that, are now getting to the point where groceries are getting too expensive for them," Sauer said. "So they're turning to the food pantry, and we're seeing a lot of new faces. And it breaks your heart every time you see somebody new."
He said the number of people the food pantry serves now is on par with or greater than the number served at the height of the pandemic. The pantry had started to see fewer people when stimulus checks were going out, but numbers had been increasing even before the surge in need that occurred this month, Sauer said.
And the increased need brought about by the pandemic is expected to last for years.
"While the need is higher now, and it seems like things are getting back to normal - we're not wearing masks and people are getting vaccinated and things have started to open back up - it's really important to remember that those vulnerable people that we serve, it will take them years to recover from the year and a half of negative financial impact that COVID caused them," Fritts said.
Contact Emily Crisman at ecrisman@timesfreepress.com or 423-757-6508.