Chattanooga Mayor Tim Kelly on Tuesday laid out a four-year plan to revitalize the city that includes goals for road and bridge projects that could be bankrolled by a new $1.2 trillion federal infrastructure bill.
Speaking at a JFK Club of Chattanooga meeting at the Feed Co. Table and Tavern, Kelly touted a "One Chattanooga" strategic plan that he said is not yet finalized. Although he touched on infrastructure projects, it isn't yet clear how much federal funding the city will receive from the bipartisan infrastructure plan President Joe Biden signed into law Monday.
What is clear, though, is that any money would help the city with much-needed repair projects.
"We were going to stage [the projects] over time, but it will help supercharge that process," Kelly said.
Some projects Kelly said the city would prioritize with the funds are the $15 million Wilder Street Bridge replacement project and the $30 to $35 million Wilcox Boulevard Bridge replacement project. Both bridges suffer from structural issues.
Photo Gallery
Chattanooga mayor lays out four-year plan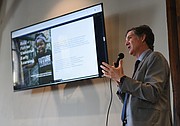 They are owned by railroad companies, which the city will be working with, and the replacement costs are estimates.
(READ MORE: Chattanooga Mayor Tim Kelly hits progress, not perfection, on 100-day plan)
Other infrastructure projects include repairs to the historic Walnut Street Bridge. The bridge, owned by the city, needs to have its decking replaced and be sandblasted, inspected and repainted, Kelly said.
As of last year, the project was estimated to cost $19 million and will begin in December 2022 at the earliest.
That bridge, originally built in the 1800s, was closed in 1978 and reopened as a pedestrian bridge in 1993. Since its re-opening, the bridge has undergone millions of dollars in upkeep, including a $2.7 million makeover in 2016.
Kelly said he was excited to see how much money the city will be able to acquire under the federal infrastructure package, but project timelines could be affected by supply and demand issues.
"I think the problem that we're going to face is a bottleneck of contractor supply," Kelly said. "Everybody's going to get this money at once. ... There's going to be a great deal of urgency around moving quickly."
In addition to infrastructure projects, Kelly emphasized the need to rebuild a missing Black middle class in the city, invest in universal early education and create additional affordable housing in the city.
Some of his plans, specifically affordable housing, were included in his initial 100-day plan that he released upon taking office earlier this year.
(READ MORE: Most Hamilton County Board of Education members say they'd rather leave party affiliation out of school board races)
Kelly, also noting a deep partisan divide, said a priority was to get partisan politics out of city issues. As he promised during his run for office earlier this year, Kelly said he has no plans to run for federal office. If he did, he said, it would be as a Democrat.
The office of mayor is nonpartisan, and Kelly avoided partisan politics during his campaign. But public records show he had a history of donating to Republican campaigns and voting in Republican primary elections until 2020, when he switched his donations to Democrats.
The JFK Club is a Democratic organization and gave him a warm welcome.
The most recent issue surrounding partisanship that the mayor touched on was the bill signed by Republican Gov. Bill Lee on Friday that allows local school board elections to be held on a partisan basis, something the city doesn't have control over.
(READ MORE: These Chattanooga-area restaurants will cook your Thanksgiving meal to eat in or serve at home)
Before the bill was signed, Hamilton County School Board members Karitsa Jones, Jenny Hill and vice-chair Tiffanie Robinson, who all represent parts of Chattanooga, told the Times Free Press they disagreed with making school board elections partisan.
"I think that's an abomination," Kelly said of the bill.
In addition, Kelly briefly touched on the city's search for a new police chief, which he has said will be one of the most important decisions during his time in office.
The new police chief will be hired by February, the mayor has said. He or she would take over for Deputy Chief Eric Tucker, who has served as the interim police chief since former Chief David Roddy retired in June.
Kelly earlier this month held his third and final public meeting to garner input from residents about their expectations for the next police chief.
Kelly's administration is now compiling input from the sessions and an online survey before taking the next steps, he said. The job has not yet been posted.
Residents have overwhelmingly emphasized the importance of community policing, according to those who held the group sessions. Their preferences included a need for more police officers walking the streets rather than driving by in their vehicles.
Residents also expressed interest in a chief that would embody the diversity of the community - through either their gender or race - with a history of living in the city.
Contact Logan Hullinger at lhullinger@timesfreepress.com. Follow him on Twitter @LoganHullinger.