The only way Cole Strange knows how to attack the things in his life is by going all-out.
After spending the 2016 University of Tennessee at Chattanooga season pushing a stroller around while nursing a lower-body injury, Strange was inserted into the lineup midway through the 2017 year, at left guard, a position he'd never played.
The talent was immediately recognizable, even if Strange didn't know what he was doing.
"He may not be doing the right thing every single play, but you know he's going to give 100% effort every single time," former offensive lineman Josh Cardiello said back in 2017. "He makes everyone play harder with how hard he plays: You think your block is over and here comes Cole going 120 miles per hour right next to you, so you've got to pick it up.
"His potential is through the roof; he will be a good player for this team."
Photo Gallery
UTC's Cole Strange earns invitation to Senior Bowl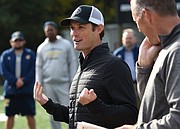 Cardiello couldn't have been more right about Strange, who has grown from that 255-pound freshman who couldn't even contribute to now a 6-foot-6, 300-pound two-time All-Southern Conference selection for the Mocs. Tuesday he accepted an invitation to the Reese's Senior Bowl in January, and it was no surprise to head coach Rusty Wright because of the work that he had put in to get to that point.
"It was just a drive in a human being that you don't see in most people to get better," Wright said. "Once he got healthy, he was like, 'I'm going to see how far I can push myself and go,' and it was crazy because he has pushed himself to limits, or to places, I didn't think people would let themselves get pushed."
To Wright's point, Strange needed to add weight. He did that, creeping up to as much as 315 pounds at one point. He needed to get better with his technique, so he worked tirelessly to get to that point.
Wright said that in workouts, Strange would make it a point to get to that next level and "see how freakin' strong and big he can be." In practices, he matches up daily with All-American defensive lineman Devonnsha Maxwell - he of the 28.5 career sacks, 11 this season - and the two just constantly find themselves in battles.
Strange, who started his career at tackle, mentioned Tuesday he feels comfortable playing guard, center or tackle (while admitting he needs some more work at the latter).
The Mocs entered Cole's final season with lofty expectations, but because of some inconsistent performances in key games during the season, he will potentially play the final game of his career this Saturday when UTC (6-4, 5-2) host The Citadel (3-7, 2-5). The Bulldogs have been a pesky team to face in recent seasons as the Mocs have won each of the past three meetings by one-point margins. But if this UTC team has any postseason aspirations, it's going to have to take care of business Saturday and hope some things work out in its favor so it can snag an at-large bid for the Football Championship Subdivision playoffs.
"I think a lot of people on the team believe in our hearts that we should have won (last week against Mercer) and you know, we shoulda, woulda, coulda," Strange said. "You can talk whatever you want. We didn't win.
"A lot of people believe that we're a lot better team than the record says. The chemistry on this team is better than it's been since I've been here, and it's a shame that it's turned out the way it has this season, but I don't think it will be a problem to get people to be locked in, even if it's the last game. From what I've seen personally from my unit and from what I feel like the rest of the team feels the same way, no matter if we're going to the playoffs or not we're going to play to win and to dominate."
Contact Gene Henley at ghenley@timesfreepress.com. Follow him on Twitter @genehenley3.