For more BlueCross Bowl coverage from the Times Free Press, read more here.
In much the same way our country always recognizes Thanksgiving on the fourth Thursday of November, the McCallie School football program is starting to become synonymous with the first Thursday in December.
The reason why: That's the date of the TSSAA's BlueCross Bowl state championship game for Division II-AAA.
The Blue Tornado, the two-time reigning champions, won their way back to that event for a third straight year on Friday night by whipping visiting Pope John Paul II Prep 47-7. So complete was the victory in all phases that the winners held a 410-221 edge in total yardage, scored a safety and had two interceptions of talented Knights quarterback Kenny Minchey.
"We're going to the 'ship! We're going to the 'ship!" McCallie players chanted, much as they had after the semifinal wins in 2019 and 2020.
"I guess it's kind of become a tradition," said senior quarterback William Riddle - who threw four touchdown passes on Friday, including three to Xavier Gaillardetz - as he discussed the chant. "We've worked so hard for this."
(READ MORE: Final scores and photos from Friday night's Chattanooga-area high school playoffs)
Photo Gallery
McCallie vs. Pope John Paul II Prep on Nov. 19, 2021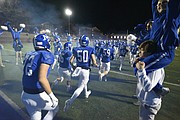 And unlike every past champ from Chattanooga, McCallie (12-0) will get a chance to become the first school from the Scenic City to win a state title in its own town when the Blue Tornado face Nashville's Montgomery Bell Academy (9-3), because all nine BlueCross Bowl title games will be played over three days at Finley Stadium, starting with the trio of Division II matchups on Thursday, Dec. 2.
"I don't think of it that way," Blue Tornado coach Ralph Potter replied when asked what it meant to guide his alma mater to a third straight title game. "We've just got to get ready to play MBA again."
MBA, which blew out Christian Brothers 42-14 in Friday's other DII-AAA semifinal, lost 34-31 to McCallie in the Music City back on Sept. 3.
As its has done so often this season, McCallie built a commanding halftime lead - 27-7 this time - then iced the outcome in the opening minute of the third period. The Blues got a safety on the opening kickoff, and then Riddle hit Gaillardetz for the pair's third score of the night to go ahead 36-7.
When Tario Price - who rushed for two McCallie scores - raced in from 21 yards at the start of the fourth, the running clock began against PJP (8-5), bringing a quick finish to the night. Weston Hammond also scored for McCallie on a 15-yard touchdown catch, and Alex Jacques added four point-after kicks and a 21-yard field goal.
"All year we've been ahead of teams and they've come back," Potter said of McCallie's occasional struggles to put opponents away. "Sometimes you don't have a plan for success."
Maybe, but when you're going to the 'ship for a third straight first Thursday in December, you must be doing something right.
Contact Mark Wiedmer at mwiedmer@timesfreepress.com. Follow him on Twitter @TFPWeeds.