The first big stage of Tennessee's current basketball season went a lot like the final big stage of last season.
With the Hall of Fame Tip-Off Tournament in Uncasville, Connecticut, serving as an impressive backdrop for a quartet of nationally ranked teams, the No. 17 Volunteers were throttled from the start Saturday afternoon and pummeled 71-53 by No. 5 Villanova. Jay Wright's Wildcats scored the first nine points and built a 35-15 halftime lead in the runaway rout, committing just seven turnovers while forcing Tennessee into 18.
The Vols coughed up 14 of their turnovers in the first half, when they shot 5-of-22 from the floor (22.7%).
"We let our missed shots affect us, and we lost our aggression on defense, but you've got to give them credit, too," Tennessee coach Rick Barnes said in a news conference. "Villanova is a big, strong, athletic team, and I would love to play them early every year, because I think they help you find out where you are with your team. The biggest thing you take from this is the mindset you have to have to compete at the highest level."
Saturday's showing for the Vols was reminiscent of their abrupt exit during the first round of the 2021 NCAA tournament, when they fell behind Oregon State by 19 points in the first half on their way to a 70-56 defeat. Unlike this past March, however, Tennessee (2-1) has a chance to bounce right back with Sunday afternoon's 3:30 matchup against No. 18 North Carolina, which fell 93-84 to No. 6 Purdue in Saturday's second game.
Photo Gallery
Tennessee men vs. Villanova on Nov. 20, 2021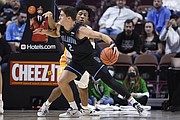 Villanova (3-1) rolled behind a balanced scoring effort, with Collin Gillespie, Jermaine Samuels and Brandon Slater collecting 14 points apiece and Justin Moore adding 13.
"We started off really well," Wright said. "We had a great first half."
Junior guard Santiago Vescovi led the Vols with a game-high 23 points, while none of his teammates scored more than seven. Freshman point guard Kennedy Chandler was 1-of-9 from the floor with two assists and three turnovers on his way to a six-point performance, while junior guard Josiah-Jordan James went 1-of-8 and was 0-of-6 from 3-point range in tallying two points.
"This is good for us, and it will help everyone on our team learn where we've got to get to," Vescovi said.
Chandler, who had dazzled in opening blowouts of UT Martin and East Tennessee State, picked up his second foul at the 10:48 mark of the opening half. When he returned to action roughly seven minutes later, Villanova was up 31-11.
"A lot of the stuff he's gotten away with in the past, he's not going to get away with anymore," Barnes said. "The hook passes over his head and ball screens - he's going to have to get more physical."
Contact David Paschall at dpaschall@timesfreepress.com or 423-757-6524. Follow him on Twitter @DavidSPaschall.