Judging by the first few weeks of 2021, the only thing the Tennessee football program was going to be thankful for this Thanksgiving was the end of another cruel season.
Hired at the end of January after the firing of predecessor Jeremy Pruitt and the departure of several key players through the NCAA's transfer portal, Josh Heupel appeared to be inheriting a tire fire, but he never saw it that way. He and his staff instead went to work on an entertaining team that will attempt to wrap up an unlikely 7-5 regular season Saturday afternoon against visiting Vanderbilt.
"I think outside expectations and outside noise are things that myself and our staff have tried to not pay attention to, and I think the players have bought into that as well," Heupel said this week. "From the moment I got here, I never placed a ceiling on what our football team could do. You've heard me say that we're in a race against ourselves, and I'm so proud of the growth from the first day that I got here to who we are now.
"Certainly, I've wanted some things to be better at the same time, too, but the growth of these individuals and collectively as a team has been really special. I think we've laid a great foundation to what we're going to be in the future."
Tennessee's 6-5 record to this point has included unexpected routs of Missouri, 62-24, and South Carolina, 45-20, a 45-42 upset of No. 18 Kentucky in Lexington and near misses against current top-20 teams Pittsburgh, 41-34, and Ole Miss, 31-26. The Volunteers even gained respect against their two elite opponents with significantly more talent, playing Alabama to within 31-24 early in the fourth quarter and battling Georgia to a 10-10 tie midway through the second quarter before those games got away.
Photo Gallery
Josh Heupel's first season with Vols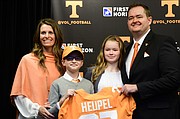 The Vols, who have a chance to finish 4-4 in Southeastern Conference play, enter their regular-season finale leading the nation in offensive plays per minute and tied for second in tackles for loss, but what was the genesis of this excitement? Some would claim the very first team meeting that coincided with Heupel's introduction.
"A lot of coaches will tell you when they go into a new program that the older guys are the toughest guys to get to buy into it because they feel like they're on the back end of their careers," Heupel said. "That hasn't been the case at all inside of our program. I think we've had great buy-in from everyone throughout the course of the process. After our initial meeting, I think there was some energy from them that, 'Man, maybe things are going to be different.'
"Like all players, though, I think your actions speak a lot louder than your words, and the consistency of what we did in those first two or three weeks was really important."
Ja'Quain Blakely is an undersized defensive lineman and sixth-year senior who could have easily hung up his cleats after last year's 3-7 collapse that included seven double-digit losses. Instead, he chose to use the NCAA's extra year of eligibility due to the outbreak of the coronavirus and give the third head coach and the sixth position coach of his college career a chance.
"It didn't take me too long," Blakely said this week. "Just coming in and knowing a little bit of their background and doing some research, it didn't take me long to know that these guys know what they say, say what they mean and that they came here for one thing: to win games. They were a group of coaches who really wanted to get Tennessee back to where it's supposed to be."
Winning an introductory news conference or team meeting, however, was going to be a cake walk for Heupel compared to moving forward with a roster that had experienced its share of frustration.
Another defensive lineman who opted to use the NCAA's extra season, fifth-year senior Matthew Butler, was quite candid at the start of spring practice: "Let's just be real here. I don't think it's an exaggeration to say that everybody in my 2017 class has considered leaving. We don't have the situation we want."
Tennessee's spring workouts were unlike any from before, with redshirt junior Cedric Tillman describing a 40-yard reception in which position coach Kodi Burns got on his case for giving the ball to the wrong official. It was an early teaching moment in Heupel's up-tempo system, but the staff balanced the crash-course sessions with ice cream and friendly dodgeball competitions afterward.
"When you get on the field, the first practice was different and the first padded practice was different," Heupel said. "They understood our expectations, but then they started to grow and feel comfortable, and I knew that they were going to have an opportunity to learn and grow and do it in a really positive way. I think throughout the course of the summer, there was buy-in just in the way that we were preparing them was different.
"They felt like they were getting stronger and getting in great shape to go compete, and then training camp was different with more buy-in. They had some success early in the season. They all have high goals, and I think they believe in the process that we've put before them."
Those same veteran Vols who questioned what 2021 would be like now realize they are the initial building blocks for 2022 and beyond, and they are quick to credit Heupel and his staff.
"Everybody respects each other's way of coaching and respects each other's grind," Butler said this week. "I can't really speak on the last staff. They had a different way of doing things, and that works, too, but this is working better for the University of Tennessee right now. There is a real camaraderie, and they are making each other better. No one player or coach or staff member is bigger than the team."
Said fifth-year senior safety Theo Jackson: "Obviously this place is going in the right direction right now. Being bowl eligible in Coach Heup's first season is big. He's turned this program around."
Taylor's invite
Tennessee cornerback Alontae Taylor has received an invitation to the Senior Bowl in early February in Mobile, Alabama. The 6-foot, 195-pounder out of Coffee County has 54 tackles, five pass breakups and two interceptions this season.
Contact David Paschall at dpaschall@timesfreepress.com or 423-757-6524. Follow him on Twitter @DavidSPaschall.