KNOXVILLE - For the first time all season, Tennessee's up-tempo offense didn't produce any first-quarter points.
It didn't matter.
A 55-yard interception return for a touchdown by senior safety Theo Jackson halted Vanderbilt's opening possession Saturday, and the Volunteers finally got going in a 441-yard offensive performance as they completed an unlikely 7-5 turnaround season with a 45-21 win before an announced crowd of 77,349 at Neyland Stadium. Jackson's interception accounted for the only points in the first 15 minutes, extending Tennessee's staggering advantage in the opening quarter this season to 169-44.
"That was crazy," Vols redshirt junior receiver Cedric Tillman said of the start. "Theo talks a lot about making a play like that, so I was excited for him, especially getting a pick-six on senior day. It was definitely different."
Jackson smiled afterward when recalling how he stepped in front of the Mike Wright pass, admitting that he wanted to avoid the wrath of secondary coach Willie Martinez.
"The play prior to that, he threw the same exact ball," Jackson said. "Coach Martinez got on to me about not getting out there fast enough, so once I saw that they were running the same play to the other side, I knew I had to jump it. The only thing I saw in front of me was green, so I knew I had to score."
Tennessee got its ground game going in the second quarter, with a Hendon Hooker 10-yard quarterback keeper setting up a 6-yard Jabari Small run to cap a 12-play, 59-yard touchdown drive that put the Vols up 14-0. The lead grew to 24-0 on a Hooker 24-yard pass to Tillman and a 31-yard Chase McGrath field goal, but Vanderbilt swiped some momentum at the halftime horn on a 56-yard Hail Mary from Wright to Will Sheppard.
Photo Gallery
Tennessee vs. Vanderbilt football on Nov. 27, 2021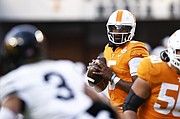 The Commodores (2-10, 0-8 Southeastern Conference) had only 102 first-half yards until their final play, with Tennessee (4-4 SEC) compiling 193 in the first 30 minutes.
"I thought defensively that we started super fast," Tennessee coach Josh Heupel said. "Obviously the pick-six by Theo was a great play by him. We played stifling, suffocating defense the entire first half until the final play, but I liked the way they came out and responded in the second half for the most part.
"We found a way to get into a rhythm offensively and get some things going."
Tennessee opened the second half with a two-play, 75-yard touchdown drive, with a 29-yard run by Hooker followed by a 46-yard pass from Hooker to Tillman that featured some nice perimeter blocking from Velus Jones Jr.
Small rushed 15 times for 103 yards and two touchdowns, while freshman backup Jaylen Wright had a season-best 112 yards and a score on 15 carries. Saturday marked the first time Tennessee had two 100-yard rushers since Small and Tiyon Evans turned the trick in the 38-6 season-opening win over Bowling Green.
Evans hasn't played since the Nov. 6 win at Kentucky and announced Friday morning that he was entering the NCAA transfer portal.
"It's special to do that," Small said. "I'm proud of the way we fought. The O-line blocked very well, and it was an honor to be a part of it."
Tennessee will now await its bowl destination and opponent, which will be revealed on Sunday, Dec. 5. Given the landscape at the beginning of the year that included the firing of former coach Jeremy Pruitt after a university investigation revealed NCAA Level I and II violations, any kind of postseason conversation seemed tempered at best.
"It was important for our program that we grew throughout the course of the season," Heupel said. "They're great competitors, which is the first thing you have to have, and they have been very consistent in that behavior. We never put a ceiling on this group, and they responded to that, too.
"They believe in who they are."
Contact David Paschall at dpaschall@timesfreepress.com or 423-757-6524. Follow him on Twitter @DavidSPaschall.