More businesses that sell plants for indoor spaces are taking root in Chattanooga as people spruce up their surroundings during the pandemic.
"Because of the pandemic, everyone was home and they wanted to decorate and they wanted to care for something that's not an animal or a long-term commitment," said Mina Pournaderi, who opened the Secret Garden in July in a historic house on Willow Street.
In addition to the Secret Garden and new downtown brick-and-mortar space for Joli Jardin, pop-up plant shop Botanica will open its permanent doors on Market Street on Oct. 9. Demand for plants has grown during the pandemic, but so have some of the challenges of operating, said Botanica owner Caitlin Hastings.
"A lot of people really got into plants and we saw an uptick in sales, but it has completely disrupted our supply chains," she said. "Everything is more expensive and harder to get."
At Bees on a Bicycle on Market Street, owner Cath Truelove has found herself helping more people who are new to houseplants and looking to learn, she said.
"It gives someone something besides themselves to focus on and take care of and have a relationship with," Truelove said. "At Bees, we handle lots and lots of newbies, and solve lots of different plant-for-a-certain-place issues," she said.
Considerations such as light exposure, temperature and even who else lives in the house - particularly pets and kids - influence what plant works where, Truelove said.
Photo Gallery
Plant businesses bloom in Chattanooga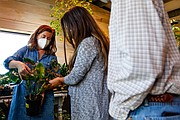 Plant Shops Sprout
Bees on a BicycleAddress: 1909 Market St.Online: beesonabicycle.comThe Secret GardenAddress: 1302 S. Willow St.Online: thesecretgardenchatt.comJoli JardinAddress: 1263 Market St.Online: jolijardin.coBotanica (opening Oct. 9)Address: 1010 Market St.Online: botanicabhm.com
"Sometimes there's a gap between what people want and what's realistic," she said. "We look at where can you put plants in your home, what plants might be good in your bathroom, in a sunny breakfast area, I work with people on Zen desktop gardens they can look at while they work."
Truelove, who opened her organic garden shop in 2017, started carrying houseplants about two years ago, and that part of her business has expanded steadily, she said.
"Now we typically carry 800 to 1,000 houseplants at a time," she said.
The pandemic had boosted interest in plants for greening indoor spaces, but it has also created demand for a less cheerful element of her work, Truelove added.
"Sadly, we've been doing a lot of bereavement gifts," she said. "We had four go out last week."
Pournaderi opened her shop on Willow Street after her pop-up plant business, Waterfall Nurseries, led to high demand.
"After doing pop-ups, I realized there's a shortage of wholesalers in Chattanooga for tropical plants, so Waterfall now is wholesale and we supply some plant shops and other pop-ups, and people kept asking when I was going to open a brick-and-mortar store," she said.
Pournaderi spotted the perfect place during a visit to a tattoo artist who rented space in the same building, and she opened the doors to the Secret Garden in July. Business has bloomed from the beginning, she said.
"It is absolutely incredible what the people of Chattanooga do for small businesses," she said. "I do feel really privileged to provide something that Chattanooga wanted."
Pournaderi's roots in the plant business go back to the start of the pandemic. She and her sister had just opened a health food store and yoga studio in Oregon in the fall of 2019. When the pandemic landed, they were left with a lot of square footage to pay for, and no way to cover costs. So they filled the space with plants, hoping people would want to buy.
"Because we decided to go into plants, we blew up," Pournaderi said. "I don't think we would have blown up if it weren't for the pandemic."
Pournaderi moved to Chattanooga about a year ago to be near her mother, and ended up turning her side hustle doing plant pop-ups into a full-time business.
"It just took off, and I love doing this, so why try to pursue another path when this is working for me?" she said.
She does caution her customers about one thing when it comes to collecting plants, though, Pournaderi added.
"I warn everybody it's highly addictive," she said. "Know that you're not going to want to stop."
Hastings, who launched Botanica in Birmingham in 2018, now has three locations of the shop and a similar warning for new plant parents.
"There's something about a living plant, caring for it, watching it grow," she said. "It's addictive - it's a slippery slope."
Contact Mary Fortune at mfortune@timesfreepress.com. Follow her on Twitter at @maryfortune.