RINGGOLD, Ga. - Ringgold stayed undefeated in GHSA Region 6-AAA football Friday night, but not by much.
The Tigers led by 14 with 3:37 left, but they had to survive a late rally from visiting LaFayette for a 24-17 win. Ringgold went to 7-0 overall and 5-0 in the region, while the Ramblers dropped to 3-3 and 2-2.
"They've got a great football team," Ringgold coach Robert Akins said of LaFayette. "We're fortunate to get out of here with a win, but sometimes an ugly win is better than a pretty loss."
Ringgold asserted itself early, forcing a three-and-out on the game's first series and taking possession on the Ramblers' 42-yard line after a short punt. Ringgold scored six plays later, when quarterback Mason Parker hit Malachi Hill from 17 yards out. Landon Eaker's extra point made it 7-0 just three minutes in.
LaFayette looked headed for another three-and-out on the next series, but Ringgold muffed the punt and the Ramblers recovered at the Tigers' 41. LaFayette's Jaylon Ramsey covered the last 28 of those yards on two carries, including the last 15 for the tying score with 4:31 left in the first quarter.
(READ MORE: Final scores and photos from Friday night's Chattanooga-area high school football games)
Photo Gallery
LaFayette at Ringgold on Oct. 8, 2021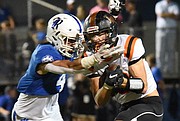 The Ramblers edged in front when, with 7:27 left before halftime, kicker Jacob Brown drilled a 30-yard field goal. The lead lasted less than 90 seconds, though, as Parker led the Tigers 80 yards in just six plays. Peyton Williams scored the go-ahead touchdown from 2 yards out with 6:09 left in the first half.
After a scoreless third quarter, Ringgold's Eaker hit a 25-yard field goal to make it 17-10 in favor of the hosts. Five minutes later, the Tigers' Jevon Coney intercepted Ramblers quarterback Zach Barrett.
Taking over at the Ramblers' 38, Parker needed only two plays - a 30-yard throw to Jordan Wideman followed by a 6-yard scoring toss to Williams. Eaker's kick made it 24-10 Ringgold, with 3:37 left.
But LaFayette wasn't done. Barrett rallied the Ramblers and got his team within seven when he hit Jacob Zwiger for a 9-yard touchdown with 58 seconds left. LaFayette then recovered an onside kick, but a sack of Barrett by Ringgold's Dre Morris helped preserve the Tigers' lead and ultimately the win.
"Our defense stepped up, but that's what they've done all year," said Akins, who singled out Lafayette's Ramsey, who led all rushers with 21 carries for 115 yards
"Ramsey hurt us all night," Akins said.
Ringgold came in leading the region in rushing offense at 269 yards per game on average, but Parker's arm proved the difference. The Tigers quarterback completed 12 of 20 throws for 176 yards and two touchdowns.
"We knew we'd have to throw it around more because [Lafayette] is really solid up front," Akins said. "They're No. 2 in the region on defense for a reason. They're good. We probably didn't throw it enough."
Contact Bob Gary at sports@timesfreepress.com.