The Chief Vann House in Chatsworth, Georgia, has been added to the National Park Service's National Underground Railroad Network to Freedom for its significance in slavery and the struggle of those enslaved to break their chains.
"We were accepted into the program with our stories of enslaved Africans who sought freedom through means of escaping," Chief Vann House Historic Site curator and preservationist Irina Garner said in an email. "It's actually the only Georgia State Park exhibit about enslavement in North Georgia."
The Vann House is among 18 new listings in 11 states from the 42nd round of applications, according to Network to Freedom officials. Those will be listed alongside 695 other sites already in the network, providing insight into the experiences of freedom seekers who bravely escaped slavery and those who assisted them.
A plantation listing is unique, according to Network to Freedom spokesperson and visual information specialist Amanda Pollock. Other network sites often show indigenous tribes helped slaves to freedom, but Cherokee Chief James Vann's plantation was very different, Pollock said.
"The Vann House is an important addition to the Network to Freedom because it is one of the first sites where people of African descent were enslaved by and escaped from indigenous people," she said. "After the death of Chief James Vann, his son continued to enslave people, and freedom seekers continue to flee."
The Vanns sought to emulate their wealthy European counterparts, she said, but those European descendants had ideas of their own that would affect the Vann family and their slaves in 1835 when they were forced to leave Georgia behind on the Trail of Tears.
Photo Gallery
Chatsworth's Chief Vann House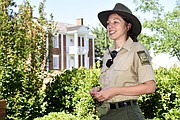 (READ MORE: Archaeological work underway near God's Acre Cemetery at North Georgia's Vann House)
During the 1790s, James Vann came to power as a Cherokee leader and wealthy businessman, establishing the largest and most prosperous plantation in the Cherokee Nation covering 1,000 acres, operating with the labor of more than 100 slaves.
When Chief Vann was slain in 1809 at nearby Buffington's Tavern at the age of 44, slaves continued to escape from the plantation as the control of the property fell to Vann's overseer, and then later his son, Joseph, who also became a Cherokee leader, according to park service officials.
"The Vann House is representative of a complicated and painful past," Pollock said. "The documentation of the Vann House in the network is a step towards a telling a more complete version of Underground Railroad history and American history."
NATIONAL UNDERGROUND RAILROAD NETWORK TO FREEDOM
The National Underground Railroad Network to Freedom honors, preserves and promotes the history of resistance to enslavement through escape and flight, which continues to inspire people worldwide. The network currently represents over 695 locations in 39 states, plus Washington D.C. and the U.S. Virgin Islands, and through its mission, the Network to Freedom helps to advance the idea that all human beings embrace the right to self-determination and freedom from oppression. Source: National Park Service
The stories of Vann's slaves were documented by Moravian Church missionaries who lived on the Vann plantation, Garner said, noting there are no surviving business records from the Vann family.
"During the Civil War, the Cherokee nation was burned to the ground and all letters, records, slave records, pictures, were lost during that time," Garner said. "The best documents we have are from the Moravians who wrote letters and logs for 30 years, which were sent to Winston-Salem, North Carolina. So if a slave had dealings with the missionaries, we know about their existence. If the missionaries didn't write it, we don't know it."
The missionaries - brought to live on the plantation to convert and instruct the Cherokee children - were not usually sympathetic to the slaves' plight.
(READ MORE: Chatsworth's Vann House cabin restoration under way)
"The Moravians were not ones to speak against enslavement, they themselves owned slaves," Garner said. "They would scold James Vann for not letting a slave receive final rights before execution, but not more than that."
But it's the missionaries' records that bring slavery at the plantation into focus, and some contain bone-chilling accounts.
After a slave named Isaac - one of Vann's most notorious who played fiddle for him in the early days - ran away from the plantation several times between 1802 to 1805, taking other slaves, cash and horses with him, and sometimes weapons from Vann's home, Vann decided to burn him alive as punishment, records show.
Vann assembled all the plantation's other slaves and made them watch.
The burning took place the same year Vann purchased a group of West African slaves at the port in Charleston, South Carolina, and marched them to his Georgia plantation. Along the way, a woman named Patience was so frostbitten her feet were amputated. She became a seamstress on the plantation and was forced to crawl around the plantation on her knees.
According to the missionaries' records, during the years she was enslaved, Patience lost two spouses and gave birth to two children. Patience lost her first husband to a drowning in the nearby creek that some other slaves suspected was possibly murder and her second spouse was sold away from the plantation.
In 1811, Patience sought help from the missionaries, prompting another recording of heartbreaking events.
"We had to cry when we saw her coming while crawling on her knees across the field with her two little friendly children at her side She took off her old felt hat, which was completely torn up, and gave each of her hungry little children a small piece of molded wheat bread, which she had apparently gleaned from the Negroes and guarded between her hat and her head We then gave her sufficient food for herself and her children and as much milk and bread as she and the young ones could carry to take home with them."
Patience attended services from time to time but the missionaries struggled to communicate with her because of her heavy African accent.
The Moravians wrote about what happened to Patience a couple of years later after a new white overseer named Samuel Talley was hired.
According to records, Talley was so cruel to slaves that the plantation's other white employees quit rather than work with him, and he was often inexplicably and violently cruel to Patience, beating her unmercifully.
In May of 1813, missionary John Gambold wrote what officials say is the last known accounting of Patience. It is horrific.
"Early in the day on the 11th, Mr. Williams came from the [Vann] estate and complained that he cannot endure it and will have to leave because the overseer [Talley] treats the Negroes really cruelly. He whips them quite mercilessly sometimes for little things, sometimes with no reason at all. He has even horribly beaten dejected Patience, who has no feet and is expecting her confinement very soon Talley hit her on her knees and stepped on her with his feet so severely that for several hours afterward she remained lying on the spot where he had abused her."
The fate of Patience and her children remains unknown.
In 1835, the Vann family along with other Cherokees were forced west on the Trail of Tears to Oklahoma.
Applications for significant sites to add to the Underground Railroad Network are accepted and reviewed twice a year to verify their connections to the Underground Railroad, according to the program's manager.
"Each time we accept new listings, we are reminded of the power Underground Railroad histories hold today," national program manager Diane Miller said in a news release.
The network "looks to tell the entire story of a freedom seeker's journey," Pollock said. "This includes the places from which they escaped. By including escape sites in the network, we gain insight into the wide range of motivations behind escape, the main one being, of course, freedom."
According to Vann House historical information, a small minority of Cherokees owned enslaved people of African descent. In the Cherokee Nation, fewer than 10% of the households owned slaves compared with 20% of the U.S. population at the time.
By 1835, Joseph Vann had 110 slaves, according to officials, however, at that time there were only 207 slaveholders in the Cherokee Nation as a whole and only three Cherokees owned more than 50 slaves. The vast majority of Cherokees who could afford slaves had fewer than 10.
According to the 1835 Cherokee census, there were 1,590 Africans and African Americans listed as slaves in the Cherokee Nation.
Contact Ben Benton at bbenton@timesfreepress.com or 423-757-6569. Follow him on Twitter @BenBenton.
Vann House timeline
1768: James Vann is born 1798: Vann's son, Joseph Vann, is born 1803: Construction begins on the Vann House and continues through 1804 1805: The Vann family moves in March 24. In August, a group of slaves enters the Vann House and takes $3,500 from a chest in James Vann's bedroom, among other items 1807: Thousands of Cherokees gather at the Vann House in October for the annual distribution of gifts 1809: James Vann is murdered at Buffington's Tavern in February. His will gives his wife, Peggy, the furniture and leaves Joseph everything else 1811: In December a powerful earthquake centered in New Madrid, Missouri, shakes the Cherokee Nation. The Moravians report damage to several homes in the Springplace, Missouri, area 1814: The estate of James Vann is finally settled with the Cherokee Council awarding additional property to family members not named in the will. Joseph still gets the Vann House and most of the plantation, earning the nickname "Rich Joe." 1819: U.S. President James Monroe visits the Vann House in May and spends the night in the upstairs guestroom. 1832: The Georgia Land Lottery awards the Vann House to Thomas Turley, who dies before taking possession. 1835: In March the Vann family is forced out of the house under the leadership of William Bishop. Spencer Riley (boarder and legal advisor) received title from the Turley estate. Riley and the Georgia Militia exchange gunfire over possession. The militia seizes the Vann House and use it for the next few years. 1838: The remaining Cherokees are forcibly evicted and sent west. 1838-50: Roger McCarthey, the Bank of Georgia, Benjamin Snider and Henry Weed own the Vann House. 1850-63: James Edmonson is the homeowner and adds a wing on one side of Vann House. One of his slaves is Levi Branham who later writes a book, "My Life and Travels." 1863-75: Vann House escapes damage during the Civil War and is owned by William Tibbs. 1875-77: John Bryant is the homeowner. 1877-95: O.C. Goins is the homeowner. 1891-1901: Mrs. Thomas Dill is the homeowner. 1901-06: C.T. Owens is the homeowner. 1906-17: D.D. Kemp is the homeowner and the Daughters of the American Revolution places a marble historic marker on the side of the house in 1915. 1917-20: Ownership transfers to C.E. Dooley, then J.W. Sellers. 1920-52: Local doctor J.E. Bradford purchases the house and uses it as rental property until the 1940s when it stands empty. 1952: The Murray-Whitfield community raises funds and purchases the Vann House from Bradford for $5,000. Ownership is transferred to the state of Georgia. 1958: Thousands gather for the dedication of the restored Vann House on July 27. 2005: The Chief Vann House is listed on the National Register of Historic Places. Source: Chief Vann House Historic Site