Chris and Cristi Moody did everything right.
"We did the things we were told we were supposed to do," says Cristi, 37. "We got good grades, we lived in big cities, we worked hard, but we were sold this bill of goods."
The Moodys are millennials who came of age in the shadow of 9/11, took out student loans to cover skyrocketing higher education costs, and graduated from college as the Great Recession hit.
They hoped to build financial stability and make steady professional progress, but instead found themselves grappling with lives that revolved around relentless work, paying off daunting debt, and managing the high price of big-city living, first in Washington, D.C., and then in New York City.
"Our student debt made us prisoners to these high-paying jobs," says Cristi, a Florida native and the daughter of Cuban immigrants who came to the U.S. as children.
Raised on bedrock beliefs in a nonstop work ethic and the value of higher education, Cristi graduated from college in 2007 and law school in 2011, when she joined a glut of young attorneys fighting for work in a wobbly economic recovery. "Most people were lucky to get a job at all," she says.
Chris, 36, a Southern California native who worked as a political journalist, found himself immersed in his career to the exclusion of nearly every other aspect of his life, he says.
"Our lives were entirely focused on work," Chris says. "If someone had asked about my hobbies, I would have been lying if I said I had any."
Then, on Valentine's Day 2018, Chris was laid off from his job as a journalist at CNN. He suddenly found himself questioning everything.
"My identity was not based on anything other than work," Chris says. "When you base your identity on something that can be taken away, you make yourself vulnerable in ways you couldn't anticipate."
Instead of continuing to aim at targets they weren't even sure they wanted to hit any more, the Moodys decided to go in search of another way of life. The adventure was Cristi's idea, Chris is quick to say. She had already shifted her legal career from political work to a focus on nonprofits, and was ready to take an even bigger leap.
"She said, 'Let's build a house in an old van and go try and find people who are doing [life] better,'" Chris says.
The layoff felt like an opportunity to change everything, and she didn't want to let that opportunity get away, Cristi says.
"It felt like a sign," she says. "We decided, let's pursue this."
The Moodys got rid of nearly everything they owned, giving most of it away, left their apartment in New York City and bought a used Ram ProMaster van. During a month staying with family in Florida, they built it out, installing solar panels, furniture and a water tank.
In May 2018, they started driving, living in 72 square feet on their quest to find a different American dream. Over two years, they covered 50,000 miles, documenting the lives of other full-time travelers and deliberate minimalists all over the country for a book they're writing called "Life Opted Out."
"Not everyone is going to live in the extremes, but you can learn a lot from the people at the margins," Chris says.
They routed around disasters, including wildfires, followed the weather so they spent the warm months in the North and the cooler months in the South. They got creative about where to park for the night and how to score a shower - a cheap Planet Fitness membership helped with that - and they learned to be comfortable with a new level of uncertainty.
"One major lesson is that you have no control over circumstances," Cristi says. "We learned to be flexible. The van didn't allow you the illusion of control."
In the fall of 2019, they found themselves taking a detour to Chattanooga, visiting Cristi's brother, whose wife had just had a baby.
"Living in Chattanooga was not on our radar," Chris says. But he found himself sitting on his brother-in-law's porch in St. Elmo, looking idly at a house for sale across the street, and thinking, 'Why not?'
"The first thing anyone in Chattanooga ever said to me was a man I held a door for who said, 'I appreciate you,'" Chris says. "I had never heard that before. Everyone we met was the nicest person we'd ever met."
Hold that thought. We'll come back to it.
Photo Gallery
On the road to a new way of life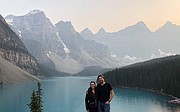 How We Got Here
Millennials were born between 1981 and 1996, and the oldest of them are 40 this year, definitively shedding their mantle of the youngest generation in the room.
Their formative years have been marked by the rapid transition to a digital world, the steeply rising costs of education, and the increasingly rocky climb to traditional means of building wealth, including home ownership. They also grew up on the receiving end of advice about student debt that doesn't bear out in the modern economy, Chris says.
"We had some pretty devastating student loans breathing down our necks," Chris says. "You're told to get this education. I'll never forget the day the counselor stood up in front of my high school class and said college debt was 'good debt.'"
They were kids, and they believed what they were told, he says.
"We should all take responsibility for our actions, but we were told this while we were young and impressionable, when we still trusted adults," Chris says.
The average cost of college in the United States is $35,720 a year - a cost that has tripled in 20 years, with an annual growth rate of 6.8%, according to educationdata.org. In 1963, the total cost of a four-year-degree was $42,220 in 2020 dollars (or $5,144 before inflation). In 1989, the same degree cost $52,892. By fall 2020, a bachelor's degree was $101,584.
Millennials became the largest generation in the workforce in 2016, according to the Pew Research Center, but they owned just 4.6% of U.S. wealth through the first half of 2020, according to data from the Federal Reserve.
In some respects, that makes sense; millennials are young. But the same data also shows millennials have much less wealth than boomers did at the same age. In 1989, when baby boomers were around the same age as millennials are today, they controlled 21% of the nation's wealth - nearly five times the portion of wealth millennials own now.
That said, the Moodys aren't complaining about their circumstances. In fact, they're grateful for the opportunity to shake up what they thought their lives would look like, to ditch a culture of consumption for one of minimalism and thoughtful decisions about what they carry, both literally and figuratively.
"To choose how you live is an immense privilege," Chris says. "It's so easy to come across as preachy, and have people feel judged. We're not telling people how to live. We're just suggesting that people can question their lives."
Where to find Chris and Cristi Moody
* Instagram: @LifeOptedOut* Twitter: @Moody* Website: LifeOptedOut.com
What's Next
Over their two years of van life, the Moodys built freelance careers, and Chris began selling his work to big publications including the Washington Post, New Republic and Outside magazine. But they did have a brief spell when they tried to return to the life they had left.
In December 2019, figuring they had been adventuring long enough, the Moodys returned to New York City and, in most respects, picked up where they left off. They got a place, found steady work.
"We tried to shoehorn ourselves back into our old life," Chris says.
They kept the van, though, storing it when they just didn't feel ready to let it go. Just a few months later, in March 2020, the COVID-19 pandemic landed on their doorstep.
"We got back in that van with nowhere to go," Chris says.
They did it all over again - got rid of their place and their stuff - and spent the summer hunkered down in upstate New York. As August drew near, and the isolation started to get to them, they pointed the van south, heading back toward family and Chattanooga.
A year ago, they found a studio apartment in Passenger Flats on Chattanooga's Southside - a positively luxurious 350 square feet - and parked the van. This time, they plan to sell it, and they're looking for a house.
"Chattanooga is home," Chris says. "I love it here."
But, once again, economic forces are working against them. The Moodys are confronting historically tight housing supply, a national run-up in real estate prices, and strict mortgage requirements that make it hard for them to get financing - despite excellent credit - because they work as freelancers.
At the end of July, houses in the local market were spending an average of just 16 days on the market - less than half the time they spent in 2020 and less than one-third the time they typically spent on the market in 2016. At the end of July, the median sale price was $265,000. In 2019, the median price was $203,085. In 2016, it was $160,400.
Federal Reserve data on home ownership reveals the stark difference in millennials' progress establishing their financial footing compared to earlier generations.
In 1990, when baby boomers hit a median age of 35, they owned nearly one-third of American real estate by value. In 2020, the millennial generation, with a median age of 32, owned less than 11 percent.
The Moodys imagine they'll make themselves at home in Chattanooga, continue to build freelance careers, and perhaps have a family, which they concede would change things in their quest for a life of minimalism.
"It is so easy for a childless millennial to spout off about this," Chris says. "We know life will change drastically if a child comes into our lives."
As they wait out the volatile housing market and a pandemic that has upended everything, the say they're using the lessons they've learned over the last few years to rebuild their American dream on a new foundation.
"We have to live in a way that's intentional," Cristi says.