DECATUR, Tenn. - A matchup between two of Region 3-2A's hard-hitting football powers went down to the wire Friday night.
It's not an exaggeration to say the game was a matter of inches when it came to going either way.
Tyner quarterback Josh Jackson's potential winning 2-point conversion run with two minutes left fell just short as Meigs County freshman linebacker Bryson Hiefner delivered a crucial hit to keep a 19-18 lead intact that would hold up for the state-ranked No. 1 Tigers on their home field.
Logan Carroll was emotional after the victory for Meigs County (8-0, 2-0). In his first game playing all 48 minutes this season - runaway victories had prevented that before Friday - he rushed for two scores and had an interception to help his senior class finish its high school career without a regular-season loss at home.
"This was a hard-nosed battle with two great teams who are both very well coached," Carroll said. "A lot of people said we would fold under pressure in a tougher region this year, but we stood tall and battled back through adversity tonight. I can't be more proud of this group. Everyone stepped up to make plays - even young kids."
(READ MORE: Final scores and photos from Friday night's Chattanooga-area high school football games)
Photo Gallery
Meigs County vs. Tyner on Oct. 15, 2021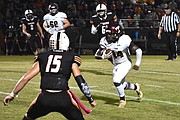 Tyner (6-2, 2-2) displayed toughness on a night Jackson threw for 230 yards on 17 completions. The 6-foot-4 junior completed two touchdown passes on long fourth downs to Jarius Cameron and Marcus Lewis Jr.
Jackson threw a perfect fade to the back left of the end zone to Lewis with 2:19 left in the fourth quarter to cut the Tigers' lead to one. Lewis finished with four catches for 122 yards.
Deonta Talor also stood out as he rushed for 43 yards and juked two defenders out for a 13-yard rushing score in the first half. The senior linebacker also tipped a pass for one of the Rams' two first-half interceptions to help build a 12-7 halftime lead.
However, coach Jason Fitzgerald's Tigers fought back, and Cameron Huckabey was a key force in the rally.
The versatile senior returned a punt for 30 yards and took a late hit out of bounds to set up a Carroll rushing score to regain the lead midway through the third quarter. On the Tigers' next possession, he threw a 70-yard trick pass down the right sideline to senior Jackson Shaver to put the home team ahead for good at 19-12.
Also, Meigs County's defensive line of senior Ben Smith, junior Dalton Purgason and senior Da'quan Tatum were fierce up front and made big hits behind the line of scrimmage.
"We knew Tyner was just as good as any team we will play this season," said Huckabey, who also hit booming punts of 40 to 50 yards throughout the victory. "Going into halftime, we knew we had to push through sloppy play and find a way to win. I am so proud to play for this school. I have so much respect for our coaches and players. I just try to go out there and do what I can to the best of my ability."
The win for the Tigers sets up a showdown on Oct. 29 at Marion County (7-0, 4-0). The victor will be the region champion.
"This is an awesome win for us. Both teams showed a lot of heart and guts," Carroll said. "Huckabey stepped up on that big trick play and does a lot for this team. Before the game he benched 315 (pounds). He is all business, and I can't be happier for him and all of our seniors."
Contact Patrick MacCoon at pmaccoon@timesfreepress.com. Follow him on Twitter @PMacCoon.