SOUTH PITTSBURG, Tennessee - Lodge Manufacturing, America's oldest manufacturer of cast iron cookware, is expanding for the third time in the past decade.
Lodge plans to create 239 new jobs by the end of next year in a $59 million investment to grow and reconfigure its existing facility and add more manufacturing equipment to enhance production, officials said Friday.
Founded in 1896, Lodge is a fifth-generation, family-owned company that manufactures the largest selection of American made cast iron cookware and is already Marion County's biggest private employer with 600 employees..
Mike Otterman, president and CEO at Lodge, said the business has grown because of its commitment to quality, innovation, people and community. During the pandemic when more people spent time at home cooking, Lodge cookware sales jumped even more.
"Our business has been growing for 20 straight years, but the pandemic definitely helped accelerate our growth," he said. "Consumers in the U.S. and around the world are spending more time cooking and cooking in cast iron makes everything taste better."
Lodge has carried out a string of expansion projects over the past decade and Otterman said he thought the latest addition in 2017, which boosted production capacity about 75%, would handle sales growth for at least another decade. But four years later, work is already underway to boost capacity another 25% at the South Pittsburg foundry.
Lodge has expanded into bakeware as well as grilling products, Otterman said.
"We also continue to expand into more countries and gain more customers," he said.
Lodge also is preparing to expand into enable cookware and is developing plans for Cast iron Museum adjacent to its factory store ad a new Lodge restaurant to promote the company brand and draw more people to South Pittsburg.
Photo Gallery
Bill Hagerty visits Lodge Cast Iron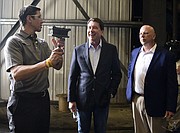 Marion County Mayor David Jackson, who worked at Lodge Manufacturing for 34 years before being elected county mayor in 2014, said the county is negotiating property tax breaks for Lodge's expansion.
"We are very excited for Lodge and its employees," Jackson said.
Tennessee Gov. Bill Lee welcome the manufacturing investment Friday in an announcement of the project.
"For 125 years, Lodge has called South Pittsburg home and relied on skilled Tennesseans to make products that last for generations," Lee said.
Lee Riddle, one of the family owners of the privately held firm, said Lodge remains committed to American manufacturing and its home in South Pittsburg.
"I think it is something in our DNA that we want to build our own destiny here and we want to remain a U.S. manufacturer," Riddle said.
Lodge has grown into the largest U.S. cast iron cookware manufacturer over the past century.
In 2017, crews erected the biggest building constructed in Marion County to that point. The 212,000-square-foot distribution center built for Lodge consolidated its four other warehouse facilities into a complex. The distribution center stores thousands of Lodge cast iron skillets, dutch ovens and other cookware before they are shipped to customers around the globe.
At that time, Lodge also began a $90 million expansion of its 127,000-square-foot South Pittsburg foundry where all of its products are forged and packaged.
In January 2015, the company completed an earlier expansion that replaced its melt center, added a sand system and a molding machine.
South Pittsburg Mayor Samantha Rector said the new Lodge restaurant where "thousands more cast iron lovers will come to see what's cookin'" in the city.
Plans are for an alteration of an existing building attached to the current factory store for the museum and restaurant.
U.S. Sen. Bill Hagerty and U.S. Rep. Scott Desjarlais, both Tennessee Republicans, toured Lodge Friday afternoon and praised the new investment and its impact on their constituents.
"It's really encouraging to see this type of economic growth developing right here in Tennessee and I think it is occurring because we have a great business climate and strong, conservative policies," Hagerty said.
Otterman said the jobs being created at Lodge offer starting hourly wages from $15.15 to $17.15, depending upon the position, and the company offers both profits sharing bonuses and 401(k) retirement benefits.
The company was founded in 1896 by Joseph Lodge. It began as The Blacklock Foundry, named after Joseph Lodge's minister, but that foundry burned down in May 1910.
Three months later, Lodge rebuilt the foundry under its current Lodge Manufacturing name.
Contact Mike Pare at mpare@timesfreepress.com or 423-757-6318. Follow him on Twitter @MikePareTFP.