The University of Tennessee at Chattanooga men's basketball team held its Blue & Gold intrasquad scrimmage Thursday evening at McKenzie Arena, a game won 43-35 by the Blue team.
Malachi Smith scored a game-high 16 points for the Blue, with teammate Darius Banks right behind him with 15, including 10 in the first half. KC Hankton had 12 to lead the Gold team, while University of Central Florida transfer Avery Diggs added 10 with six rebounds.
David Jean-Baptiste missed the game due to illness, while fellow senior Joshua Ayeni was present but didn't play as he works his way back from injury.
The Mocs are preparing for their fifth season under coach Lamont Paris. They will host the College of Wooster in an exhibition on Nov. 4, then open the regular season Nov. 9 against Loyola Marymount in Los Angeles. The home opener is Nov. 14 against UNC Asheville.
Photo Gallery
UTC men's basketball Blue & Gold scrimmage 2021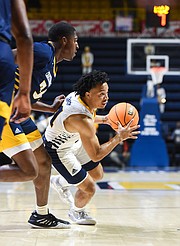 Here are three observations about the Mocs after the Blue & Gold game.
1. De Sousa looks 'different': Because he's a former four-star prospect, the belief was that Kansas transfer Silvio De Sousa would be an immediate help for the Mocs. That belief was confirmed when, on the winning basket, the 6-foot-8, 245-pounder caught a pass in the post, took one dribble and threw the ball in the hoop. He finished with just four points, but his greatest impact was on the defensive end, where he had five rebounds, three steals and two blocks. The Mocs finished last in the Southern Conference in rebounding average (33.9 per game) and rebounding margin (-1.0) last season, and De Sousa will help with that.
"He's a different physical type of talent out there," Paris said. "I'm glad he's on our team."
2. Newcomers will help: Paris tried his best to address the team's weaknesses this offseason. De Sousa is a big part of that, but Diggs (6-10, 255) is another big body. He showed he could score inside, but he also stepped out and hit a 3-pointer, and that could open up the offense. He can also strengthen the Mocs' interior defense, which was one of the worst in the league last season. Then there's junior college transfer guard Tada Stricklen; Paris called him the team's "best on-ball defender."
"Everybody's still trying to find what their niche will be," Paris said.
3. Walker improvement: Paris put former East Hamilton standout Jamaal Walker on the second team this preseason, forcing the 6-5, 185-pound sophomore to "do more." It looks like it, too: Walker appears more mature on the court, seems more confident. He got pressed into action as a freshman and a former walk-on, and he answered the call on numerous occasions, and now he looks ready for a big sophomore year.
"It's been a metamorphosis from his freshman year," Paris said. "He probably gets fewer reps than anybody on what would be called the main group, I guess. I think for his development it's good, but he's going to play. He's going to be a significant piece for us."
Contact Gene Henley at ghenley@timesfreepress.com. Follow him on Twitter @genehenley3.