BIRMINGHAM, Ala. - Rashun Freeman scored 30 touchdowns during a standout prep football career for the Ooltewah Owls.
Despite that volume, one would think that he'd never have a touchdown as short - or as easy - as the first in his University of Tennessee at Chattanooga career: The senior defensive back stepped in front of Samford quarterback Liam Welch's pass at the Bulldogs' 1-yard line and walked in for the score Saturday afternoon.
But no, Freeman had actually done it once before - for the Owls against McMinn County.
"I recognized the formation," Freeman said of what he saw before his interception and touchdown in the Mocs' dominating 55-13 win against Samford at Seibert Stadium. "I know they're a team that likes to throw screens a lot, and we ran a coverage where I could play more aggressive.
"Once I saw how the receivers were lined up and their demeanor off the ball, I shot to the play. The quarterback threw it, and I was able to make the play."
Freeman was part of a stalwart defensive performance by the Mocs in the 42-point blowout, their second-largest margin of victory in a series they now lead 33-10-3 after winning six in a row against Samford and 10 of the past 11 meetings. UTC forced four turnovers - three interceptions and a fumble - and sacked Welch twice, and now the Mocs are 4-3 overall and 3-1 in the Southern Conference heading into next Saturday's 1:30 p.m. homecoming game against Furman (4-3, 2-2) at Finley Stadium.
Samford (3-4 2-3) came into the game fourth in the Football Championship Subdivision in passing offense (347.7 yards per game) and total offense (491.5 yards per game), but at halftime the Bulldogs had been held to 71 passing yards and 78 total and trailed 31-3 on the scoreboard. The Mocs had forced three turnovers by then, and a UTC offense that was already moving the ball at will turned those takeaways into 17 points prior to Freeman's pick-and-score play.
The Mocs entered the game ranked in the middle or worse among SoCon teams in almost every offensive category, but they finished with 492 yards of total offense (299 passing, 193 rushing). Cole Copeland passed for 261 yards and two touchdowns and rushed for two scores, and UTC running back Ailym Ford's 139 rushing yards were a game high - by 101 yards. The UTC receivers averaged 23.7 yards per catch, with Jamoi Mayes leading in receptions with three and tight end Chris James netting a career-high 83 yards on his two catches.
Brandon Dowdell and Jerrell Lawson also had interceptions for the Mocs, and Ben Brewton and Jay Person each had a sack as the Mocs finished with nine tackles for loss, including two by Person. The total tackles were spread out, with Freeman and CaMiron Smith leading the Mocs with five apiece.
"We played like a football team for the first time all year," UTC coach Rusty Wright said. "The last three weeks we've practiced better and we've done things better day to day. We're consistently starting to make our way to being a better football team."
Photo Gallery
UTC at Samford football on Oct. 23, 2021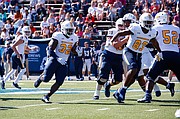 SATURDAY'S STAR
Death. Taxes. The UTC defense putting forth a dominating performance. It's not uncommon at this point, but considering how potent Samford's offense was going into the game, holding the Bulldogs to just 200 yards of total offense was a pretty impressive feat.
SATURDAY'S STAT
Copeland, who had averaged 155.8 passing yards per game entering Saturday, finished with a season-high 261 yards. Samford counterpart Welch, who had averaged 347.7 yards through the air, finished with 131.
TURNING POINT
The Mocs wasted little time grabbing the momentum. Samford had a three-and-out possession on the game's opening series, and then Copeland found running back Tyrell Price for a 42-yard touchdown pass on UTC's first play from scrimmage. Less than a minute into the game, it was 7-0 and the Mocs never looked back.
FINAL THOUGHT
It was hard to wipe a smile off Wright's face after the game. Winning - especially in that fashion - will do that. Dominating a quality opponent on the road is no small task, and the Mocs made it look easy. Nothing was won in terms of championships Saturday, but these Mocs are beginning to look like a team that is capable of competing for one.
Contact Gene Henley at ghenley@timesfreepress.com. Follow him on Twitter @genehenley3.