For the second straight season, the University of Tennessee at Chattanooga held a fourth-quarter lead against a Football Bowl Subdivision opponent.
And just like last year's 13-10 loss at Western Kentucky, Saturday's 28-23 defeat at Kentucky wasn't about a moral victory as much as the little things that cost the Mocs in the end.
The talent gap between Group of Five programs such as Western Kentucky and Football Championship Subdivision schools such as UTC is starting to shrink. Wins over FBS opponents are becoming more common for FCS schools. In that regard, UTC needed not look further than this season and its two primary rivals, East Tennessee State and Jacksonville State, beating Power Five programs Vanderbilt and Florida State, respectively.
The Mocs defeating the Wildcats, a Southeastern Conference team hovering around the top 25 in the national polls, would have looked even better on the upset scale, and the visitors had their chances in Lexington, holding a 16-14 edge after Aaron Sears' third field goal with 13:27 to play in the game.
But as better teams tend to do, Kentucky responded with a seven-play, 77-yard drive that ended in a wide-open Izayah Cummings hauling in a 31-yard pass from Will Levis. That was followed by a pick-six, with Kentucky's Tyrell Ajian intercepting a Cole Copeland pass and returning it 95 yards to effectively put the game away as the Wildcats improved to 3-0.
"This is a different animal you're dealing with than playing Western Kentucky and those kind of folks," UTC coach Rusty Wright said. "This is a different set of dudes when it's all said and done."
It was the type of game Wright wants to see his teams play. UTC forced three turnovers and turned those into six points on two field goals by Sears. The Mocs held the ball for four more minutes than Kentucky, and they had only one turnover (although it was a costly one). Ailym Ford and Tyrell Price combined for 169 yards on the ground, and Copeland was efficient, completing 21 of 35 passes for 168 yards and a touchdown.
UTC almost matched the Wildcats' offense, generating 339 yards to Kentucky's 348.
But the end game was a loss, and now the Mocs, who fell to 1-2, have two weeks before beginning SoCon play against Western Carolina on Oct. 2 at Finley Stadium.
Photo Gallery
UTC at Kentucky football on Sept. 18, 2021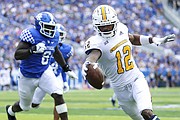 SATURDAY'S STAR
Ford's Twitter handle is "limfordisabeast," and he was just that against the Wildcats with 128 yards on 21 attempts for his second consecutive 100-yard rushing game and the eighth of his UTC career. The longest run Kentucky had given up all season was 14 yards, but Ford had had a 48-yarder and four double-digit runs total.
SATURDAY'S STAT
More on UTC's running prowess: Kentucky had allowed a total of 120 rushing yards in wins over the University of Louisiana at Monroe and Missouri, but the Mocs had 171 and a score on a nice fake and 2-yard scramble by Copeland that cut the lead to 28-23 late.
TURNING POINT
Kentucky had just gone up 28-16 before the Mocs drove downfield in an attempt to regain the lead. UTC reached the Wildcats' 35-yard line, but sensing some pressure up the middle, Copeland lofted a pass into the end zone that was intended for Tyron Arnett but intercepted by Ajian, who made use of a convoy of blockers en route to what turned into the game-sealing score.
QUOTABLE
"I knew we'd have an opportunity. I knew my kids would play great, and I knew they'd play hard and they did. There were some times where their ability took over our ability and moved us and did things and stuff like that, but I knew we'd go play and give ourselves an opportunity, and I knew it'd be close. Once we got to halftime and I knew what the score was and we were still there, I was like, 'We'll be in this thing for the long haul.'" - Wright
"I'm not necessarily disappointed. We've got to make plays - I've got to make plays - so I let them down as well. I missed on a couple of throws, and the pick-six was crucial. We let them off the hook." - Copeland
"They're a good team. Obviously they're in the SEC, so week in, week out they have to play strong opponents. I give them credit; they made enough plays to win, and that's what you had to do in this game." - UTC defensive back Rashun Freeman
FINAL THOUGHT
Games like this one are why in the preseason the Mocs were ranked in the FCS national polls and picked as the favorites to win the SoCon. The defense forced takeaways; the offense ran the ball well and received some timely passing from Copeland. If this particular team shows up the next eight games, the Mocs will be hard to beat, because while other teams will challenge UTC, there isn't another team in the SoCon as talented as the one it just faced.
Contact Gene Henley at ghenley@timesfreepress.com. Follow him on Twitter @genehenley3.