The federal cost for cleaning up lead-contaminated soil on Chattanooga's Southside has jumped more than fourfold, from $25.8 million to $113.5 million over the next decade.
The spike comes as sample testing by contractors for the Environmental Protection Agency determined at least 433,000 cubic yards of lead-contaminated soil should be removed from the area to protect residents from lead poisoning. The project entails removal and remediation work to clean up 1,892 properties.
"The number of properties requiring remediation and the cost of the remediation are significantly higher than originally estimated," EPA said in a notice of its budget change.
The soil in eight different Southside neighborhoods were contaminated over the past century from residue generated at more than 60 iron, brass and bronze foundries that operated in Chattanooga for nearly a century, until the 1980s.
EPA spokesman Jason McDonald said foundry sand from those factories was used as fill dirt and spread as topsoil at hundreds of properties before lead in such sand was discovered and later regulated by EPA.
Photo Gallery
Lead cleanup in Alton Park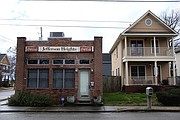 The agency began investigating complaints about high lead levels in the soils of Alton Park homes a decade ago when residents began complaining about lead poisoning and put the Southside site on its Superfund National Priorities list in September 2018.
The sites with lead-contaminated soil include eight neighborhoods - Alton Park, Cowart Place, Jefferson Heights, Southside Gardens, Richmond, Highland Park, Oak Grove and East Lake.
Jasmin Jefferies, remedial project manager for the EPA regional office in Atlanta, said the agency has completed sampling about 46% of the residential properties identified as potential lead-contaminated sites in the eight affected neighborhoods in Chattanooga.
"Awareness of the possibility of lead-contaminated soil came about in 2011 when a resident who had been admitted to the hospital was found to have elevated blood lead levels," Jefferies said. "As a result, a series of soil tests took place in the surrounding area of the resident's home, followed by a site investigation throughout multiple neighborhoods to determine the extent of the lead-contaminated soil."
Lead poisoning, considered to be the top environmental threat to children's health, comes from a variety of sources, including homes, water, soil and some workplaces and affects about one out of 11 children between the ages of 1 and 5 who show potentially harmful levels of lead in their blood, according to the Tennessee Department of Health.
EPA has contracted with Tetra Tech to perform the soil sampling and CMC Environmental Services to dig up and remove the top 12 to 24 inches of topsoil at properties identified as having lead-contaminated soil from the foundry sand.
Find out more
The EPA is conducting online public hearings about its cleanup plans for Chattanooga's Southside Superfund site at noon Thursday, Sept. 23, and at 6 p.m. on Tuesday, Sept. 28. Details at bit.ly/cha-cleanup.
Depending on the weather, coronavirus restrictions and public participation, the cleanup is projected to take eight to 10 years to complete, McDonald said.
EPA must obtain property owners' permission to perform soil samples and to do any remediation work on the residential properties in the area. With many of the homes and properties leased to tenants, EPA has not always been able to reach property owners to gain permission for the testing and possible cleanup of the sites.
Former Chattanooga City Councilman Erskine Oglesby, who helped push for the cleanup of the sites during his four years on the council, said he is pleased EPA is committing additional funding to the cleanup project, and he urged residents and landowners to cooperate with and support the soil sampling and cleanup, when necessary, to help address the public health challenge from the lead-contaminated soil.
"This can't stop because of funding, and I'm glad to see EPA do its due diligence and to continue to work to address this problem," Oglesby said. "This is a problem that has been here for a long time; it is affecting people's health, and it affects the economic viability of these neighborhoods."
McDonald said the lead contamination in Chattanooga constitutes one of the most expansive cleanup sites resulting from the use of contaminated foundry sand.
The foundries poured molten metal into molds, which were formed by sand. While the foundry sand was reused, some was removed from the process periodically, and the foundry residue sand was often distributed to builders and residents to use as fill and topsoil.
McDonald said the lead remains in such sand and can lead to lead poisoning or health problems, especially among younger children playing in contaminated dirt.
EPA said the extent of the lead was higher on many properties than originally forecast. As a result, the volume of soil removed per property increased from 84.5 cubic yards in the original plan to an average of 229 cubic yards in the actual cleanups.
The average cost to clean up each property increased from $23,520 per property to approximately $60,000 per property.
Contact Dave Flessner at dflessner@timesfreepress.com or at 423-757-6340.