Dozens of residents gathered at the Westside Community Center on Monday evening to walk in unity with law enforcement and community leaders after a series of weekend shootings in Chattanooga that claimed the lives of 37-year-old Labrecia Dews, 21-year-old Keniqua Hughes and 21-year-old Jailen Wofford.
Activist Ladarius Price with Placing Emphasis on Kids organized the community action walk. He said his goal was to get people out consistently to walk "hand-in-hand" with those who are suffering and to teach people who live in Chattanooga, particularly children, that violence is never the answer.
Price, who mentors area youth through the On Point program, worked with both Hughes and Wofford before their deaths and described their loss as a "punch to the gut."
"One of the lives that was taken out here was a former student of mine, one I had the opportunity to mentor in middle school and high school," Price said. "Keniqua was a very bright young lady. She was vibrant. She was so smart and intelligent, very witty and fun. She knew what she wanted out of life. That hurts. She was on the right trajectory when you think about life, and her life being prematurely taken away makes so many thoughts go through your head. It has hit me to my core.
(READ MORE: Tennessee reports sharp increase in homicides in 2020, mirroring national trend)
"This weekend is something you don't get used to," he said. "This isn't normal behavior, and we don't want it to be a reoccurring event in our communities. I'm tired of funerals, tired of 'Rest in Peace' T-shirts and people talking about things for a day or so. It can't be back to business as usual. Enough is enough. We want the community to say, 'We're tired of this, we're fed up and we're changing things.' Someone needs to do that for the people growing up and living here so that they can see what to model."
Price described Wofford as someone who was "always laughing, always having a good time."
"He was a good kid. Every time he saw me he told me he was staying out of trouble because as his mentor I was always on him to stay out of trouble, and he did," Price said. "He was a father and now those kids will grow up without a father in their lives. Prayerfully, someone will have to stand in the gap for them. It's a cycle a lot of times in our communities that impacts generations. So, once again, we want to show people this isn't how it has to be. Our kids don't have to and shouldn't have to grow up fearing something like this might happen."
Photo Gallery
Community Action Walk in Chattanooga's Westside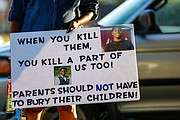 (READ MORE: Three dead, several injured after weekend shootings in Chattanooga)
Shortly after 10:30 p.m. Saturday, officers with the Chattanooga Police Department arrived at the 1100 block of Grove Street after a report of several people shot in the area. Officers found six shooting victims. Two women, Dews and Hughes, were dead at the scene. Four other victims, also women, were taken to a local hospital. They are reportedly in stable condition.
Another victim suffering from non-life-threatening wounds left the scene before police arrived and was taken to a hospital via personal vehicle. Before the shooting, the women attended a community event for current and former neighborhood residents.
No names were released for the five injured victims, who were ages 26, 24, 21, 19 and 14, according to police. The assailants fled before investigators arrived, police said.
Earlier Saturday, just before 6 p.m., police responded to reports of a shooting in the 5300 block of Old Mission Road. Police found a 45-year-old man injured there who was later taken to a local hospital with a non-life-threatening gunshot wound, according to investigators.
(READ MORE: Four dead, two charged in McMinn Saturday shooting over small child)
Another shooting in the 3400 block of Campbell Street shortly before 10:30 a.m. Saturday claimed Wofford's life. Police arrived to find Wofford suffering from a gunshot wound, and he later died at a local hospital. No suspect details are available, investigators said.
An 11-year-old girl who lives in the Westside neighborhood where Dews and Hughes lost their lives attended the community walk Monday and said she was afraid. Her family asked that she not be identified by name for the same reason. They fear that even saying they are scared could result in retaliatory action.
The girl said she wanted to address the crowd. She wanted to try and make others understand how it feels to wake up one day and no longer feel protected in your home or neighborhood. Even going to the park, she said, she feared she might "get hurt or be shot by somebody."
(READ MORE: Sohn: Chattanooga's shootings harm us all, and police need our help)
"All we did that night is have fun," the girl said. "We can't even do that without people coming to kill people. They came and killed two people. It makes no sense at all. People lost they life and got took away from their kids, and they're not coming back no more. Once they're gone, they're not coming back. It makes no sense."
Police Sgt. Jason Holmes said anyone afraid to speak out about violence or potential leads in any of the cases could speak to him. One of the reasons he joined the police force, he said, was to be a voice for communities in need and to bring knowledge of how to work with police to solve problems.
"We have a rule out here: see something, say something. If you don't want to speak or you're scared, I'll speak for you. It takes a village, right? Who is that village? It's us. We have to be that," Holmes said. "It shouldn't take an 11-year-old to talk sense to grown-ups. I have an 11-year-old myself, and to hear this young lady be brave enough to step in front of individuals she don't even know to say, 'Help me. Help us,' that's something. We gotta do something, y'all. This 11-year-old just challenged us to step up and make a difference. We can't let her down."
Holmes also encouraged anyone who might be afraid to reach out to others in the community to discuss it. The community, he said, is stronger when it works together.
(READ MORE: Janet Hinds found guilty of vehicular homicide by intoxication in 2019 death of Chattanooga police officer)
Michael D. Gordon, president and CEO of The Pursuit of Happiness for Underserved and Under-Resourced Youth, said the organization will offer free in-home trauma counseling at no charge for any family dealing with trauma as a result of the incidents. The free counseling is made available through private donations, he said.
"There are so many young kids waiting for someone to knock on their door to provide relief and to be a voice for the powerless," Gordon said. "We want to help. Don't hesitate to reach out to us if you feel like you need someone right now. That's what we do, and we know the heart of this community is hurting."
Chattanooga police are asking anyone with information about any of the shootings to call 423-643-5100 or submit a tip through the police department's mobile app. Tipsters can remain anonymous.
Contact Kelcey Caulder at kcaulder@timesfreepress.com or 423-757-6327. Follow her on Twitter @kelceycaulder.