In the spring of 2020, two high-level members of Perry Stone's organization - a ministry leader, along with a Bradley County Sheriff's Office lieutenant who is Stone's head of security - were disgusted by the alleged sexual misconduct of the Cleveland, Tennessee-based televangelist.
The two men - in recordings of meetings and conversations obtained by the Chattanooga Times Free Press - expressed concern about their public image being connected to Stone.
The law enforcement officer described Stone as exhibiting "a predatory lifestyle." The ministry leader said Stone had a "severe problem, probably a mental illness" and was living in a "false reality" about the situation, according to the recordings.
Yet, nearly two years later, both men remain active in Stone's ministry and have played integral roles in defending Stone - one comparing the misconduct allegations against Stone to Jesus at the crucifixion and the other by physically removing a Stone critic from ministry property.
The nearly six hours of audio obtained by the Times Free Press offers a glimpse inside Stone's internationally known Voice of Evangelism ministry in the spring of 2020 as Stone, his board of directors and other employees learned about the allegations of sexual harassment and assault against the televangelist. The allegations, from women either employed by or connected to the ministry, included groping, unwanted kissing, showing women he was aroused while fully clothed and rubbing himself, as well as asking women in his ministry about their breasts.
The recordings were turned over to federal investigators, as well as agents with the Tennessee Bureau of Investigation. The TBI has interviewed at least five people who claim to be victims or are connected to Stone's ministry, according to three people who were present for the conversations. The state's investigative agency is in possession of a list of at least nine alleged victims as well, according to a recording of a phone conversation with an agent obtained by the Times Free Press.
A spokesperson for TBI confirmed the agency was investigating Stone at the request of Steve Crump, district attorney general for Bradley, McMinn, Monroe and Polk counties. As of Tuesday, the investigation was active and ongoing.
In a statement to the Times Free Press, Voice of Evangelism spokesperson John Rodriguez said the ministry conducted a thorough investigation and took appropriate action.
"Although different time lengths for the forced leave of absence were discussed, after an extensive review the decision was made that six-month was appropriate," the statement said. "The investigation revealed that no acts of adultery were committed. Some of the accusations were withdrawn, some of which were not signed or, identified as to authorship and others of which the ministry leadership team found were not convincing or were otherwise unreliable."
The statement went on to say, "In the heat of the moment and with emotions running high, words that were expressed in a private setting out of sincere concern for Perry are now being used to malign the ministry."
'I'll be destroyed'
On April 8, 2020, leaders in the ministry confronted Stone with some of the allegations, saying they received 12 letters from alleged victims detailing Stone's behavior. At first, Stone denied being around the women, then told the ministry leaders when he shakes the hands of women they think he is coming onto them, according to a recording of the conversation.
Stone said the allegations could not be made public. He told ministry leaders he would kill himself and shut down the ministry.
"I'm going to go commit suicide up in the mountains and end this thing," Stone said, speaking directly to one of the ministry leaders. "Listen to me, before God, I'm going to go take pills in the mountains ... because I can't put up with this. I am a very sincere person but I have almost no friends, man. And I have almost no friends because of s-- like this."
Stone, in explaining his behavior or attempting to undermine those making accusations against him, claimed an alleged victim had a mental illness and that someone was stealing gold from him, in recorded conversations obtained by the Times Free Press.
"I can't shake a woman's hand, 'Oh, he's coming on to me,'" Stone said. "Pat them on the back, 'Oh, he's coming on to me.'"
He also said he was lonely and his wife, Pam Stone, was not showing him affection.
"I will take my life before I let the ministry go down. I swear to God I'll take my life," Stone told the other ministry leaders on April 8, 2020, one of whom was said to be in possession of the letters containing the allegations. "No, no, no, no. This is going to get bigger. If he's got letters, it means they're talking. The ministry is ruined. I'm going to shut [Omega Center International] down and sell the building. I need to. I need to shut OCI down and sell the building and forget everything I'm doing. And if Pam Stone knows this, Pam Stone will leave me. Oh, she'll find out. She'll find out. And by accusations I'll be destroyed, so what do I have to live for?"
Continuing coverage
The Times Free Press is continuing to investigate Perry Stone and his ministries. If you have any information you believe can help, please contact Wyatt Massey at wmassey@timesfreepress.com or call 423-757-6249.
During the April 8, 2020, confrontation, a ministry leader asked Stone what he would do if his daughter was molested by someone in the ministry. Stone did not give an answer.
Bryan Cutshall, president of Stone's International School of the Word, in a recorded meeting where Stone was not present, said Stone and his wife had said the televangelist is impotent, a claim denied by a victim during the meeting and contradicted by two alleged victims who told the Times Free Press that Stone either showed them he was aroused or rubbed himself in front of them.
Rodriguez said in the statement that emotions were high during the time the recordings were made.
"Statements made by Perry, at the time of the recordings, were made by a hurting and distraught man who was in fear of losing his family and ministry over accusations," Rodriguez said in the statement. "Thankfully, we serve a loving and forgiving God who provides through his grace full restoration."
The statement closed with this: "As we make this statement Pam and Perry are off celebrating their 40-year wedding anniversary. Their marriage is stronger than it's ever been."
The recordings reveal board members and ministry employees considered forcing Stone into retirement and shutting down his ministries, specifically the youth ministry Omega Center International.
In a May 13, 2020, board meeting discussing possible settlements with alleged victims, board member Frank Booke said organizations should have three years of operating expenses in savings but Voice of Evangelism had at the time "enough money to run the place for one year."
Booke, reached by phone, declined a Times Free Press request for comment.
The members of Stone's board, as of December 2019, were Booke, Rick Towe, Gary Sears, Grant Dunnam Sr., Frankie Powell and Wayne Penn.
In the summer of 2020, the Alabama-based ministry The Ramp took over operations at Omega Center International. Karen Wheaton, founder of The Ramp, is married to Towe, a board member who was present in multiple meetings discussing the allegations against Stone.
During recorded conversations with alleged victims and others connected to the alleged victims, board members and employees repeatedly asked alleged victims whether they had talked to the media or intended to pursue legal action.
Cutshall told an alleged victim in an April 21, 2020, meeting that many people would lose their jobs if the ministry shut down, according the recording. He said the judicial system is run by "ungodly people" who would want to tear down the organization.
Cutshall told an alleged victim in the April 21, 2020, meeting that Stone was acting irrationally and he did not know whether the televangelist could be helped.
"I think we all know that Perry has a severe problem, probably a mental illness that needs to be dealt with at some point, that has to be dealt with now. It's not at some point in time. It's come to the forefront," Cutshall said.
Photo Gallery
Perry Stone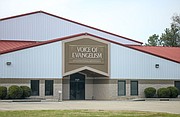 Cutshall went on to say people in the ministry had been concerned by Stone's conduct for some time.
"It's a lust problem. It could be a mental problem. It could be all of it," he said. "We've watched him go down in front of our eyes. We've watched these antics accelerate for a while knowing that something was not right. We couldn't put our finger on it until now. And now we realize that, even his pity party on Facebook, either that was a cover-up or a cry for help or both."
It is unclear what Facebook post Cutshall was referring to in the conversation. More than 500,000 people follow Stone on Facebook, where he posts religious teachings, videos interpreting dreams and predictions related to current events.
Later in that meeting, Cutshall agreed with an alleged victim who said Stone seemed to make up situations that never happened.
"That's part of this whole thing that scares me," Cutshall said. "He's got a false reality, and that's the whole thing that bothers me."
Cutshall did not respond to a Times Free Press request for comment. Former employees of Stone identified in the recordings declined to answer questions from the Times Free Press, stating they could not talk about the situation.
In November 2021, Cutshall was moved to oversee Stone's Omega Center International ministry as leaders of The Ramp shifted operations back to Alabama. During the evening announcing the new role, Cutshall compared the situation of a woman accusing Stone of sexual misconduct to the crowd heckling Jesus before the crucifixion.
Perry Stone and his ministries
Perry Stone lives in Bradley County, Tennessee, where the headquarters of his ministries are located. Stone operates Voice of Evangelism, Omega Center International (which has partnered with The Ramp) and the International School of the Word. Stone has more than a half a million followers on Facebook and regularly posts videos interpreting current events through the lens of biblical prophecy.Stone has traveled nationally and internationally preaching for more than four decades. He has written dozens of books about prophecies and claims to have predicted the Sept. 11 terrorist attacks and the coronavirus pandemic.
Security director
Court Services Lt. James Bradford of the Bradley County Sheriff's Office - who identified himself in an April 22, 2020, conversation as Stone's security director - told someone connected to the ministry the allegations were making him question the organization's leadership.
In the recorded conversation, Bradford said he had not personally witnessed anything criminal but said he was concerned by Stone's alleged conduct and the possibility of him returning to ministry.
"I believe in restoration. I know people have their shortcomings, even ministers. But you're not just dealing with a moral failure here. You're dealing with a predatory lifestyle where he is victimizing those who he has authority over and that, in itself, is a very big problem," Bradford said. "How do you restore that? Get the person help. See what's going on with him, what made him do whatever has been done. But anything past that, trying to put him back in the same position that he's in, how can you justify that by putting that person back in the position and then you get another victim?"
In the conversation, Bradford said he thought Stone should resign, otherwise Bradford would. Bradford said if he resigned he would put in writing his reason for leaving.
"I'm going to make sure that it is on record on why I resigned because I am not going to let him control the narrative," Bradford said, referring to Stone. "My name in law enforcement is everything. So I'm not going to bow out and not offer a resignation letter and then he come out, they restore him and then he starts talking about me in front of everybody, saying I did this, I've done this, I stole stuff."
Bradford did not leave the ministry.
In November 2021, during the Tuesday evening meeting when Cutshall's new position was announced, a woman interrupted Stone and accused him of assaulting women. Bradford was one of the security guards who escorted the woman off the property, according to a recording of the incident obtained by the Times Free Press.
The Times Free Press spoke to Bradford by phone on March 31 for comment. Bradford requested his quoted comments from the recordings be sent to him, along with Times Free Press questions. He did not respond after the quotes and questions were sent.
For years, Stone has hired off-duty sheriff's office employees to help with security at his events. Since August 2017, Stone's ministries have paid the Bradley County Sheriff's Office more than $104,000 for off-duty work, according to data from the sheriff's office. Some of that money was paid by The Ramp ministry in 2020 and 2021. Stone's ministries have donated $36,500 to the sheriff's office to buy body cameras and cameras for patrol vehicles.
The sheriff's office also used property owned by Stone and his ministry to do K-9 and hostage negotiation training, as well as a SWAT training in 2017, according to a statement from Bradley County Sheriff Steve Lawson.
The recordings, specifically those of ministry board meetings, contradict some statements made by the ministry after the Times Free Press published details in December 2021 about the allegations made against Stone, including the allegations concerning groping and unwanted kissing.
In a statement to Charisma News, the Voice of Evangelism board said the Times Free Press story about the allegation was "lacking in true journalistic substance, and most of all the sources were offered and granted anonymity, allowing the story to be sensationalized." Charisma News promotes Stone's religious teachings through its media channels. The founder of Charisma Media also accused the Times Free Press of sensationalism.
However, in a May 13, 2020 meeting, board member Gary Sears said the ministry's board would gather documentation of allegations but said statements from alleged victims would not need to include the alleged victims' names. In a meeting about two weeks later, Sears said he believed the allegations against Stone were true and alleged victims were "not exaggerating."
"Do we believe that there's a problem? Yes, we do. No doubt in my mind," Sears said in the May 13, 2020 meeting.
Sears did not respond to a Times Free Press request for comment.
The Times Free Press reported in December 2021 the board had received letters from nine women in the spring of 2020 detailing allegations of misconduct. In internal meetings, though, a board member made reference to "20 girls" who were allegedly involved. (The Times Free Press does not have any information that suggests any alleged victims were underage.)
Voice of Evangelism did not dispute the allegations against Stone when the Times Free Press provided a series of questions to the ministry in December 2021. Stone, as well as the ministry, has claimed to have more information that would clear Stone's name or undermine allegations against him. The Times Free Press requested any such information but the ministry has so far not provided it.
Rodriguez said in a statement the board determined "no one has made any accusations of any misconduct which would involve any considerations other than civil considerations."
The ministry's statement did not reference the specific allegations of sexual assault and harassment.
In an April 30, 2020 meeting that was recorded, board members Sears and Booke expressed doubts about whether Stone could be restored to leadership after a six-month sabbatical.
"With everything we've heard, it's going not to be a six-month, it's going to be a two-, three-year or more until we can get this thing where Perry can be delivered or whatever," Booke said in the meeting.
The board of directors created a restoration plan for Stone in the spring of 2020, which included professional counseling, medical care, removal from social media and absence from ministry for six months.
During an October 2020 gathering at Omega Center International, posted to YouTube on Oct. 29, 2020, Sears welcomed Stone back to the stage, telling the crowd Stone was "rested and equipped, strengthened" from his time off.
Stone told the crowd he had been dealing with serious health issues.
"I went under the worst depression that I had been under," Stone said. "I knew it was a spirit attack. And then I got hit by other things that we won't go into detail with."
Rodriguez said in a statement that Stone continues to follow the guidelines created by the ministry's accountability team created to "evaluate his spiritual, emotional and physical health and help to lead the ministry forward."
"The ministry leadership team took the proactive and justifiable measures at the time to place Perry on a six-month forced leave of absence," Rodriguez said.
Nearly all people interviewed in previous reporting by the Times Free Press asked their names not be made public for fear of retribution from Stone or his followers. From the stage or to his hundreds of thousands of online followers, Stone has said some people who speak against him are demonic. He described a dream he said he had in which he killed a fish, which he said represented a person who was standing against his ministry.
Speaking out
Kimberly and Roger Keith began working for Stone's ministry in 2002, Roger as a manager in the shipping department and Kimberly as a secretary. The couple had followed Stone's ministry for years and moved to Cleveland to be a part of it.
Stone has a serious temper, Roger Keith said, and the couple thought Stone's behavior around women in the ministry was inappropriate but they did not see anything that was criminal.
However, people in the ministry began to confide in them about what happened, leading up to when the misconduct allegations became public in 2020. Shortly after, Roger Keith came across an Aug. 7, 2020, blog post written by Darin and Amanda Shiflett, founders of Kingdom Life Ministries. The couple said they counseled some alleged victims one-on-one when they lived in the area and the situation "involves many victims dating back several years."
Roger Keith shared the article with employees in his department. He said he was concerned the negative media attention could cause donors to stop supporting the ministry and, if so, the shipping department could face job cuts. He wanted to warn his employees since leadership was not addressing it, he said.
How this story was reported
In early 2022, the Chattanooga Times Free Press obtained nearly six hours of recordings from inside Perry Stone's various ministries — Voice of Evangelism, Omega Center International and the International School of the Word — as Stone, board members and ministry leaders were learning about and addressing allegations of sexual harassment and assault against Stone in the spring of 2020.The Times Free Press authenticated the recordings — from April and May 2020 — by examining the metadata of the audio files and interviewing people present for the meetings. Those interviews helped the Times Free Press identify some of the speakers in the recordings. In some instances the speakers were identified by others in the conversation. The Times Free Press also reviewed publicly available videos, such as sermons or video interviews, to confirm voices of the speakers.Under Tennessee law, private conversations can be recorded without the consent of others as long as at least one party in the conversation consents to being recorded.
"This was something that was going to be detrimental to everyone's jobs there. And I was a manager," Roger Keith said. "I felt like it was - maybe somebody could correct me and maybe tell me that it wasn't my obligation - but I felt like it was my obligation to inform people if something like that was going on."
Shortly after sharing the post, Roger Keith was called before the Voice of Evangelism board and was fired. No reason was given, he said. His wife was fired that day as well, both having been employees there for 18 years. Bradford, the sheriff's office lieutenant, escorted them off the property, they said.
Kimberly Keith questions whether the televangelist's apology was genuine, whether he really received help or whether the board covered up the situation to protect Stone.
"When you forgive people, you forgive what they do. And if they repent, they truly repent, you move on. We all sin and come short of the glory of God, but the thing is with Perry, he got caught," Kimberly Keith said. "He was made [to leave]. The board sat him down and said, 'OK, we're going to send you off for a little while, and we're going to take care of this.'"
Hearing directly from alleged victims and their experiences with Stone motivated the Keiths to speak up. In recent months, alleged victims have shared their experiences with FBI and TBI investigators, as well as local lawyers.
On Feb. 10, the Keiths appeared on a YouTube video with commentators Madyson Marquette and Joshua Berglan to discuss their experiences with Stone and concerns about the ministry. Marquette has said through her social media channels she is gathering information from alleged victims.
The morning after appearing on the video, Roger Keith received an anonymous text message.
The message contained two words: "Lawyer up."
Contact Wyatt Massey at wmassey@timesfreepress.com or 423-757-6249. Follow him on Twitter @news4mass.