In a nation of consumers plagued by supply shortages for a wide array of goods and inflation at 40-year highs, Judy Ann Wilson is cutting it close to keep her salon stocked.
"I like to have at least six months of [hair] color in stock, but it's dwindled down to where it's about a month's worth," Wilson says. "That's scary."
The owner of Yours Truly Hair Salon on East Brainerd Road for nearly 30 years, Wilson says she is also feeling the pain of higher prices.
"In a typical month, I'm paying more now for supplies – spray, shampoo, capes – than I pay for rent," she says. "Overhead cost has got me by the throat, and it's uncomfortable."
Santosh Sankar is living his own version of the supply chain challenge.
"I'm still waiting for a fridge I ordered in 2020," says Sankar, co-founder and managing partner of Chattanooga-based Dynamo Ventures, a venture capital firm that invests primarily in logistics companies worldwide.
Over the last two years, supply chains and the logistics industry have gone from niche topics to mainstream headaches as nearly everyone has felt the multi-layered impacts of COVID-19 on when and how goods get moved.
Sankar says the global pandemic dealt consumers two distinct blows, the first coming two years ago, in the early days of the crisis.
"When the economy went into recession, it was one of the few times in history when we had a recession because of a supply-side issue," he says. "It's usually demand that dries up, but we saw ravenous demand – think bathroom tissue and non-perishable foods – and there weren't enough goods to meet that demand."
The second punch, Sankar says, came when the pandemic forced manufacturing facilities to slow or stop.
"In 2020, when that demand for goods ripped through stock already in stores and warehouses, companies couldn't get new stock out fast enough," he says. "There weren't people to do the jobs."
Max Farrell, CEO of Chattanooga-based WorkHound, says the higher profile of logistics and transport will deliver long-term benefits despite the pain of the moment. WorkHound is an employee-feedback platform designed to glean real-time feedback from truck drivers.
"I believe more people have gotten an education in supply chain than at any time in history," Farrell says. "There have been plenty of moments of pain and friction, but now people better understand those friction points. In the long term, that'll be a net positive for the industry."
Sankar says the supply chain consists of five components – manufacturing, international logistics (the movement of products across borders), surface transportation, warehousing/fulfillment, and the "last mile," covered by delivery trucks dropping items in mailboxes or at front doors. And a crimp in any of those links can tangle the whole chain.
"Now there's a backlog in America's ports. Labor continues to be very hard to find and retain. That'll start to resolve as government relief expires, households work through savings and some of that relief will have to come from younger baby boomers who retired prematurely but are willing to re-enter the workforce," he says.
Covenant Logistics President Joey Hogan says the pandemic caused "an incredible supply-chain disruption." He adds that that disruption has made itself felt particularly in truck maintenance and repair.
"We normally have 3% to 4% of our fleet offline at any one time due to on-the-road repairs," he says. "That's now 10% to 12% – trucks just sitting, waiting on parts, and drivers attached, as well."
Hogan says Covenant invested heavily in workplace infrastructure as the pandemic struck – plastic paneling in cubicle areas, for instance. Employees now have a great deal more flexibility in terms of working remotely, he adds.
We normally have 3% to 4% of our fleet offline at any one time due to ontheroad repairs. Thats now 10% to 12% – trucks just sitting, waiting on parts, and drivers attached, as well.
Photo Gallery
How the supply chain became everyone's business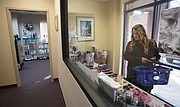 A 25-year Covenant veteran, Hogan notes there was a big difference between the Great Recession of 2007-09 and the pandemic.
"There was no playbook for what to do in a pandemic," he says. "It happened very quickly and was incredibly hard, but we battled through it. I'm proud of our team."
In fact, Hogan says Covenant had a record year last year and is on track for another in 2022.
"We're growing so fast," he said. "We're adding space, wondering where we'll put everyone. Drivers are driving. Warehouses are open. It makes me a little nervous, because I think there's another recession coming, but we're going to bet on ourselves."
It's a similar story at Chattanooga-based Xpress Global Systems, where CEO Dan Martin says business "took off" in 2021, up by 14% compared to 2020. But that doesn't mean the pandemic didn't affect the company, he says.
"It affected us greatly," he says. "The very core of your business model gets shaken, and the innovative survive."
Dale Davis, the company's chief operating officer, says one step Xpress Global Systems took was to expand its fleet while other companies pulled back in the face of the pandemic. Davis says that through acquisitions and its own organic growth, Xpress Global Systems has grown its fleet by 70%.
"We've probably cut about 50% of our multi-day routes because those just aren't attractive to drivers," he says. "That's not big numbers, but drivers are in high demand – we don't have as many as we did pre-COVID, and we've had a pretty substantial increase in wages to make sure we keep moving."
Better pay plays a huge role in keeping drivers, but it's not the whole ballgame, says WorkHound's Farrell.
"A couple of years ago, we talked to [trucking] companies and they said, 'Why should we commit to listening to employee feedback when it's just going to be complaints?'" Farrell says. "Actually, one-third is positive. It's not all bad feedback. It's not all broken."
Farrell says innovative companies understand that when it comes to keeping drivers, old-school methodology won't cut it anymore.
"In the past, companies would mask turnover challenges by recruiting more people," he says. "Now, in a tight labor market, they can't just pull people like they used to. Retention is the new recruiting.
"It's no longer just a 401(k) and insurance; it's helping people get on the right track in terms of mental health and physical fitness. What we're seeing is that innovators are becoming human first, treating people like people," he says.
In March, the nation marked two years since the onset of the pandemic, but Xpress Global's Davis says it'll be later than sooner before business can consider itself post-pandemic.
"I don't think [the] Omicron [variant] is the end," he says. "There'll be another big spike, maybe one in the summer, and we won't be able to control that. So how will we live with it?"
Xpress Global CEO Martin says that while things will get back to normal eventually, that normal won't look like 2018 and 2019.
"We've learned too many things as an organization, and as an industry," he says. "We probably analyze risk tenfold more than we did before."
Sankar, the managing partner at Dynamo Ventures, says supply-chain issues aren't likely to improve in 2022.
"I would expect port congestion to continue through this year," he says. "Same goes for trucking in terms of demand. E-commerce saw a decade's worth of growth in the last two years, so warehousing/fulfillment will be an industry of growth as more of us buy online.
"It'd be great if demand took a holiday," Sankar adds, "but that's not realistic."
READ MORE
* How we got here: Chattanooga's road to logistics dominance
* New road: U.S. Xpress harnesses technology to improve driver experience with Variant model