Joe Banks remembers starting as a freshman for a young Howard football team that did not win any games.
Instead of giving in or quitting, Banks fought through the early growing pains and was a key player for the Hustlin' Tigers during back-to-back winning seasons in 2001-02.
Banks went on to play for Tennessee State University and is now the high school football coach and dean of students at Chattanooga Preparatory School, which is entering its first varsity football season but will not be part of a TSSAA region.
That leap will come next year, when the Sentinels join Region 3-1A, where their league opponents will be Copper Basin, Lookout Valley, Sale Creek, South Pittsburg and Whitwell.
Chattanooga Prep is an all-boys public charter school that opened in fall 2018 with 60 sixth-grade students. This year's varsity football roster, which has close to 40 players, is made up of freshmen and sophomores.
Photo Gallery
Chattanooga Prep Sentinels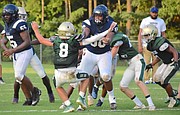 "We are trying to teach our young men how to be resilient, how to be creators and problem solvers," Banks said. "We want them to be game changers on and off the field. A lot of our kids played youth football together and wanted to start something special and stay together. We have a lot of kids who played for the Chiefs, Ravens and Bills in the youth football leagues."
Last fall, in Chattanooga Prep's second season of football at any level, the Sentinels outscored their middle school opponents 156-20.
While there will undoubtedly be growing pains facing high school varsity programs, there is also some optimism from within about the prospects for long-term success.
"We are throwing these guys out there early, and they will get some war wounds," said Banks, who gets the opportunity to coach his son Jaelen, a sophomore. "They will get to learn the game more, and by the time they are juniors, the game will slow down for them. Then by their senior years, we want to make a run for a state championship."
The Sentinels face challenges even in getting ready for the season -- with no home field, they've had to practice at different spots around town -- but Banks sees an upside in his players' opportunity to be part of something new.
"This is a once in a lifetime type opportunity for all of our players and our staff," he said. "We are on the right page. They just have to believe in themselves and grow into confidence, their bodies and minds. We are building something special and working hard every day."
The Sentinels open their eight-game schedule Monday against Boyd Buchanan's junior varsity team. That will be the only JV team they play, with the other opponents Copper Basin, Heritage from over the state line in Ringgold, Ezell-Harding Christian (twice) and Liberty Creek from the Nashville area, South Pittsburg and Whitwell.
Banks is excited to watch his team grow.
"You have to start building them up at a young age to get prepared," he said. "We have some young kids who are already stepping up as leaders. Ahston Jordan is a big force for us, and Dommonic Johnson is a 6-foot-2 receiver who keeps everyone on the go. Lon'Deon Kellogg is full of energy, too.
"These are kids who can bring everyone along with them. It's one big project, and we are here to enjoy it every step of the way and grow together."
Contact Patrick MacCoon at pmaccoon@timesfreepress.com. Follow him on Twitter @PMacCoon.