HBO estimates that its Sunday night premiere of "House of the Dragon" was watched by about 10 million people. More than a few of them might have visited Chris Beasley's website.
"Our website traffic quadrupled Sunday night," said Beasley, whose Chattanooga-based Jalic Blades makes and sells merchandise from multiple television series such as HBO's "Game of Thrones," which had a 73-episode run from 2011 to 2019 and is one of the most popular TV series of all time. "House of the Dragon" is a "Thrones" prequel.
Beasley, a Michigan native, said he's become "kind of like the sword guy for Hollywood" as a result of his association with George R.R. Martin, author of the "Song of Ice and Fire" book series on which "Game of Thrones" was based. Beasley said he won the "Ice and Fire" merchandising rights the old-fashioned way.
"I just e-mailed George," Beasley recalled. "It was 2006. I was 25, still in Michigan, running my internet business. I'd read the series three times, and I knew the swords from the books would sell well – people who buy swords tend to be book readers.
"I was told George appreciated my Midwestern forthrightness," Beasley said. "He picked me, and I'm eternally grateful. ["Thrones"] blew up and became the biggest show in the history of television."
Beasley said his initial licensing deal with Martin was for 10 years. Sixteen years later, in addition to "Thrones" and "Dragon," Beasley said Jalic Blades makes and sells merchandise from shows including Amazon's "Wheel of Time" and Netflix's "The Last Kingdom."
He said Jalic will soon offer "jewelry, 'magical' items and statues," from the shows and films with which he's affiliated. But swords and armor have gotten his business this far, he said.
Photo Gallery
Jalic Blades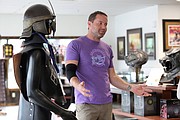 From "House of the Dragon," the king's sword, "Blackfyre," and the prince's sword, "Dark Sister," are likely to become big sellers.
And Beasley said one blade stands alone as Jalic's runaway top seller - "Longclaw," wielded by "Jon Snow," a main character in "Thrones."
"More than everything else combined," Beasley said. "['Snow'] wears the sword in almost every scene."
Beasley declined specifics regarding sales figures, but said Jalicblades.com traffic driven by "Dragon" rivaled the peak it hit as "Thrones" wound down. But he said sales "plummeted" shortly after that show concluded.
"When the final ['Thrones'] season came out, it was bananas," he said, "but within three months of hitting that peak, sales dropped by 90 percent.
"Those are the vagaries of this business – it can be very erratic," he said. "As a business owner, you need to plan for those times. I'd built a lot of inventory in 2019, so I didn't have to replace much. The lull lasted longer than I thought, but we were fortunate to have the resources to get through it."
Looking forward, Beasley is optimistic that it might be a while before he's forced to do any more lull-planning.
"It's lovely that 'House of the Dragon' is such a success and so good," he said. "I believe this show will probably pass the popularity of 'Game of Thrones' and win Emmy awards.
"And I believe sales from this show will meet or surpass [those of 'Thrones'], and that's longevity for my business," Beasley said.
The only drawback, Beasley said, is that it could be a year before he has "Dragons" merchandise in stock.
"What I need to get [manufacture] going is reference material - very good pictures, specs or the actual swords in hand," he said.
"HBO would have to have given me behind-the-scenes access a year ago, but that wasn't going to happen after the script leaks at the end of 'Game of Thrones,' so you've just got to kind of suck it up," Beasley said.
Contact Bob Gary at bgary@timesfreepress.com