This story was updated on Dec. 13 to correct the spelling of Long John Silver's name.
After more than two decades of preserving the history of Black Americans in Northwest Georgia, the Walker County African American Historical and Alumni Association will open its own museum in LaFayette, Georgia.
The Walker County African American Museum and Cultural Center will have its grand opening at 1 p.m. Dec. 17. The museum will be housed in the Wardlaw Building at 309 Main St., a former Long John Silver's location that was donated to the county.
Beverly Foster, the organization's founder and president said getting to this point took a true community effort.
On a tour of the museum, Foster said she started telling the story of Black Americans in Walker County by setting up exhibits at events and even banks. Beginning with what she called a poster-board museum, it grew over the years, she said, and having a museum in the county-owned building is a big step forward.
Foster said the museum is focusing on the post-slavery history of Black Americans in the region — the time when Black Americans worked to reunite their families and build their own community institutions.
Photo Gallery
Walker County African American Museum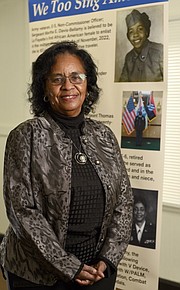 "You've got education, you've got religion, but the No. 1 thing was, 'They sold Sister Sue to Florida. Can I find her?'" Foster said. "They were trying to find their families, and they were trying to legalize their marriages."
The new museum will feature digital touchscreen exhibits, a timeline of African American history sponsored by the Georgia Humanities Council, as well as photographs and historical artifacts from Walker County, Foster said. The significant role of schools and Black churches founded after slavery also hold a place of prominence in the new museum.
The National Endowment for the Humanities is a sponsor of the museum, Foster said, and other companies have made donations to the museum as well.
Foster has secured a grant to paint a mural on the building's exterior. The mural, called "We Too Sing America," will honor Black U.S. military veterans including 93-year-old Sgt. Martha E. Davis-Bellamy, who is thought to be the first Black woman to enlist in the military in 1953.
Exhibits on Black schools, churches and items brought from Africa have also been compiled for the museum. "All Isn't All Good" is an exhibit that documents racist incidents like the lynching era between 1870 and 1950 and arson incidents during desegregation. There were more than 500 lynchings in Georgia, Foster said, and one has been documented in Walker County.
"Most of what I'm telling is positive things, but for me to leave out some of the things that wasn't positive that happened in Walker County — that would not be an honor to history," Foster said. "I don't want to dwell on them, but they need to be told."
Foster said there was more friendship than many young people realize between post-slavery Black and white communities. She gave the example of Center Post, where the Black community was given land for a cemetery and church.
The museum also documents Black Walker Countians who have become famous artists, scientists, singers, war heroes and athletes.
"These African Americans came from lil ol' Walker County in the Appalachian Mountains and went off and did some great thing," Foster said. "One or two, maybe three generations out of enslavement, and they were able to do these things."
Foster said the Walker County Board of Commissioners and elected officials in LaFayette have been very supportive of the organization's work. The community has been supportive too, she said, and helped raise money for Foster to air her cable access television show called "Beverly's Historical Moments" on UCTV and Facebook.
Stacey Suttle, assistant director of the museum, said he started as a volunteer before he was hired.
"There's a lot of history right here that needs to be told," Suttle said on the museum preview tour. "I just want to make sure it gets recorded, because a lot of old people are dying off, and they're taking that history with them."
After the grand opening, Foster said the museum will be open from 1-4 p.m. Sundays and from 10 a.m. to 5 p.m. Wednesdays, Thursdays and Saturdays.
Contact Andrew Wilkins at awilkins@timesfreepress.com or 423-757-6659. Follow him on Twitter @tweetatwilkins.