Bundled in a bulky coat with a hood shielding his head from the chill, Ulysses Marshall, 57, planted himself by a vent outside the Bessie Smith Cultural Center on Friday, warm water vapor billowing around him like a spectral shawl.
"I just got here from Nashville, where I got robbed," he told the Chattanooga Times Free Press. "They took my clothes, took my phone, so I mustered up enough money to get here."
Currently without a home, Marshall said he arrived in Chattanooga by bus on Thursday and has been staying at the Chatt Foundation's winter shelter to find a reprieve from the region's freezing temperatures, which recently plunged into the single digits early Friday and remained dangerously low throughout the day.
"I've been here before," Marshall said. "People know me. I know a lot of people."
(READ MORE: Chattanooga officials, groups see need for more supportive housing to combat homelessness)
Marshall has a friend who works at the Hamilton Place mall, and he's hopeful that the person will be able to help him find a job. He just needs to figure out how to get there.
Around 11 a.m. Friday, Marshall was one of dozens of guests who attended an annual Christmas feast on the cultural center's front lawn, where volunteers were serving ham, turkey, green beans, corn, sweet potatoes, pie and hot coffee.
Visitors could also pick up donated clothes -- Marshall said he grabbed some fresh socks and underwear -- and gallon bags with hygiene items. Arranged by Union Gospel Mission, the event typically serves about 400 people, although organizers expected a dip in attendance on Friday because of the weather.
"Anybody's welcome to come," Jon Rector, executive director of Union Gospel Mission, said in an interview. "We normally have quite a few more volunteers and a little bit of a bigger crowd, but the weather's going to be a little bit of a deterrent for that. Not everybody wants to get out in 8 degrees."
As Chattanoogans brave a sudden cold snap that has enveloped multiple communities across the southern United States, local service providers are trying to come up with ways to ensure people living on the street have the resources they need to stay warm.
Allan Diegan, a meteorologist with the National Weather Service in Morristown, predicted in a morning phone call that the high on Friday would be around 15 degrees Fahrenheit with gusty winds keeping the wind chill near or below zero.
He expected temperatures to hit a low of 8 or 10 degrees on Friday evening.
"It's something we refer to as an Arctic cold front," Diegan said about the sudden temperature drop. "It brought really cold air out of Canada. ... We haven't seen this cold of temperatures in several, several years."
Photo Gallery
Cold weather aid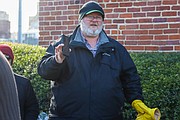 (READ MORE: Multiple fires in Chattanooga area during freezing temperatures)
Sam Wolfe, the director of the city's Office of Homelessness and Supportive Housing, said in a phone interview that Chattanooga has the space necessary to accommodate anyone who needs to stay indoors on freezing cold nights. The Chatt Foundation maintains a warming shelter during the winter, and the Salvation Army also has overflow capacity at its facility.
The city's outreach team has also been working closely with other local organizations to make contact with homeless people staying in known areas around Chattanooga. Team members have been handing out tents, sleeping bags, hand warmers, socks, beanies and warm blankets.
"We've been able to guarantee that anyone who asks us for those types of supplies are able to get those," Wolfe said.
The city's crew was out until 9:30 p.m. Thursday, he said, checking in with people living on the street and transporting those in need of assistance to cold weather shelters.
Wolfe noted there are people who prefer to stay outside. People sleeping in their car or who are recently homeless are more likely to stay at one of the cold weather shelters than those already camping in an established location, he said.
Jesse Armando, 47, was one of several people digging into plates of food outside the Bessie Smith Cultural Center on Friday.
Originally from Arizona, Armando is homeless and stays outdoors with a group of people. They watch over each other and huddle together during freezing temperatures, he said, using their body heat to stay insulated from the cold.
"A lot of people have been blessing us with a lot of blankets, hand warmers and stuff like that," he said. "We've got a couple heaters that have been donated."
Jobs have been scarce during the winter, Armando noted.
"Everything slows down," he said. "Instead of having 40 hours, you have 20-something odd hours."
(READ MORE: Arctic blast to bring bitterly cold weather to Chattanooga area)
At the fenced, homeless campsite the city established earlier this year near the corner of 12th and Peeples streets, half a dozen residents gathered around a heater in a small building near the gate.
Chattanooga entered into a $120,000, one-year contract with Help Right Here in June to run the site. The organization's co-founder, Ann-Marie Fitzsimmons, said in a phone call Friday that she stopped by Lowe's before the cold front came in to buy three propane heaters to place in the camp's community spaces.
The power has gone in and out, she said, and fierce winds ended up blowing a donation tent over the fence. Fitzsimmons said she was out until 1:30 a.m. Friday.
Amanda Kent has lived at the camp since July and is part of its executive committee. She's hopeful city leaders will open more sanctioned campsites for Chattanooga's homeless.
There are 42 people living in the camp, Kent said in an interview Friday. Residents have electric heaters and electric blankets in each of their tents. They are also hoping to get a new electrical panel installed soon. Several have also been staying at the camp's office building up the road.
"We need a lot in this camp, to be honest," Kent said. "The city needs to come with an electrician to help with the power out here. We're needing a lot of help out here."
Contact David Floyd at dfloyd@timesfreepress.com or 423-757-6249.