MIAMI GARDENS, Fla. — Tennessee's defense spent much of Friday night's Orange Bowl bending and bending, but the Volunteers never broke.
Despite yielding 484 yards to Atlantic Coast Conference champion Clemson, the No. 6 Vols held the No. 7 Tigers without a touchdown until 10 minutes remained in claiming a 31-14 victory before 63,912 at Hard Rock Stadium to put quite the positive cap on an 11-2 year. Tennessee's 11 wins are its most since 2001, which was also the last season the Vols finished in the top five of the Associated Press poll.
Just two seasons ago, right before Josh Heupel was hired as head coach, Tennessee won three games.
"There was so much outside noise that wasn't necessarily positive, but none of these guys paid attention to it," Heupel said early Saturday morning. "They decided collectively and individually to accomplish something, and they worked for it. If you set your mind to something and work, you really can accomplish anything.
"As we move forward, our guys in the locker room understand there is a whole lot still out there for us that we can improve upon that can help us to continue to climb as a program."
Photo Gallery
Tennessee defeats Clemson in Orange Bowl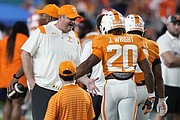 Joe Milton III threw a 14-yard touchdown pass to Squirrel White with five seconds left in the third quarter to extend Tennessee's lead to 21-6, and a 4-yard scoring run by Clemson quarterback Cade Klubnik and 2-point conversion by Will Shipley was countered by a 46-yard touchdown strike from Milton to a wide-open Ramel Keyton that made it 28-14 with 8:34 remaining.
Milton finished 19-of-28 for 251 yards and three touchdowns and was named Orange Bowl MVP, with White amassing a season-high nine catches for 108 yards and a score. The two spent most of the regular season as reserves but got their opportunities due to Hendon Hooker's ACL injury and Jalin Hyatt and Cedric Tillman opting out to focus on their NFL plans.
"This felt special, because Hendon put in a lot of work for this team," Milton said. "If you want to be truthful, he got us here, so I had to get it done for him."
After Clemson (11-3) unsuccessfully faked a field goal on its opening drive, Tennessee took its second possession 74 yards in 12 plays, snagging a 7-0 lead on a 16-yard touchdown pass from Milton to Bru McCoy. The Vols went three-and-out on their next two possessions but didn't lose any ground due to Clemson kicker B.T. Potter missing attempts from 55, 49 and 42 yards.
"I felt like I had good preparation all week," Potter said. "I got here today and thought I hit the ball well, and then I got out there and things just didn't go my way."
Tennessee awoke from that temporary slumber with a 50-yard pass from Milton to White to Clemson's 2-yard line, which set up Jabari Small's rushing score on the ensuing play for a 14-0 lead with 9:03 before halftime.
The Tigers got on the board at the 5:11 mark of the second quarter on a 31-yard Potter attempt, and the score remained 14-3 at the break when Klubnik kept for a 2-yard gain to Tennessee's 11 on the half's final play and with Clemson out of timeouts. The Tigers had 273 first-half yards and only the field goal.
Frustrating Clemson throughout the evening was Vols senior linebacker Aaron Beasley, who had 12 tackles, four tackles for loss and two sacks.
"He was tremendous, but Beasley has really had a good season," Vols defensive coordinator Tim Banks said. "He's not a flashy player, and he doesn't say a whole lot, so I think some people take him for granted, but he's a tremendous kid and tries to do things the right way. He's matured a lot since we've been here, and we're proud of him.
"He obviously played his best football coming down this back stretch."
With Friday's win, Tennessee has now defeated three — Clemson, LSU and Alabama — of the past four national champions.
"We're just getting started in what we're developing here," Heupel said. "Tonight, our brand was in front of everybody on a national stage, and they had a chance to see who we are and how we play and how we connect and compete together."
Needing a rest
Heupel was asked after the game what these next few weeks looked like for him.
"I'm going to try and enjoy this one," he said. "I'm going to enjoy a couple of days with my family while I push forward on some things. We've got recruiting, and we'll move forward on the staff and all those things as the beginning of January unfolds."
Odds and ends
Milton's second completion of the night, a 14-yarder to White, put Tennessee over 4,000 passing yards in a season for the first time in program history. … Tennessee finished this season with 40 rushing touchdowns to tie a program record. … Paxton Brooks punted eight times, topping his season high of six against Pittsburgh on Sept. 10. … Fifth-year senior defensive back Trevon Flowers, redshirt junior defensive back Brandon Turnage and freshman quarterback Tayven Jackson were announced before the game as being inactive.
Contact David Paschall at dpaschall@timesfreepress.com.
Updated with more information at 2 a.m. on Dec. 31, 2022.