Hayden Data was incorporated in 2020, but the idea for Chattanooga-based company began on the other side of the world 13 years ago, with a massive, devastating fire in Australia.
What's known as the Black Saturday bush fires began burning Feb. 7, 2009, in Victoria, on the southeastern coast. Fifteen separate fires burned for a total of five weeks, consumed 1.1 million acres and killed nearly 200 people.
Hayden Data executive Florian Gegier says the investigation revealed that 11 of the 15 fires were caused by power infrastructure that had failed in one way or another.
"In some cases, it was as simple as poles collapsing and [energized lines] igniting," he says. "Utilities do inspections as they can, usually every few years, but a lot can happen in that time frame, the worst case being that infrastructure fails before you can identify it."
Gegier, Hayden Data's director of sales and business development, says Iain Puddy, an Australian whose background includes extensive infrastructure and power-generation experience, sought a technical solution.
"He set out to develop autonomous equipment that would continuously monitor structural integrity," Gegier says, "because if you know the state of your assets, you can pick up on deterioration before it becomes a failure."
Photo Gallery
Hayden Data keeps close watch on power networks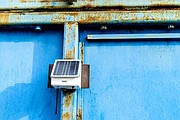 Gegier says Puddy developed a sensor – seven inches square and four pounds – that's mounted to a utility pole. The Safe Power Network device monitors the condition of that pole and runs on batteries continually recharged by solar power.
"Our differentiators are that you don't need [outside] power or communications for our sensor hardware," he says. "The units talk to one another on a radio frequency, which means you don't need cellular communication at every location."
In 2019, Gegier says, Puddy partnered with Steven Whitehurst, a Colorado-based entrepreneur who believed Puddy's sensor would be of great interest to American electric utilities. The Australian and the Coloradan decided to launch Hayden Data in Chattanooga. Whitehurst is the company's CEO, while Puddy serves as chief technology officer.
Gegier says the company calls Chattanooga home partly because Whitehurst has a personal connection, with family in the area. Another reason, Gegier says, was the business-friendly climate in Tennessee, including access to research grants and the presence of the Tennessee Valley Authority, owner of one of the nation's largest electrical grids.
With the encouragement of TVA, Gegier says, Hayden Data wound up partnering with the University of Tennessee at Chattanooga for research and development work on the company's sensor. Another Chattanooga-based company, Precision Machining, has done initial manufacturing.
Gegier says the first iteration of the Safe Power Network device was deployed by TVA nearly a year ago. TVA acknowledges the "proof-of-concept" trial is under way, but declines comment on the sensor's performance until that trial is complete.
Don Reising, an associate professor of electrical engineering at UTC who's running point on the Hayden Data work, says his team is working to create "second-and-third-generation" versions of the sensor. For instance, he says, infrared cameras would allow a utility to monitor the temperatures of the lines attached to a pole.
Hayden Data
* Address: 651 E. Fourth St.* Online: haydendata.com* Employees: 15, with 12 based in Chattanooga* Launched: 2020
"When a line gets too hot, you'd see the need to shift load," says Reising, who's working alongside two UTC colleagues, Abdelrahman Karrar and Thomas Loveless, and graduate student Mohamed Taha.
"The other piece we're investigating is a heating enclosure for northern deployments, where the electronics can be kept at certain temperatures even when it's really cold," Reising says.
Gegier says Hayden Data has enjoyed "some very solid initial success" and has "a number of projects in the pipeline."
"As we're doing more and larger projects in the U.S. and taking our first steps internationally, we foresee significant growth of our company and staff numbers over the next two years," he adds.
Reising adds that Hayden Data's success is Chattanooga's success.
"Chattanooga wants to be a smart city,'" Reising says. "When you look at what this device could add in terms of capability, it really does move us closer to being that smart city."