ATHENS, Tenn. - With McMinn County junior Peytyn Oliver heating up late in the third quarter, a decade long district championship streak for Bradley Central's girls basketball program appeared to be on the brink of coming to an end.
However, the Bearrettes would not be denied in hostile territory as they turned to their go-to junior post player. Trailing by one in the final seconds of the District 5-4A championship game in Athens on Monday night, Hannah Jones took a pass near the basket from Sloan Carpenter and banked in a shot off the backboard with 11 seconds left.
That go-ahead score proved to be the difference as Jones finished with 16 points on 7-of-9 shooting from the field to lift the state's winningest girls' basketball program to its 12th straight district championship with a thrilling 37-36 victory.
"The streak lives on," an elated Jones said after also grabbing a game-high nine rebounds. "Everyone wants to beat us, so winning and pulling it out like we did feels really good. Especially when you have everyone cheering against you. This is definitely a top five moment in my time as a Bearette."
After making all 22 of her free throws in a comeback semifinals win Saturday against Cleveland, McMinn County's Oliver scored 14 of her game-high 19 points in the second half.
Photo Gallery
Bradley Central vs. McMinn County on Feb. 21, 2022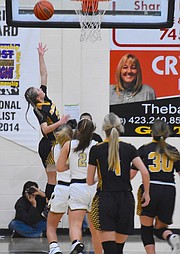 The 5-foot-2 guard was elusive as she split a defensive trap to score a left-handed bucket, and later drained a deep 3-pointer to tie the game at 26 late in the third. Oliver also had the go-ahead free throws with 26 seconds left to take a 36-35 lead. She came into the game averaging close to 25 points per game for the Lady Cherokees (18-10).
Bradley Central (26-3) did not flinch late though as Jones helped her team get one step closer to a fifth straight trip to the state tournament. Senior guard Ashlan Crittenden was stellar defensively leading all with three steals and helping force Oliver into 11 turnovers. Fellow senior Karsee Weber also scored seven of her 10 points in the second half for the Bearettes.
"We had to grit it all the way to the end," Bradley Central coach Jason Reuter said. "We could have very well lost that game, but we were in position and knew what we wanted to do to win. We ran that out of bounds play and got it to Hannah Jones and she laid it off the glass. I was holding my breath and aged 10 years waiting on Peytyn to drive. Luckily we were the ones who made the last bucket."
District 4-AA championship
> Polk County 37, Tyner 32: Senior forward Courtney Farr scored a game-high 16 points to lead the Wildkittens (15-6) to their first district tournament championship in over 20 years. Callie Brewer added 12 points in the win while Tyner's Kaileigh Chubb also scored a dozen. Polk's Mackenzie Maxwell made two key field goals in the second quarter.
District 4-AA consolation
> Marion County 52, CSAS 21: Desiree Nance scored seven of her game-high 13 points in a 19-point second quarter for the Lady Warriors. She made a trio of 3-pointers, while CSAS' Macie Meyners drained four long-range shots.