Eric Zeier, David Greene and Aaron Murray finished their respective football careers at Georgia as the Southeastern Conference's all-time leading passer, with Murray still owning that distinction.
Matthew Stafford was the No. 1 overall pick in the 2009 NFL draft, and the recent parade of five-star quarterbacks to sign with the Bulldogs includes Jacob Eason, Justin Fields and Brock Vandagriff, who is currently a freshman in Kirby Smart's program. Another five-star quarterback, JT Daniels, transferred to Athens in the spring of 2020 and began this season as the starter.
Yet it's the unlikely former walk-on, Stetson Bennett, who ascended to the top of Georgia's star-studded depth chart and has the opportunity Monday night against mighty Alabama in Indianapolis to deliver a national championship to a program that came close with Murray in 2012 and excruciatingly close with Jake Fromm in 2017.
No pressure, right? After all, it's only been 41 seasons and nearly 15,000 days since Georgia's lone Associated Press national crown in 1980.
"I'm just treating this as a football game," Bennett said this week on a Zoom call. "Do I know this means a lot to a lot of people? Yes. Am I trying to play some kind of savior by winning a national championship for millions of people? No. I don't think that's my job.
"My job is to go out there and throw completions to the very talented people we have on this team, and I think it's as simple as that."
Photo Gallery
Georgia Bulldogs quarterback Stetson Bennett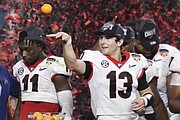 Bennett will enter Lucas Oil Stadium with an efficiency rating of 178.05, which ranks fourth nationally and a spot ahead of Alabama counterpart Bryce Young, who ran away with the Heisman Trophy. Young wrapped up college football's top individual honor with his performance at the SEC championship game in Atlanta last month, when he threw for 421 yards and ran for 40 more in the surprise 41-24 thumping of Bennett's Bulldogs.
While Young was able to revel in a trip to New York City and all the deserving accolades that followed his showing inside Mercedes-Benz Stadium, Bennett had to be asked about his two interceptions and whether he or the more touted Daniels should be guiding the Bulldogs in this rematch.
"I thought I played all right in the SEC championship game," said the 5-foot-11, 190-pounder from Blackshear, Georgia. "I made a few mistakes that you can't do against a good team, but I also made some really good throws and some good decisions. My focus going into the Michigan game was cleaning up some mistakes, but there was no personal doubt."
Nor has there been any doubt in Bennett's ability with Bulldogs offensive coordinator Todd Monken, even with Bennett having thrown five of his 14 career interceptions against the Crimson Tide. His first three occurred in the 2020 trip to Tuscaloosa, which Alabama also won by a 41-24 score.
"That those two games are going to predict the future - I don't see it that way," Monken said Wednesday afternoon. "He's played I don't know how many games as the starting quarterback, and like any player, he's had his moments where he hasn't played up to where he believes his standard to be or we believe that standard to be. It just so happens that it's come in the second half against the team that we're about to play.
"We need to understand that the first two halves in each of those games were outstanding and that he has everything we need to be successful offensively."
Bennett's two interceptions in Atlanta, one of which Jordan Battle returned 42 yards for a touchdown early in the fourth quarter to essentially seal the outcome at 38-17, overshadowed his 340 passing yards, his three aerial touchdowns and his ability to guide an offense that hung a healthy 449 total yards on the Tide.
He was able to put the SEC title game behind him with last Friday night's Orange Bowl national semifinal, completing 20 of 30 passes for 313 yards with three touchdowns and no turnovers.
Bennett's journey has been well-documented, from his walking on in 2017 and emulating Oklahoma's Baker Mayfield on Georgia's scout team before the 54-48 double-overtime outlasting of the Sooners in the Rose Bowl national semifinal to playing the 2018 season at Jones College in Mississippi to returning in 2019 and replacing a struggling D'Wan Mathis in the opener at Arkansas.
"I think we forgot at times that he really hadn't played a lot of football here," Monken said, "and I think there has been some consistency this year with him being around the same players. The reps that you get in practice and in games get in your memory bank, whether they're scars or things you've solved, and the longer you play - guys like Aaron Rodgers and Tom Brady and even a Ryan Fitzpatrick are doing some things now that they didn't do earlier in their careers.
"That develops over time."
Reps and playing time haven't come easy for Bennett on a roster with so many four- and five-star teammates, including at his position, but he has a chance to join Buck Belue as the only Georgia quarterbacks of an AP national champion and silence his doubters once and for all.
"Those guys are going to get every opportunity to fail before a walk-on gets an opportunity to succeed," Bennett said. "It's just business. I think our team and our players do a good job of not really worrying about five-star this and that when you walk in the door. I don't know who was ranked where, because I really don't care, and I think every senior on this team feels the same way."
Said senior inside linebacker Quay Walker: "Stetson doesn't really pay attention of what's being said of him, and we don't either. Major props to him for that and for what he's done."
Contact David Paschall at dpaschall@timesfreepress.com or 423-757-6524. Follow him on Twitter @DavidSPaschall.