Ashton Davis is thankful for every day on the mat.
That would be true even if the Cleveland High School senior wasn't one of Tennessee's top high school wrestlers.
Davis hasn't been defeated by an opponent from the Volunteer State since the end of his freshman season, when he dropped two matches in the 170-pound bracket at the TSSAA Class AAA traditional tournament and failed to medal, but there's a much bigger reason the two-time state champion doesn't take for granted his opportunities to enjoy the sport he so dearly loves.
In August 2020, Davis nearly lost his life.
On a hike to Benton Falls, a waterfall in the Cherokee National Forest in Polk County, he slipped on a wet rock and tumbled 50 feet to the ground. The fall resulted in a punctured lung, broken ribs, head trauma and a severe leg injury that required surgery. Remarkably, he was the first known survivor of a fall in that specific location.
Davis would spend more than a month in a wheelchair and missed the next three months of training ahead of his junior season, when he would be attempting to repeat as the 220-pound champion in AAA.
"That was a really dark time in my life. The first thing I really was worried about was not being able to wrestle again," said Davis, who began the sport at age 4. "I really wanted to come back and win a state championship with my boys. My teammates held me up high through that tough time. They came over to my house to see me when I couldn't move, and they did a thing called the 220 challenge.
"Every day they did 220 reps of a certain workout. I know that was painful for the guys, but it was nice to see they were still thinking about me even when I wasn't in the room. They helped me stay motivated and get back to where I am."
Photo Gallery
Cleveland High School wrestler Ashton Davis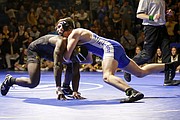 His return to the mat was sensational as he proved unstoppable. Last February, he concluded a 26-0 junior season with a third-round pin of Wilson Central's Noah Todd in the 220-pound final at the Chattanooga Convention Center.
Six months after the devastating fall, he had a second state title in hand.
"After I won my first, I wasn't sure it would get much more emotional," said Davis, who had gone 37-3 as a sophomore. "But coming back last year and winning after my huge injury meant so much to me. Now I am seeking that feeling again, because it never gets old winning state championships."
This season, the 255-pound Davis is 20-2 despite moving up to heavyweight, where his competition can weigh as much as 285 pounds. His losses came during a fourth-place finish in Delaware at the Beast of the East, one of the top in-season prep wrestling tournaments in the country.
Davis, who remains quick on his feet, is the first wrestler in Cleveland High School history to be a double All-American at the annual junior national tournament in Fargo, North Dakota, and he committed in November to wrestle for Cornell University, an Ivy League program currently ranked eighth in the country. The Big Red competed last weekend in the Southern Scuffle at the University of Tennessee at Chattanooga's McKenzie Arena, where Davis was able to spend time with his future teammates.
As Cleveland's Blue Raiders gear up to try to become the first program in the state to sweep the team state titles in duals and traditional competition five times in a row, fifth-year head coach Joey Knox has no doubts about the determination Davis and his teammates possess.
"We talk about goals all the time and setting them higher than what is right in front of us," Knox said. "I think Ashton is looking ahead at college and is already working on what he needs to do to be successful at that level. He comes in here with the mindset of taking care of things this year, but this is just a step towards the big picture for him.
"He could come in here and take it easy and win a state championship, but his goals and aspirations are pushing him for even greater goals ahead."
Davis has 108 wins in his prep career, and by the end of it, he could be one of the top heavyweights in Cleveland history.
"Wrestling has been the center of my life as long as I can remember," he said. "I love being a part of this program, and I still remember seeing Chris Debien win all his state championships here and looking up to him.
"I never expected to be where I am at today. I am so thankful to be here and to be a part of something great. I want to win a third straight, and I am grinding to one day hopefully win national titles, too."
Contact Patrick MacCoon at pmaccoon@timesfreepress.com. Follow him on Twitter @PMacCoon.