Tennessee never led Ole Miss during regulation Wednesday night inside Thompson-Boling Arena.
It was a different story in overtime.
Santiago Vescovi's 3-pointer with 2:41 remaining in the extra period and a three-point play by Olivier Nkamhoua with 1:16 left were the decisive blows by the No. 18 Volunteers, who escaped a major upset with a 66-60 triumph before an announced crowd of 15,617. While Tennessee had a full complement of players, unlike last Wednesday's loss at Alabama without point guard Kennedy Chandler and John Fulkerson, the Rebels traveled to Knoxville without leading scorer Jarkel Joiner due to a back injury.
Wednesday's rather unsightly contest contained 46 turnovers, with the Rebels committing 27.
"We found a way," Tennessee coach Rick Barnes said. "I'm sure they had something to do with some of those turnovers, but I can tell you that on a lot of them we just threw the ball away. We were trying to make more difficult passes than we had to, and some of them borderlined on being ridiculous.
"I don't want to take anything away from Ole Miss, but I just know a lot of those turnovers we put on ourselves."
The Vols improved to 10-3 overall and 1-1 in Southeastern Conference play, while Ole Miss dropped to 8-5 after losing its league opener.
Tye Fagan, who transferred to Ole Miss from Georgia after last season, led the Rebels with 23 points on 8-of-11 shooting, including 5-of-6 from 3-point range. Vescovi and Nkamhoua led Tennessee with 17 and 13 points, respectively, while Josiah-Jordan James added 10.
Photo Gallery
Vols vs. Ole Miss basketball on Jan. 5, 2022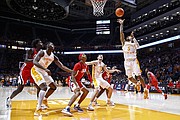 The stat of the night for Tennessee may have been Vescovi's 42 minutes, with the junior guard scoring 12 of his points in the final four minutes of regulation and in the overtime period.
"Santi is in elite shape, and people are not going to give him anything easy," Barnes said. "He affects the game, and he plays so much bigger than his size."
Sixth-year senior forward John Fulkerson, who shot 2-of-7 and committed three turnovers, played his 143rd career game for the Vols to set a program record.
Consecutive 3-pointers by Fagan gave Ole Miss a 46-38 lead with 6:58 remaining, but a James 3-pointer with 2:41 left pulled Tennessee to within 49-47, and a Vescovi 3-pointer at the 1:10 mark tied the game at 51. Louis Rodriguez of Ole Miss and Chandler each missed a 3-point attempt in the final 15 seconds, sending the game into overtime.
"Kennedy asked me what he should have done with that last possession," Barnes said, "and I said, 'Go make them foul you.' Kennedy has got to be able to do that, because he's got that kind of speed, and he has the ability to make layups at the rim.
"He's learning that this game is a lot harder than he probably thought it was going to be."
Neither team scored in the game's first four minutes, and a Fagan 3-pointer at the 12:33 mark capped an 8-0 run for the Rebels. A Fulkerson layup nine seconds later finally got Tennessee on the board at 8-2, but the Rebels responded with the next five points.
The visitors took their largest lead at 16-4 on a Matthew Murrell 3-pointer at the 8:22 mark, but James and Justin Powell connected from long range to pull the Vols within 16-10. Tennessee trailed 21-19 at halftime despite shooting 8-of-30 from the floor (26.7%) and 2-of-15 from 3-point range (13.3%).
A dunk by James with 13:27 remaining in the game pulled Tennessee even at 31, but the Rebels quickly went back up by six with consecutive 3-pointers by Fagan and Murrell.
"You're going to have some games like this," Barnes said. "You don't want to have them, but if you can win them it's a great thing."
The Vols play again Saturday, when they visit No. 21 LSU (13-1, 1-1) for a 6 p.m. Eastern tip.
Contact David Paschall at dpaschall@timesfreepress.com or 423-757-6524. Follow him on Twitter @DavidSPaschall.