Is University of Georgia national champion quarterback Stetson Fleming Bennett IV the best American sports story ever?
Yeah, I know. The latest is always the greatest. What about Jim Thorpe, the first Native American to win an Olympic gold medal, and an athlete so gifted he later played both Major League Baseball for the New York Giants and pro football in an infant NFL?
What about Wilma Rudolph, the Clarksville, Tennessee, native who was a victim of polio, wore leg braces until she was 12, yet somehow won three Olympic gold medals at the 1960 Olympics when she became known as "the fastest woman in the world"?
What about the 1980 men's U.S. Olympic hockey team?
All those would be worthy challengers, maybe even superior on some levels.
(READ MORE: Georgia expecting roster turnover, but as a national champion)
Photo Gallery
Georgia defeats Alabama in CFP national championship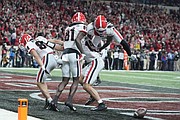 But here in the South - especially in a small-town Southern community such as Blackshear, Georgia, where Bennett once starred at Pierce County High School - going from walk-on to starting quarterback on Big State U.'s first national championship team in 41 years is about as big as it gets.
In fact, other than Jimmy Carter coming out of tiny Plains, Ga. (population 776 in 2010) to become the 39th President of the United States in 1976 - and Plains is 163 miles due west from Blackshear, which makes you wonder what's in the water down there - Bennett might be the best feel-good story in the history of the Peach State.
Nor is this notion merely considered by watching Bennett overcome by tears late Monday night after Bulldog defensive back Keelee Ringo returned an interception for UGA's final touchdown in its 33-18 victory, though a tearful Bennett will certainly become a lifetime memory for Dawg Nation.
"The tears afterward, that just hit me," Bennett said later. "I hadn't cried in, I don't know, years, but that just came over me. When you put as much time as we do into this thing, blood, sweat, tears, it means something."
What it means is that Bennett just earned a seat next to Herschel Walker as the most beloved Bulldog ever. EVER. Much as Herschel needs no last name to identify him, especially in Georgia, neither will Stetson from this point forward.
But let's also be clear: Herschel was supposed to be great when he arrived from Wrightsville, Ga., - which is 112 miles north of Blackshear - in the late summer of 1980. He was so good that former Georgia coach and athletic director Vince Dooley cut short a spring break trip to New York with his family to fly home to sign Walker on Easter Sunday of that year.
So while Herschel will always be beloved and revered for delivering the school its first national championship at the close of that 1980 season, then winning the Heisman Trophy in 1982, he also arrived in Athens with high hopes and expectations.
Bennett, not so much. It's doubtful current Bulldog boss Kirby Smart cut short even a drive-thru lunch to invite the 5-11, 185-pounder to walk on, though he did draw some positive attention to himself at the close of the 2017 national championship runner-up campaign by playing then Oklahoma QB Baker Mayfield on the scout team prior to a CFP semifinal win over OU.
"Five years ago he was delivering passes like Baker Mayfield," said Smart late Monday of Bennett's first season. "There's a lot of guys that saw him on that scout team make plays with his feet, his arm whip and decision making, and we were very impressed."
They were apparently impressed enough that after Bennett transferred to Mississippi's Jones County Junior College the following year, Smart brought him back for the 2019 season by handing him a scholarship after Justin Fields left for Ohio State.
And when expected starting quarterback JT Daniel was hurt early this season, having an experienced Bennett take over the starting role propelled the Dawgs to a 12-0 record before Bama stunned Georgia in the SEC title game as the former walk-on tossed two interceptions. It underscored what Dawg Nation had feared all along - that Bennett wasn't capable of winning it all.
That fear only grew when he fumbled early in the fourth quarter, a turnover that led to the Tide's lone touchdown and an 18-13 lead.
But Bennett knew better. "I wasn't going to be the reason we lost this game," he said.
Instead, he became the biggest reason they won it, tossing two touchdowns over a span of four minutes and 36 seconds down the stretch of the fourth quarter to give Georgia a 26-18 lead on its way to glory.
"Our guys have accomplished that, something special, and as they say, they've become legendary," said Smart afterward.
And because of the NCAA's COVID rules, Bennett could actually play one more season.
"I don't want to spill all my personal stuff out here on the table," he said Tuesday morning. "We'll keep that between me and coach Smart."
Lightning doesn't often strike twice. It's a good story, a great story, an epic story today. A year from now, if he returns and the Dawgs fall short, it could fade a bit, whether that's fair or not.
As Monday's game was wrapping up, someone asked Stetson's mom Denise her thoughts on her son's amazing journey.
"At halftime I got real close with the Lord and a peace came over me." she told a reporter. "I'm just so happy for that little boy."
A little while later, someone asked Bennett what he thought his story might mean to others. "I hope it gives someone a little hope," he said. "Keep your mouth shut, work hard. Life is tough. Work through it."
Could a mom's little boy from the small-town South possibly give a better answer than that on how to become legendary?
Contact Mark Wiedmer at mwiedmer@timesfreepress.com.