One of the nation's oldest and biggest billboard and large-format printing businesses has a new owner who hopes to capitalize on new technologies and markets to grow the print operation - even as the advertising industry continues its transition into the digital age.
Vincent Printing, which has provided large-format printing products to customers in the outdoor advertising industry since 1940, has been bought by company president Beau Wells and two private equity firms - FutureTech Holding Co. in Atlanta and Ooltewah-based MLJB Holdings. The former owners, Doug and Charlie Casey, owned the business for nearly two decades and are now retiring from the print business.
The privately held company did not disclose its size or terms of the sale, and Wells said he is eager to build on the 82-year record of the Chattanooga business.
"While the company may have a change in ownership, it does not represent any change in our commitment to deliver large-format printing solutions that bring big brand ideas to life while providing exceptional customer service to our clients," Wells said in an announcement of the sale this week.
Photo Gallery
Vincent Printing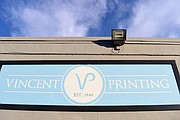 Wells said the ownership change and greater access to capital should help the company boost its market share in the traditional billboard and sign printing business while adding new markets with new types of printing for multiple displays and even pollution control.
(READ MORE: More jobs coming nearby in East Chattanooga by Nippon Paint)
"This change marks an important next step for Vincent Printing," said Wells, who joined Vincent Printing nearly eight years ago and has been company president for the past three years. "It will create broader opportunities where we can make needed investments in technology, equipment, facilities and our employees."
The company already prints millions of square feet of vinyl every year on its 11 presses that regularly roll off digitally printed signs and displays for everything from billboards to building walls, ceilings and facades, along with truck trailer decals and banners. Over the past couple of years through its VPro line of products, Vincent Printing has been expanding into the sports and entertainment industry, including being the official printer for the University of Alabama and a partner to print many of the athletic promotions for the University of Tennessee at Chattanooga. The company is also active in printing for stores and other point-of-purchase locations and transit displays on and in buses and other vehicles.
Wells said the new owners are planning to expand the company's product offerings, add more markets "and write the next chapter in our rich history."
Vincent Printing began before the outbreak of World War II using hand-drawn stencils and flat-tone printing to make signs, including early promotions for the movie industry among many other industries. The business has grown through the years and today works with thousands of customers throughout the United States.
Company at a glance
Name: Vincent PrintingStarted: 1940Location: 1512 Sholar Avenue in Chattanooga where the company leases about 90,000 square feet of office and production space in two buildingsProducts: Large-format prints for billboards, banners, truck trailer signs, building facadesOwner: Future Tech Holding Co., MLJB Holdings and Beau Wells bought the company on Dec. 29, 2021 from Doug and Charlie CaseyStaff: About 65 employees at its Chattanooga headquarters and production plant, in addition to sales staff in cities across the U.S.Company leaders: Beau Wells is president and CEO; Glen Brooks is chief financial officer and Alison Henry is vice president of customer engagement
(READ MORE: Billboard industry adapts to technology)
"We work with some of the largest advertising and media agencies in the world and the brands that we print for are some of the best known in the country," Wells said. "I think we're one of Chattanooga's best-kept secrets."
Even as more Americans spend more time looking at computer screens and social media, the billboard industry remains an important and growing advertising medium. With commute distances increasing, consumers are spending large amounts of time in their cars. According to the latest Arbitron National In-Car Study, over 8 in 10 billboard viewers make a point to look at the advertising message at least some of the time during their commute.
To help differentiate itself from other printers, Vincent Printing is working on new types of printed billboards, including a specially-coated board that helps to reduce the air pollutant nitrogen oxide and another type of sign that uses LED backlighting to light up certain features on the board at night.
Vincent Printing worked with Pureti Group LLC to develop its EnhanceAir, powered by Pureti, which is a topcoat that includes titanium dioxide and is applied to outdoor advertising materials to reduce nitrogen oxides that come in contact with the sign by about 30% without impacting appearance, Wells said.
"This product can help make outdoor advertising assets into strategically placed air purifiers," Wells said.
(READ MORE: Digital billboards grow in number)
When sunlight hits the EnhanceAir coating, Wells said the ultraviolet rays from the sun prompt a series of reactions taking humidity and oxygen from the air turning them into cleaning agents that scrub the air of pollutants and nitrous oxides, which create air smog. The company brags on its website that an EnhanceAir-coated billboard in the market for one year has the capacity to reverse the effects of 10 cars driving 10,000 miles per year.
Contact Dave Flessner at [email protected] or at 423-757-6340.