When Uros Plavsic moved six time zones from Serbia to Chattanooga in October 2017, he did so with the goal of enhancing his basketball career.
Standing 7 feet tall was a notable advantage, but nothing was guaranteed.
"Before that, I had never seen a college basketball game in my life," Plavsic said late Tuesday night. "I really didn't know what I was putting myself into, but I wanted to go with my gut. I made the decision, and I had to stick with it."
Hardly an overnight success, Plavsic (pronounced PLAV-chich) played the most complete game of his adventurous college stint Tuesday during Tennessee's 68-60 topping of Vanderbilt in Nashville's Memorial Gym. The redshirt junior tallied 13 points on 6-of-7 shooting from the floor and pulled down seven rebounds in his 21 minutes of action.
Plavsic's minutes and points represented personal high marks for the season.
"The guys love him," Tennessee seventh-year coach Rick Barnes said. "He is authentic and real, and he's had tough times. He's wanted to play, and a couple of weeks ago he said, 'I'm going to do exactly what this team needs.' He's got a great voice on the court. He talks, and he really is a guy who can move the ball for us.
"He's waited for an opportunity, and I thought he made the most of it. He's worked hard. He really has. He's hung in there with it. Our best teams have been with guys who have bought into the program, believe in it and stick with it."
With less than a minute to play in a 60-60 deadlock, Plavsic rebounded Zakai Zeigler's missed 3-point attempt and made the short stick back to put the No. 24 Volunteers ahead to stay. Barnes referred to it as a "big-time play," and the basket certainly ranks among the most significant of Tennessee's inconsistent 12-5 season that continues Saturday against visiting LSU.
Plavsic is the first Serbian player in Tennessee history and the first 7-footer since Steve Hamer from 1992-96.
Photo Gallery
Tennessee Vols forward Uros Plavsic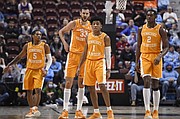 THE JOURNEY BEGINS
Plavsic played the 2017-18 season under the direction of Zach Ferrell at Hamilton Heights Christian Academy, averaging 9.6 points and 7.5 rebounds for the Chattanooga prep program.
Hamilton Heights went 28-7 and won the National Association of Christian Athletes national championship that season, and Plavsic was ranked among the top five prospects in Tennessee in the 2018 class.
"That was a big year for me, coming into the U.S. for the first time and not knowing anything," Plavsic said. "It was really big for me, and I want to give all the credit to my host family - Coach Zach Ferrell and his wife and their kids - for giving me a home that year. Being able to live with them was amazing - to feel like you were a part of someone's family."
Ferrell played at the University of Tennessee at Chattanooga, as did Drazen Zlovaric, who knew Plavsic and was a Cleveland State University assistant when Plavsic came to Chattanooga. Plavsic quickly committed to Cleveland State, but he and Zlovaric eventually would head to Arizona State in 2018 to play and work, respectively, under Bobby Hurley.
Plavsic redshirted the 2018-19 season but then transferred to Tennessee and enrolled in May 2019. His waiver for immediate eligibility was denied by the NCAA, which resulted in him sitting out the first 15 games of the 2019-20 season, but the NCAA's Committee for Legislative Relief finally ruled him eligible on Jan. 14, 2020.
"It's obviously a long, complicated story with how his recruitment went and his journey to get here, but he is here," Barnes said. "We knew about him, and we wanted him from the get-go. We got him back, and we're all just really proud of him. He's an extremely well-liked guy on our team.
"He's very unselfish, even on those days when he didn't get to play or I had a quick hook with him. I've told him, 'If you're going to be stubborn, I'm going to win that battle,' but he's doing what we've asked him to do, and he's building on it. He's made some winning plays for us."
Ferrell, incidentally, would leave Hamilton Heights to become an assistant at Eastern Florida State College in Melbourne and is now the Melbourne-area head of the Fellowship of Christian Athletes.
STILL GETTING BETTER
Barnes started Plavsic over sixth-year senior John Fulkerson on Tuesday night, giving Plavsic his third start of the season.
Plavsic's 12.1 minutes a game ranks ninth for the Vols, with the 251-pounder averaging 4.2 points and 3.1 rebounds. Playing time was increasing before Tuesday night's performance, and his shooting clip for the season is an impressive 59.6%.
"He's been playing great," freshman point guard Kennedy Chandler said. "He competes hard every day in practice and crashes the boards. He does the little things, too, and he just gets everybody going and gets the energy going. He's been getting a whole lot better every single day."
Barnes explained after the win at Vandy that Plavsic's productivity has to begin with defense and rebounding and that he and his staff are trying to limit him to a couple areas on the floor where he can be most effective offensively. If he's not too fatigued, Barnes added, Plavsic can do a nice job on ball screen defense as well.
Plavsic insists on doing the dirty work for the Vols, and there is no question his abundance of patience is paying dividends.
"It's been really tough, but you've just got to wait for your moment and for your opportunity," he said. "If you are not happy with the success of other people, I don't think you'll ever be successful. If I see my teammates doing well on the floor or off the floor, I'm going to support them and be happy for them no matter what kind of situation I'm in at that moment.
"I'm not a selfish guy. I want everybody on this team to make it. If everybody could score 20 points and have 20 rebounds I would love that, but this is basketball, and sometimes you have a good day and sometimes you don't."
Contact David Paschall at dpaschall@timesfreepress.com or 423-757-6524. Follow him on Twitter @DavidSPaschall.