The lines connecting Nathaniel Calloway's family tree form a diagram of history alongside some of the nation's most prominent historical figures. Originating in Cleveland, Tennessee, the family crossed paths with the likes of Booker T. Washington and W.E.B. Du Bois, along with helping build schools across the rural South for Black students.
Those stories were passed down and widely discussed among the descendants.
"I'm in awe of it as much as anyone else is, but they accomplished some amazing things that anyone would be compelled to talk about," Calloway said.
But there was one story, one figure in the family whose journey did not make sense. Calloway's great-great-great grandfather and namesake, Nathaniel Grant, a former slave who bought his freedom in 1855 and died in Liberia in 1858, thousands of miles away from his wife and nine children.
"Even at a very young age, I always found it confusing that he would leave his wife and family in bondage and go to Africa," Calloway said. "But I guess maybe I rationalized it or assumed that he was just going there temporarily, that he was going to buy their freedom and bring them to Africa. But nonetheless, I thought it was odd."
Around 2015 Calloway received a message from a Cleveland State Community College history professor. The story of what happened to Nathaniel Grant was more sinister than the family had believed.
Nathaniel Grant had not gone to Africa to stake his claim as Calloway had believed for decades. He was a free man living in Southeast Tennessee who was forced back into bondage in 1856 under a recently passed state law. He was forcibly separated from his family, then deported to the west coast of Africa, a place he had never seen, where he died months later of sickness.
The full story, the true story, of what happened to Nathaniel Grant motivated Calloway to try and clear his ancestor's name.
"He tried to take control of his life and his destiny," Calloway said. "But, as we know, that's not what happened. He was given his freedom, then his freedom was taken away. He didn't have any control over his destiny or his life."
A gravestone, a story
Bryan Reed, associate professor at Cleveland State Community College, was walking through the Fort Hill Cemetery, looking for potential people to feature in a local history tour, when a certain gravestone caught his eye.
Reed knew the cemetery was historically segregated - Black plots were down the hill from the grave in front of him, prominent white families had plots behind where he stood. The history professor assumed the gravestone marking "Dr. S.L. Grant" in front of him must be a white male doctor of the 19th century.
Wrong on both counts.
S. L. Grant was Sarah Louise Grant, a woman born into slavery who moved from teacher to nurse to doctor in the post-emancipation South. Sarah's mother, Caroline Grant, is buried nearby in the family plot.
As Reed read Caroline's grave - helped by a chalking to decipher the faded carving - he was intrigued by the inscription that described her as the widow of Nathaniel Grant, who had died in Liberia. Research at the Cleveland library uncovered the court case, Reed said.
Nathaniel Grant was born into slavery in 1812 and was owned by Capt. William Grant of Cleveland. Reed said Nathaniel Grant and William Grant developed a contract in which Nathaniel would be freed after four years. Nathaniel Grant bought his freedom for $155 on June 30, 1855. He was a skilled carpenter, a Methodist minister and a leader in his community, according to Calloway.
But in 1854, the Tennessee assembly had passed a law "to regulate the emancipation of slaves, and to provide for the transportation of free persons of color to the western coast of Africa." By 1856, William I. Campbell, a justice of the peace for the county and state, petitioned the sheriff to bring Nathaniel Grant, still referred to as a slave and "boy" despite being a free man, before the court.
Photo Gallery
Bradley County freedman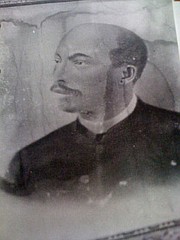 Grant and his former owner both fought the legal action. The Bradley County court, according to documents from the time, acknowledged Nathaniel Grant as a free man.
But under the new law, the court took custody of the free man and sold him to the highest bidder to work until he could earn the amount necessary to pay for his passage to Africa, Reed said.
In 1857, Nathaniel Grant was placed aboard the Mary Caroline Stevens ship in Baltimore and sent to Liberia, Reed said. His wife and nine children remained in bondage in Bradley County, owned by William Grant's family until after the Civil War.
"I can only imagine how sad that moment must have been, him leaving his wife and eight or nine children behind, including an infant daughter," Calloway said. "That must have been incredibly sad."
In October 1858, Nathaniel Grant died in Liberia, believed to be caused by a fever from a tsetse fly, Reed said.
Nathaniel Grant's descendants went on to make a sizable mark on American history. His daughter, Sarah, was a teacher and later studied medicine at Meharry Medical College in Nashville.
Another daughter, Elizabeth, married George Calloway. Their children, three boys - Thomas, James and Clinton - all graduated from Fisk University in Nashville and played an integral role in the expansion of Black education in the United States.
James Calloway, along with his brother Thomas, was roommates with W. E. B. Du Bois. He went on to serve on the faculty of the Tuskegee Institute and traveled to Togo to study how people there cultivated cotton.
Thomas Calloway studied law at Howard University and helped form the NAACP. His teaching career led him to work for Booker T. Washington at the Tuskegee Institute. Thomas was also friends with civil rights pioneer W. E. B. Du Bois. According to the African American Registry, in 1900, President William McKinley appointed Thomas Calloway as a special commissioner to the Paris Exposition to create an exhibit on Black progress in America.
Clinton Calloway worked at the Tuskegee Institute in Alabama and helped build rural schools across the South, working with the Jeanes Fund and the Rosenwald schools to provide greater educational opportunities for Black Americans in the early 20th century. According to the National Trust for Historic Preservation, by 1928, a third of Black school-aged children in the rural South were attending a Rosenwald school - some 5,000 of which were funded in part through donations from Julius Rosenwald, the man who turned Sears, Roebuck & Co. into a national success story.
'Heal an open wound'
Calloway wonders why Nathaniel Grant did not try to escape, to run to the North, for example. Maybe the documents proving his freedom were confiscated. Maybe he could not leave behind his young family, worried what would happen if he was labeled a fugitive.
Or, Calloway wonders, maybe he thought he thought the justice system would do the right thing.
"It causes me to draw parallels between that and the justice system of today," he said. "We sometimes have an unjust justice system. They often prey upon the poor and the people who don't have means, people who don't have a voice. And little has changed in that way."
For years, what happened to Nathaniel Grant was a sad story Calloway carried. Then, last year, Calloway decided he could do something about it.
In November, Calloway sent a letter to 10th Judicial District Attorney General Steve Crump requesting the DA overturn the court decision that sent Nathaniel Grant to Liberia.
"I know having this decision overturned won't change the outcome but it will go a long way towards righting a wrong and maybe, just maybe heal an open wound that has an effect on all of us," Calloway wrote in his letter, a copy of which was shared with the Times Free Press.
Crump told the Times Free Press he is working with the Attorney General's Office to see what is possible and what needs to be done. He said he hopes to have an update in the next few days.
"We're planning to seek to get an order to get him declared a free citizen of the United States," Crump said. "It's my sincere hope that we will be able to do something."
Changing a ruling more than 150 years ago will not change the course of Nathaniel Grant's life. It may be a change on a piece of paper, but it has importance for the present moment, Calloway said.
"I feel like in many ways, we've lost the ability to just know what's right and wrong in this country. Stuff that's just kindergarten-easy. Like this is right and that's wrong," he said. "And I think in many ways we've lost the ability to recognize that."
Contact Wyatt Massey at wmassey@timesfreepress.com or 423-757-6249. Follow him on Twitter @news4mass.