University of Georgia quarterback Stetson Bennett's advice to area high school athletes among the more than 800 people in attendance for Wednesday night's annual Times Free Press Best of Preps awards banquet was simple.
"Love what you do," said Bennett, who spoke for about 20 minutes during the event. "If you don't love whatever it is you're doing, it will feel more like a job and just become a grind. Whatever it is you're doing, make sure you love it, and that way you won't mind however much work goes into making yourself the best you can be."
The banquet returned to an in-person format at the Chattanooga Convention Center after two years as a virtual event due to the coronavirus pandemic.
A total of 24 awards were presented, including the trio of Scrappy Moore honors: Female Athlete of the Year went to Northwest Whitfield's Emma Allen, Male Athlete of the Year went to McCallie's William Riddle and the overall Coach of the Year was shared by South Pittsburg football co-head coaches Heath Grider and Wes Stone.
"It was an honor just to be there and hear what Stetson Bennett had to say," said Riddle, who also took home the E.B. "Red" Etter football award. "One of his quotes that stood out to me is how four- and five-star athletes get a lot of chances to fail, while walk-ons are given fewer chances to succeed.
"That goes to knowing you have to work hard to always be ready and make the most of every opportunity you get. These are individual awards, but really they're such team awards because I couldn't accomplish anything without my great teammates, coaches and training staff in both sports."
An East Tennessee State University football signee, Riddle guided both the Blue Tornado football and lacrosse teams to state championships, earning all-state honors in each sport. He led the lacrosse team in shot percentage with 31 goals and 15 assists on the way to its TSLA state title, and he was the TSSAA Division II-AAA BlueCross Bowl MVP after quarterbacking McCallie to its third straight football state title. For the season, he threw for 3,075 yards and 43 touchdowns and was also named a state Mr. Football finalist.
Photo Gallery
2022 Best of Preps awards banquet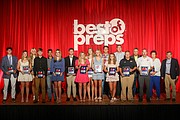 Five of the six finalists for the overall female athlete award were multisport athletes, but Allen stood out even in that group for her accomplishments on the basketball and volleyball courts. She was voted GHSA Region 7-AAAA's top girls' basketball player after averaging 12 points and seven rebounds to help the Lady Bruins reach the state quarterfinals. However, she put up even more impressive numbers in volleyball by leading the area with 552 kills and also totaling 454 assists, 96 aces and 50 blocks in 47 matches for Northwest, which advanced to the state semifinals.
She is the first player from the northwest Georgia area to finish her prep volleyball career with more than 1,000 kills and assists.
"It's a tremendous honor, almost like icing on a cake," said Allen, who was also named the Neely-Merrill Volleyball Award winner. "Awards and titles aren't something you work for, but it's still a proud and great feeling to have your hard work acknowledged."
Grider and Stone took over the South Pittsburg program when Chris Jones abruptly quit the team after just one regular-season game to return to coaching in the Canadian Football League. Against a challenging schedule and several other obstacles - including two other assistants either being let go from the staff or quitting before the playoffs - the Pirates rallied to score two late touchdowns for a dramatic road win in the semifinals, then finished off an unlikely 12-2 season with another dramatic second-half rally, coming back from a 14-0 deficit to defeat previously unbeaten and top-ranked McKenzie to win the program's sixth Class 1A state title.
Besides the individual sports award winners, other special honors included the John Franklin Academic Award going to McCallie's Charlie Griffin and the Sandy Sandlin Unselfish Sportsman Award going to the husband-and-wife tandem of David and Susan Crownover, who combined to work for more than 70 years as educators and coaches at area schools.
The Guy Francis Award for Going the Extra Mile for prep sports went to Grace Academy football coach and athletic director Bob Ateca, who made the decision to move to eight-man football last season after tornadoes had destroyed the school's campus. The decision was made in an effort to allow the 17 players to continue competing in a way that would not expose them to an unlevel playing field or greater risk of injury due to their small roster numbers and lack of facilities.
Veteran Northwest Whitfield coach Bob Williams was named the Bobby Davis Heart and Desire Award winner. The girls' basketball coach was diagnosed with stage 4 liver and colon cancer in March 2021 and undergoes regular treatment. None of that, however, has kept him from coaching the Lady Bruins, who overcame a slow start this past season to win the Region 7-AAAA championship and make a deep run in the state playoffs.
Contact Stephen Hargis at shargis@timesfreepress.com or 423-757-6293. Follow him on Twitter @StephenHargis.
BEST OF PREPS AWARD WINNERS
Red Etter Football Award: William Riddle (McCallie)Neely-Merrill Volleyball Award: Emma Allen (Northwest Whitfield)Robert High Boys' Basketball Award: Aidan Hadaway (LaFayette)Jackson-Lacy Girls' Basketball Award: Courtney Zensen (Whitwell)Farr-Worsham Wrestling Award: Cody Williams (Dade County)Wirt Gammon Sr. Baseball Award: Henry Godbout (Baylor)Buck Johnson Softball Award: Ansley Blevins (GPS)Steve George Boys' Soccer Award: Nico Cuna (Northwest Whitfield)Best of Preps Girls' Soccer Award: Zoey Mize (Baylor)John Phillips Boys' Track Award: Jeremiah Flemmons (East Hamilton)LaQuisha Jackson Girls' Track Award: Evie Culbreath (Baylor)Jim Phifer Boys' Golf Award: Haden Maxwell (Baylor)Brooke Pancake Girls' Golf Award: Hannah Nall (Cleveland)Mickey Haddock Boys' Cross Country Award: Carter Bradford (Sequatchie County)Phoebe Wright Girls' Cross Country Award: Addi Greene (Baylor)Guerry Boys' Tennis Award: Andreas Sillaste (McCallie)Bartlett Girls' Tennis Award: Adga Laasko (Baylor)Bobby Davis Heart & Desire Award: Bob Williams (Northwest Whitfield)Sandy Sandlin Unselfish Sportsman Award: David and Susan CrownoverGuy Francis Going the Extra Mile Award: Bob Ateca (Grace Academy)John Franklin Academic Award: Charlie Griffin (McCallie)Scrappy Moore Male Athlete of the Year: William Riddle (McCallie)Scrappy Moore Female Athlete of the Year: Emma Allen (Northwest Whitfield)Scrappy Moore Coach of the Year: Heath Grider & Wes Stone (South Pittsburg)