Her business may have a whimsical name, but it was inspired by a deadly serious choice Stacy Martin made in 2019. Martin launched Seahorse Snacks after having her stomach removed to dodge the high probability she would develop a fatal cancer.
"My esophagus is attached directly to my small intestine," Martin says. "I have to eat every two hours, small portions, and I can't eat and drink at the same time."
When she created her business in 2021, Martin chose the name Seahorse Snacks because, like seahorses, she has no stomach.
"Before my surgery, I didn't know what life would be like," she says. "I was so scared, trying to wrap my mind around what it would be like to eat without a stomach.
"It's crazy to think about," Martin adds, "but my life is better than it was before. It's an amazing journey I'm on."
Photo Gallery
Seahorse Snacks founder's cancer-fighting surgery leaves only a stomach for business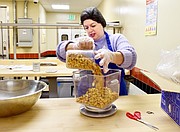 In February 2019, Martin learned she had a genetic mutation found in one of every 9 million people – and it meant she had an 80% chance of developing stomach cancer.
"I never felt sick," she says, "but it was 80%. The math is the math."
Ten months later, surgeons in Bethesda, Maryland, performed the pre-emptive gastrectomy. As it turned out, her decision probably saved her life.
"When they removed my stomach, they found 17 spots of cancer," she says. "I was very fortunate – people diagnosed with active stomach cancer have a less than 5% chance of living five years."
Martin, 44, says she had her surgery in suburban Washington, D.C., because she's participating in a National Institutes of Health study. A year after her surgery, while she was back for a checkup, she bought a pound of nuts from a street vendor.
"I ate that pound of nuts in three days," she says. "I'd discovered a snack that I loved."
Martin says she'd been thinking of starting her own business, and that chance, nutty encounter in D.C. flipped a switch.
"I thought, 'Why can't I do this?' Nuts met all my criteria – I can eat anything, but I need to lead with protein. Nuts are portable and don't need temperature control," she says.
Martin says she founded Seahorse Snacks early last year, working long nights in her kitchen after tending to her day job as a vice president at Dalton, Georgia-based Displaycraft.
"I found a supplier for nuts, ordered some spices, ordered some boxes and started tinkering," she says. "I went through 10 iterations of Chili Turmrific."
Martin recalls making her debut in March 2021 at the Black Creek Farmers Market in Lookout Valley.
"I was ecstatic," she says. "I had real customers – nine that day, I think – and sold real product."
Seahorse Snacks
* Address: 5704 Marlin Road* Online: seahorsesnacks.com
Martin says she moved her operation into the Kitchen Incubator of Chattanooga, near Eastgate, in October of last year. In her first 10 months of operation, she had gross sales of about $7,000.
"I probably did two-thirds of that during the holidays," she says. "It just took off."
These days, Martin says, she'll spend one or two nights per week and half a weekend working at the Kitchen Incubator. She says she makes and sells two flavors – Chili Turmrific on almonds, cashews and pistachios, along with Maple Chaitastic on pecans.
As for the future, Martin says she hopes to build Seahorse Snacks to a point at which she can "be my own boss" in two to three years.
"I'm still working on a strategic plan, focusing on getting distribution with high-end, boutique retailers, like wine and cheese shops, throughout the southeast," she says.
And Martin says she'll be "healthier than I've ever been" as she strives to grow her business.