McAlister's Deli, which renovated the former Panera Bread location near Northgate Mall after Panera relocated its Hixson store last April, will open the remodeled restaurant on Monday.
Southern Rock Restaurants, one of the largest franchisees of the McAlister's sandwich shop chain, is opening its newest eatery at the Hixson Pike entrance to Northgate Mall at 10:30 a.m. Monday. To mark the grand opening, the first 112 people in line when the new McAlister's opens will be given free tea for a year.
"Over the years, I have frequently traveled through Hixson and just love this community here." David Blackburn, CEO of the Franklin, Tennessee-based Southern Rock Restaurants, said in an announcement of the restaurant opening. "With the success we have had with McAlister's in Chattanooga, I know the Hixson community will welcome us with open arms."
The 4,478-square-foot restaurant, which was built in 1991 for Panera Bread, has been renovated over the past several months by the Chattanooga building firm Modus Build to revamp the kitchen and eating areas and to add a new drive-through window. The Hixson McAlister's will offer a variety of ways for guests to dine, including dine in, outdoor patio seating, pick up window, in-store pick up station, delivery, catering and also free Wi-Fi for guests in the restaurant.
Photo Gallery
McAlister's opens Monday near Northgate mall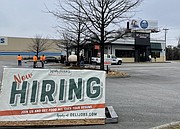 Last spring, Panera Bread moved to another outparcel near Northgate Mall only a quarter mile away along Highway 153 to gain greater visibility and to add a new drive-through window.
The new McAlister's will be the third such sandwich shop in Chattanooga in addition to the existing McAlister's locations on Signal Mountain Road and Gunbarrel Road and is among the 95 locations operated in seven states by Southern Rock Restaurants.
Nationwide, the McAlister's chain has 511 eateries. Founded in 1989, McAlister's is known for its handcrafted sandwiches, fresh salads, stuffed potatoes and its own brand of sweet tea.
Contact Dave Flessner at dflessner@timesfreepress.com or at 423-757-6340