As part of her job as events coordinator and hospitality manager with Wanderlinger Brewing Co., Molly Lamb is around beer, beer crafters and beer drinkers pretty much every day.
She's become so interested in beer that she is now a level-one cicerone, which is a designation given "hospitality professionals with proven experience in selecting, acquiring and serving today's wide range of beers," according to cicerone.org. She plans to work her way through the three remaining levels.
Through her studies, she learned about beer and wants to share that knowledge with others. To that end, she will be leading a monthly class on the last Saturday of each month at the brewery on King Street. The first class will be at 3 p.m. this Saturday.
"Everyone is welcome," she said in a telephone interview. "There is no criteria to attend. You don't even have to love beer. You can just come and learn and sample different types of beers each month."
Photo Gallery
Wanderlinger's Molly Lamb to lead new beer classes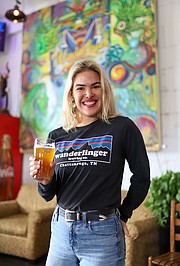 As an intro to the classes, Wanderlinger will hold Lager Fest on Saturday starting at 2 p.m. offering 12 lagers all day including beers from its own menu, but also beers from Five Wits Brewing Co., Cherry Street Brewing and OddStory. There will also be German-inspired food, live music, games and a tapping of the firkin, which is a special cask used in the brewing process.
There is no charge to attend Lager Fest, but you will need to buy your food and beer. The first beer school starts at 3 p.m. and is $20. To register, email Molly at molly@wanderlinger.com.
"I want to get into the history of certain beers but also tips on tasting beer and what to look for," Lamb said. "It is not a home-brewing class, but we will learn about the brewing process and things like what are malts and hops and how they impact the taste and brewing process."
Among the topics to be discussed will be the difference between a lager and an ale, why barley is the most common grain to brew with, the difference between an American stout and an Irish stout and how the German purity law governs regulations around beer. Lamb will also address the rules surrounding the purity law.
Wanderlinger co-owner Chris Dial said the classes are designed to do several things. He said the venue features a lot of live music and the classes will serve to put the emphasis back on beer and the brewery. Additionally, he hopes the classes will educate people on what differentiates a good beer from a great beer. The classes will also give customers a chance to share their thoughts on what they want in their beer selections.
"Sometimes it's easier to go on social media and rate a beer, and sometimes people don't tell us directly that they'd prefer something else.," he said in a telephone interview.
Contact Barry Courter at bcourter@timesfreepress.com or 423-757-6354. Follow him on Twitter @BarryJC.
Did You Know
- Around the world, humans consume more than 50 billion gallons of beer every year.
- Beer is the most widely consumed alcoholic drink on the planet.
- The oldest beer brewery dates back to 1040.
- Dating back to 5,000 BC, beer is one of the oldest beverages in the world.
- Budweiser is the world's most famous beer.
Source: facts.net.