Fifty years ago, a half dozen Sequatchie County business owners decided to try to organize another local bank to Dunlap to compete against the only other local bank, Sequatchie County Bank, later renamed to Mountain Valley Bank.
"We wanted to have a competitive market and as we began to organize the bank we found a lot of others did too," recalled Glenn Barker, a retired dairy farmer who helped organize the bank with his brother Flavius and four other local business owners.
Ultimately, nearly 400 local investors raised the $500,000 needed to capitalize the new bank, originally known as Citizens Bank of Dunlap.
Over the past half century through a half dozen bank acquisitions and the purchase of several other bank offices in other cities, Citizens Bank revamped its name a couple of times and has grown into a $1.2 billion-asset bank with 25 offices spread across nine counties of Tennessee. Citizens Tri-County Bank, which has been the institution's name since 1992, is now the 18th biggest bank headquartered in Tennessee and one of the biggest located outside one of the state's biggest cities.
For all its growth, bank officials insist they strive to maintain relationship banking and stay focused on the smaller towns of East and Middle Tennessee.
"Our niche has remained in the rural markets where we feel like we can maintain relationships with our customers and serve the needs of the communities where we are located," John Barker, the CEO of Citizens Tri-County Bank for the past decade, said in a telephone interview last week. "We're like the Dollar General store of banking. Dollar General has been successful in small towns and rural areas and so have we."
Barker insists that the bank's employees have been key to the growth and success of Citizens Tri-County. For all of the automation and technology changes in banking, Barker insists the business is still based upon people.
"The banking business is any relationship business," he said. "It's like going to a doctor. Once you get a good relationship and you continue to be taken care of, you will stick with that bank."
By acquiring other banks, rather than selling out to other bidders, Citizens Tri-County has continued to grow and remain as an independent, community bank, Barker said.
"In today's environment to be effective, you have to have a scale and size to compete, but you also have to stay focused on customer relations," he said.
It's a lesson that Barker learned from his father, Glenn, who previously served as CEO of Citizens Bank for nearly three decades.
Bank at a glance
Name: Citizens Tri-County Bank (since 1992)Established: 1972Original organizers: Elmer Studer, H. Glenn Barker, W.L. Rogers, Flavius Barker, Dr. Charles Graves, and Preston Cates.Headquarters: Dunlap, TennesseeLocations: 25 offices in nine Tennessee countiesAssets: $1.2 billionStaff: 284 full-time equivalent employeesCEO: John V. BarkerSource: Federal Deposit Insurance Corp., data as of March 31, 2022
"We're community bankers and always will be," the elder Barker said during a recent interview at his Sequatchie County farm where he worked as a dairy farmer early in his career.
Barker became CEO of Citizens Bank in 1983 after the bank had been headed initially by Henry Phillips and later by William Broyles and then briefly by L.A, Broomfield. When Barker took over, the bank had $7 million in deposits but was operating in a tough economic market, especially in many rural areas of Tennessee hard hit by the decline in textile industries and other manufacturing businesses.
Five other banks within a 50-mile radius were shut down in the 1980s, including United Bank of Chattanooga, Bledsoe County Bank, Warren County Bank, First United Bank of Tracy City and Coalmont Savings Bank.
"We were very fortunate to survive during the 1980s," Barker recalled.
But the problems for other banks created a buying opportunity for Citizens Bank. Only a few weeks after becoming CEO, Glenn Barker and the Dunlap bank agreed to buy the Bledsoe County Bank when it was shut down by bank regulators.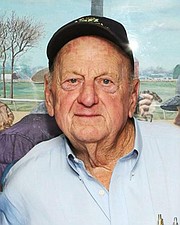 Citizens Bank emerged as the top bidder for the assets of Bledsoe County Bank and the Dunlap bank took over the assets of the failed Pikeville bank in 1984 and changed its name to Citizens Bank of Dunlap and Pikeville.
"For a business to be successful you have to grow and we saw Bledsoe County as a real opportunity to expand our market," Glenn Barker said.
Other market expansions came as Citizens bank bought former bank branches closed in other small towns by Nations Bank, AmSouth and others. In 1992, Citizens Bank acquired Nations Bank branches in three Grundy County cities - Tracy City, Altamont and Palmer - and the bank's name was changed to Citizens Tri-County Bank.
Over the past three decades, Citizens Bank has continued to expand by buying other banks outright or taking over former bank branches from other banks that decided against operating in smaller towns. But even as Citizens Tri-County has expanded to nine counties, the name has remained Citizens Tri-County Bank.
"It just didn't seem to make sense to keep changing our name so we have stayed with Citizens Tri-County (since 1992)," Glenn Barker said.
Citizens Tri-County Bank has branched into Marion and Hamilton County, but John Barker said building new branches in other new markets isn't currently on the drawing board. But while other banks continue to prune their branch network, Citizens Tri-County Bank has not closed any of its offices throughout its history.
"With the right opportunity, we would certainly consider other acquisitions," John Barker said. "We take great pride in the bank's slogan, 'The only community bank you'll ever need.' "
Citizens Tri-County Bank plans to mark the 50th anniversary of the bank with a celebration at 10 a.m. on Oct. 8 at the main office in Dunlap, Barker said.
Contact Dave Flessner at [email protected] or at 423-757-6340.
Bank milestones
1972 - Citizens Bank opens in a trailer at the bank's current main office location in downtown Dunlap,1984 - Bought Bledsoe County Bank in Pikeville, Tennessee and changed the bank name to Citizens Bank of Dunlap and Pikeville.1992 - Acquired former Nations Bank offices in Tracy City, Altamont and Palmer and changed the bank name to Citizens Tri-County Bank1995 - Purchase an Amsouth Bank office in South Pittsburg.2002 - Bought bank branches in Monteagle and Tracy City.* 2005 - Bought Cumberland Bank in Warren County2006 - Acquired First National Bank of Tullahoma in Coffee County2011 - Bought Citizens Bank of Spencer to expand into Van Buren County2015 - Purchased Berkshire Bank in Morrison, Tennessee2016 - Bought Franklin County United Bank with branches in Decherd and CowanSource: Citizens Tri-County Bank history