To drive through our city's national cemetery on Saturday afternoon was to be overcome by an emotional wave of patriotism, respect and gratitude for all those who risked or lost their lives to serve our country. Each headstone was marked with a small American flag. Larger flags flew throughout the cemetery. Flower arrangements were placed at numerous graves.
It was everything a Memorial Day weekend tribute should be to properly honor our courageous military veterans.
But at least one American - San Francisco Giants manager Gabe Kapler - wrote on a social media post on Friday that he won't take the field again for the national anthem "until I feel better about the direction of this country" after the horrific mass shooting Tuesday in Uvalde, Texas, that left 19 Robb Elementary School students and two adults (not counting the 18-year-old gunman) dead.
Added Kapler in his post: "When I was the same age as the children in Uvalde, my father taught me to stand for the pledge of allegiance when I believed my country was representing its people well or to protest and stay seated when it wasn't. I don't believe it is representing us well right now."
Nor was Kapler the only professional sports coach to question the direction of this country the past few days in the wake of Uvalde, the May 14 grocery store shooting that claimed the lives of 10 people in Buffalo, New York, and the May 16 church shooting in Orange County, California, that killed one person and injured five others.
Hours after the Uvalde tragedy, Golden State Warriors coach Steve Kerr began a news conference prior to Game 4 of the NBA's Western Conference finals against the Dallas Mavericks - a series the Warriors won Thursday night - thusly: "In the last 10 days, we've had elderly Black people killed in Buffalo, (an) Asian churchgoer killed in Southern California, and now we have children murdered at school. I'm fed up. I've had enough."
Sports has been at the forefront of social discourse and change since at least the 1936 Berlin Olympics, when Black American track and field sensation Jesse Owens raced and jumped to a record four gold medals, much to the chagrin of Nazi leader Adolf Hitler. Sports Illustrated later wrote of Owens "single-handedly crushing Hitler's myth of Aryan supremacy."
Jackie Robinson would integrate Major League Baseball 11 years later.
Nineteen years after that, heavyweight boxing champion Muhammad Ali refused to serve in the military over religious reasons, which caused him to be stripped of his title at the height of his career, a move that took him four years and a Supreme Court ruling to win back.
Then there's Colin Kaepernick, who was granted a tryout by the Las Vegas Raiders this past week after basically being unofficially banished from the NFL since the close of the 2016 season for having taken a knee during the national anthem that year to peacefully protest the treatment of Black people by the police and others.
So far, Kapler has not been censored by the Giants, perhaps because more than 80% of Americans are said to favor far tougher gun laws and background checks.
But the stances of Kapler and Kaepernick aren't embraced by everyone, including two Vietnam War veterans who visited the Chattanooga National Cemetery on Saturday.
Calling himself "Birdman" - "I don't trust the media," he said when declining to give his full name - the 75-year-old retiree said of anyone who doesn't stand for the anthem: "They ought to be deported. If you don't like it here, leave."
Richard Kemp was more measured in his response, but equally firm on his stance: "I'm definitely against kneeling for the national anthem."
But he also said of Kerr's impassioned plea to our nation's politicians, beginning with Senate minority leader Mitch McConnell of Kentucky: "I heard what Kerr said. Emotions are high right now. But we do need some common-sense gun laws, beginning with background checks."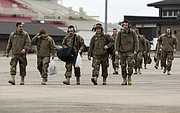 If any famous sports person's views on guns should carry extra weight, it's Kerr, whose own father was killed by terrorists in a 1984 attack on American University in Beirut.
In criticizing Congress for not passing H.R. 8 - a bill that would tighten background checks for firearm sales between private parties, Kerr said: "So I ask you Mitch McConnell, I ask all of you senators who refuse to do anything about the violence and school shootings and supermarket shootings. I ask you: Are you going to put your own desire for power ahead of the lives of our children and our elderly and our churchgoers? Because that's what it looks like."
Kemp was right that emotions are high right now. But so is interest. And much as Jesse Owens, Jackie Robinson and Muhammad Ali had a profound impact on this nation's beliefs on race and equality and war, the actions of Gabe Kapler, Colin Kaepernick and Steve Kerr may also help deliver meaningful change, especially as it pertains to gun laws.
Said Kerr on Tuesday night in Dallas, some 400 miles from Uvalde: "I want every person listening to this to think about your own child or grandchild or mother or father, sister, brother. How would you feel if this happened to you today? When are we going to do something?"
Because less than a week after what happened in Texas, less two weeks after the California church shooting and just more than two weeks past Buffalo, we should be spending this Memorial Day weekend honoring those who sacrificed their lives to protect our right to live freely and safely rather than mourning the 19 school children and 13 adults who were senselessly and brutally murdered by weapons their owners never should have been allowed to purchase.
When, if ever, are we going to do something, indeed?
Contact Mark Wiedmer at [email protected]. Follow him on Twitter @TFPWeeds.