ATHENS, Ga. — In reaching November unbeaten for the first time since its national championship season in 1998, Tennessee had avoided the Florida Gators' bite and outlasted Alabama's persistence but could not silence Georgia's glory. Glory.
In Saturday's matchup of No. 1 Georgia versus No. 2 Tennessee in the Associated Press Top 25 poll — the first meeting of the nation's top two teams in Sanford Stadium's 93-year history — the reigning national champions made an emphatic four-quarter statement that they aren't ready to relinquish their status atop college football.
Especially not to up-and-coming rival Tennessee in front of a national television audience and a lathered-up Bulldogs fan base.
The 27-13 shellacking, which was nowhere near as close as that final margin would indicate, should vault Georgia to the top of this week's College Football Playoff rankings and relegate the Volunteers, who were No. 1 on that list this past week, to outsiders in need of help to return to the four-team playoff discussion.
After Tennessee scored first, capitalizing off a Georgia fumble on the opening series, the Bulldogs reeled off 24 of the next 27 points to end any doubt by halftime.
Photo Gallery
Tennessee vs. Georgia football, Nov. 5, 2022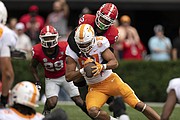 From the Vols' early offensive series, Heisman hopeful quarterback Hendon Hooker was rattled equally by the jet-engine-level noise Bulldog fans created and a destructive Georgia defense, which had only 10 sacks coming into the game but dropped Hooker six times behind the line of scrimmage and ended his 20-game streak of throwing at least one touchdown pass.
But it wasn't just Hooker, who was limited to 195 passing yards, who looked uncharacteristically shook up Saturday. Tennessee's offense committed seven false-start penalties — each a direct result of the noise — and were just 2-of-14 on third-down conversion attempts.
Simply put, Georgia had too much talent and physicality, and executed at too high a level for the Vols to keep pace.
"Be real about what happened tonight," Vols coach Josh Heupel said. "With the type of environment and competitive arena that you're in, as a program on the road, we have to grow and be able to handle that much better than we did. You have to understand what you're getting yourself into with the atmosphere and energy and the focus needed to face that. The emotional part of the game, we had to settle into it and we did not do that in a positive way.
"I didn't think all in all we handled the noise very well. False starts, not being in sync with communication up front. There were protection issues and miscommunication. You put any of those together and we were not able to pay with tempo. There were opportunities and lots of things when you look back on that we have to execute better."
But despite being overwhelmed for a sixth straight double-digit loss to Georgia, what Tennessee did manage to do in the fourth quarter — by scoring a late touchdown to make the final margin just 14 points — was narrowly salvage its playoff hopes.
Barring a collapse against the lesser-talented trifecta of Missouri, South Carolina and Vanderbilt in their final three regular-season games, the Vols will finish 11-1 and along the way keep a close eye on how Oregon and TCU end their seasons after previously unbeaten Clemson, though bound for the Atlantic Coast Conference title game next month, was likely eliminated from CFP contention with Saturday night's lopsided loss at unranked Notre Dame.
A loss by any combination of those two could help Tennessee climb right back into the top four of the playoff rankings.
Also, considering Saturday's humbling came on the road against last year's national champion, which is 33-1 at home since 2017 with an average margin of more than 29 points, Tennessee's resumé is still playoff worthy — five wins over AP Top 25 teams compared with four for the entire ACC.
The Vols are now in the same category as other one-loss teams in the top 15 as Oregon's 46-point season-opening loss to Georgia came in Atlanta — essentially a home game for the Bulldogs — Southern California lost at Utah, UCLA lost at Oregon and Ole Miss lost at LSU.
At worst, if Tennessee finishes the regular season 11-1, an invitation to the Sugar Bowl would be its consolation. Although that would be a disappointment considering where the Vols were at November's dawn, it would still be an impressive accomplishment in Heupel's second season at the helm.
"It's an opportunity to learn from it, and we'll be better. We can be a whole lot better," Heupel said. "We'll have more opportunities to play in this type of ballgame, so be real about what we all need to do better as coaches and players. At the same time, understand that we're a good football team.
"It didn't happen tonight, but the great thing about sports is you reset and come back to work."
Contact Stephen Hargis at shargis@timesfreepress.com or 423-757-6293. Follow him on Twitter @StephenHargis.