Dave Hill says Signal Mountain's Larry Taylor is a hero, but Taylor doesn't agree.
Although the two have their differences on that point, they both remember the night of June 18, 1968, in Vietnam. That's when Taylor, then a first lieutenant in the U.S. Army, rescued Hill and three other soldiers surrounded by North Vietnamese troops and whisked them to safety on a Cobra helicopter.
"Larry Taylor is a true American hero," Hill, who lives in Nevada, said by e-mail. "He literally saved my life, and I want Chattanoogans to know about his actions."
Taylor's take? "It just needed doing," he said.
Taylor said he grew up in Chattanooga and did his undergraduate work at the University of Tennessee, where he enlisted in the Army Reserve Office Training Corps and graduated as a second lieutenant. He began his training in tanks at Fort Knox, Kentucky, but quickly changed course.
"It's humdrum if you're just walking around," he said. "I needed to fly."
Photo Gallery
Veteran Larry Taylor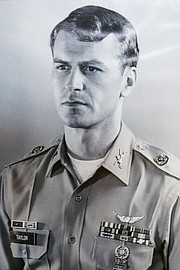 Taylor said he trained in Texas and Alabama to fly the Cobra -- "the fastest, most heavily armed helicopter in the world at the time."
He said he went on active duty in 1967 and was sent to Vietnam later that year.
Taylor recalled that June night 54 years ago when his team responded.
"Someone was in trouble -- you don't know (who) until you get there and make radio contact," he said.
In his email, Hill wrote that his four-man reconnaissance team was on a mission near a village northeast of Saigon when they were surrounded in a rice paddy by a North Vietnamese Army force of about 80 men, some of whom were as close as 50 meters.
"There was no viable escape route," Hill wrote. "We urgently requested helicopter gunship support and emergency copter extraction ... our only hope for survival."
Taylor said he knew each of the stranded soldiers.
"I'd been working with them for 10 months," he said. "They were like family."
He said that when his team -- himself, his co-pilot and two more soldiers in another Cobra -- reached the recon team's position, he radioed the men on the ground to start running as soon as he drew the attention of the North Vietnamese soldiers.
Hill wrote that Taylor "put a steel curtain around our team" with 152 air-to-ground rockets and nearly 12,000 machine-gun rounds, adding that when Taylor ran out of live ammo, he turned on his landing lights and "made fake gun runs at the enemy."
Hill wrote that the enemy wasn't fooled for long, though, and "blistered" Taylor's now unarmed choppers with small-arms fire. With time and fuel running out, Taylor made his move, dropping low enough for Hill and his mates to jump on, which posed yet another problem.
"Four people can't fit in a Cobra," Taylor said, "so I've got two guys on my right skid and two more on the other side, astride the rocket pods. As soon as I heard them slap the side of the ship to let us know they were ready, I climbed straight up to 1,500 feet, out of small-arms range."
Taylor said he took the men to a water treatment plant, where they scrambled off.
"They ran out from under the rotor blades, then turned around," he said.
As Taylor's voice cracked and gave way to emotion, he saluted, to indicate how his buddies had thanked him.
"Then they disappeared into the dark," Taylor said.
They turned up the next morning, he said, as did a general who had heard about the rescue and wanted a debrief.
"That general said to me, 'Taylor, I've been wearing this uniform since before you were born. I've been a lot of places and done a lot of things, but never have I (heard of) a more selfless act of heroism than that s--t you pulled last night.'
"Then he said, 'Don't do that anymore.' I said, 'No, sir, I won't,'" Taylor said.
Hill wrote that 40 years later, information came to light that North Vietnamese reinforcements were closing fast during the rescue.
"Had Lt. Taylor not taken the action he did, when he did, we'd have been overrun and killed," wrote Hill, who noted that Taylor flew more than 2,000 combat missions in all.
Taylor said he stayed in Vietnam for three more months, then was transferred to Nuremberg, Germany. He spent two years there, completing his active duty, and was discharged as a captain.
He has dozens of combat decorations -- 57, he said, while Hill claims he has 62. Foremost among those is the Silver Star, but Hill's trying to do something about that.
"I am the official nominator for upgrading (Taylor's) Silver Star to the Medal of Honor," he wrote, adding that the process began five years ago.
Taylor concedes that he'd be honored to receive the nation's highest military decoration, but insisted that what he told that general the morning of June 19, 1968, is just as true now as it was then.
"He asked me, 'What possessed you?'" Taylor said. "I just told him it was a job that needed doing."
BIO
Name: Larry Taylor
Age: 81
Branch: U.S. Army
Years of service: 1967-71
Contact Bob Gary at bgary@timesfreepress.com.