Clinica Medicos leaders and partners have begun renovations on a new, 8,000-square-foot facility designed to meet the dental and behavioral health needs of the Chattanooga region's underserved and growing Latino population.
The facility will be housed a quarter-mile from the main Clinica Medicos location on East 23rd Street in a former auto service station that the provider acquired in 2020 after the start of the pandemic. Many Chattanoogans will recognize the vacant station as the first site to offer free, drive-through COVID-19 testing to the community.
Dr. Kelly Arnold, founder and medical director of Clinica Medicos, said during a groundbreaking event Thursday the expansion is the next step in the team's goal to make quality health care more accessible to families who have few other resources and options.
"Like never before in Chattanooga, there will be a place ready for Spanish-speaking community members to take their emotional or psychological needs, along with their medical and dental concerns," Arnold said, speaking to a crowd of more than 100 people.
Photo Gallery
Clinica Medicos expansion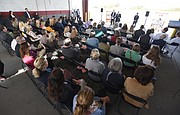 Since opening its doors in 2015, Clinica Medicos has grown from a five-person staff treating more than 2,000 patients in the first year to now having roughly 40,000 registered patients and 45 employees, including physicians, nurses, medical assistants, administrators and others. It's the city's only bilingual primary care clinic providing comprehensive care for all ages and stages of life, including obstetrics and pediatrics, regardless of a patient's insurance status or ability to pay.
"There's a phenomenon in health care, whereby the more patients' needs are connected and care is defragmented, the deeper the relationship grows, any burden of debt lowers, the more secure a patient feels and the more improved a life becomes," Arnold said.
(READ MORE: Clinica Medicos works to close gaps in maternal care for Hispanic women)
Renovation, which is slated to cost about $5 million, is set to be complete in about a year and will result in combined mental (Renuevo) and dental space (Clínica Sonrisas) of approximately eight bays and/or treatment rooms for dentistry, multiple therapist offices with family therapy and group therapy session rooms, in addition to conference space for the organization, according to Arnold and spokesperson Kerry Hayes.
In 2020, Clinica Medicos' leadership formed a philanthropic arm called the Medicos Mission Fund to identify and solicit funds to cover additional costs related to its mission. The largest of those contributions so far is a $250,000 grant from the Truist Foundation for the renovation.
Arnold on Thursday recognized many other partners from both the private and public sectors who have supported the expansion.
State Sen. Todd Gardenhire, R-Chattanooga, who spoke at the event, said improving education, health care and financial stability within Chattanooga's Latino community is essential to the city's future success and failing to do so would be "one of the most tragic mistakes" in Chattanooga history.
Gardenhire said after the event that $376,000 was reallocated from Tennessee Gov. Bill Lee's proposed budget to go toward the project.
(READ MORE: Hamilton County legislators redirect grant for Chattanooga's River City Co. to health clinic, Tivoli Foundation)
Hamilton County Mayor Weston Wamp spoke at the event and said he plans to approach county commissioners in the coming weeks about also investing in the facility, something he said former Mayor Jim Coppinger had promised to do.
"What's happening in our community right now is an enormous shift that will reveal itself fully with years to come when future physicians and elected officials and business leaders come from our Hispanic-Latino community," Wamp said, noting that 9,000 of the county's 45,000 public school students are Latino. "Already in a lot of ways, Clinica Medicos probably touches more Hamilton County public school students than any nongovernmental entity."
Contact Elizabeth Fite at efite@timesfreepress.com or 423-757-6673. Follow her on Twitter @ecfite.