Chattanooga City Council Chairman Darrin Ledford, of East Brainerd, has made a habit of asking his constituents how they feel about allowing short-term vacation rentals in his district. He's been keeping tabs on the issue since his 2016 campaign for the seat.
"It's a question I ask every time I engage with a constituent, whether in a group or bumping into them at the local hardware store," Ledford said.
He has tallied more than 1,500 responses during the past several years. With the exception of a handful of people, Ledford said, the vast majority of residents are not interested in having the short-term rentals as neighbors. They don't want to deal with the headaches, which can include an increase in traffic.
"I'm not here to represent an industry," Ledford said by phone. "I'm here to represent the people of my district, and the people have very strongly said to me, 'Thanks, but no thanks.'"
Council members reviewed a draft ordinance Nov. 15 that would alter the city's existing rules for short-term rentals. The city distinguishes short-term rentals based on whether the applicant lives on the property.
"Homestay" rentals act as the applicant's primary residence, which means they live there for more than six months in a single year. "Absentee" rentals, meanwhile, don't serve as an applicant's home.
Since 2017, the city has restricted short-term vacation rentals to a designated area -- excluding several areas based on their City Council district. Areas excluded from the short-term rental zone include Bonny Oaks, Brainerd, East Brainerd, Hixson, Ooltewah and Tyner.
Among other changes, the draft ordinance calls for eliminating that designated area and instead regulating rentals citywide based on zoning.
"There is no city in America that in our opinion successfully regulates this by council district," Chris Anderson, Mayor Tim Kelly's senior adviser for legislative affairs, told council members Nov. 15. "It's generally not how cities regulate much of anything."
New absentee rentals would be permitted in multifamily and commercial zones that allow residential uses. However, only homestays would be allowed in certain residential zones. Existing, legally-permitted absentee rentals would not be impacted by the proposed ordinance -- as long as there is no change in ownership and the permit is renewed annually.
Additionally, no more than 25% of the units in a multifamily dwelling could be reserved for short-term vacation rentals. The city would also boost the initial application and annual renewal fees for absentee and homestay vacation rentals to $500 and $250, respectively. Currently, those fees are $150.
Photo Gallery
Vacation rentals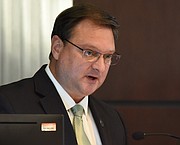 Although they haven't yet reached an agreement on the best way to regulate them, members of the council seem eager to boost penalties for operators who run unpermitted rentals. They also want to see how that approach plays out in practice. As of October, there were about 450 unpermitted rentals citywide, officials estimate.
"We heard consensus that enforcement was the primary concern of pretty much the entire council," Anderson said by phone. "So we are right now working on establishing new enforcement policies before moving forward with any new permitting procedures."
The city has postponed two public meetings it had planned for Nov. 30 and Dec. 1 so staff can adjust the proposed ordinance and bring it back to council.
"I think the bulk of the council is on board with our general direction, but they had some good changes and edits and feedback, so we're going to incorporate those into the next version," Anderson said.
Chattanooga recently implemented new software that identifies illegal short-term vacation rentals, and city employees have spent the last several weeks mailing notification letters to the owners of those properties.
Council members have agreed they would like to see the city hire an administrative hearing officer, a move that would enable Chattanooga to increase penalties for illegal short-term rentals from $50 a day to $500 a day. That will require action by the the City Council.
Ledford said he doesn't like the prospect of permitting vacation rentals citywide, but he does appreciate the steps the city has taken to boost enforcement.
"If we don't have more teeth in our enforcement, then we're not being effective," Ledford said. "We need effective enforcement."
In April, council members put in place a moratorium on applications for new absentee vacation rentals that will expire Jan. 9. City staff has suggested the body extend that temporary pause by at least another month, which would give officials more time to work on a solution.
"An extension of the moratorium is very possible, if not likely at this point," Anderson said. "I'd say that it's likely that we will want to extend it so this process is not rushed by an arbitrary deadline but handled the way it should be."
Councilman Chip Henderson, of Lookout Valley, said Thursday he's talked to Anderson about lifting the moratorium while placing conditions on the existing ordinance, suggesting a density cap on permits for absentee units. He expects the city is still months if not a year away from a fix.
"One of the first things we have to do is get an administrative hearing officer in place," Henderson said in a phone call. "Then we need to start the enforcement process, get a track record, so I see that being a period of time that just a 30-day extension ... is not going to satisfy."
Contact David Floyd at dfloyd@timesfreepress.com or 423-757-6249. Follow him on Twitter @flavid_doyd.