Two of the Georgia Trust for Historic Preservation's 10 Places in Peril for 2023 are in Northwest Georgia near the Tennessee state line.
Places in Peril is designed to raise awareness about Georgia's significant historic, archaeological and cultural resources, including buildings, structures, districts, archaeological sites and cultural landscapes that are threatened by demolition, neglect, lack of maintenance, inappropriate development or insensitive public policy, according to a Nov. 16 news release from the Trust.
"This is the Trust's 18th annual Places in Peril list," Trust President and CEO Mark C. McDonald said in the release. "We hope the list will continue to bring preservation solutions to Georgia's imperiled historic resources by highlighting 10 representative sites."
(READ MORE: Historic black churches among Georgia's 'places in peril')
Through Places in Peril, the Trust seeks to encourage owners and individuals, organizations and communities to employ the appropriate preservation tools, financial resources and partnerships in order to reuse, reinvest and revitalize historic properties that are in peril, Trust officials said.
In Catoosa County, the Yates House near Ringgold was built on land Presley and Rachel Thedford Yates received in the Cherokee Land Lottery of 1832. In Walker County, the Prince Hall Affiliate of the Free and Accepted Masons Chickamauga Lodge No. 221 was organized in 1916 by former enslaved and first-generation freed African Americans.
YATES HOUSE
"The county historical society wrote the proposal in conjunction with the utility district," Catoosa County Historical Society member Roger Bowman said Wednesday in a phone interview, noting the large tract of property is owned by the county's utility district.
"It's important because that's one of the only antebellum homes left in the county, and it's the only one left on a rural property," Bowman said.
The others that are left are inside city limits, he said.
The old home needs some restoration to preserve it, Bowman said, but because of a nearby spring -- Yates Spring, one of the county utility's water sources -- and related environmental restrictions, any work could take some time.
"However, architecturally and structurally, it's in good condition," Bowman said. "We don't know what direction it'll take. We have a professional engineer with the historical society, so he'll lead the process."
The house is one of the few remaining antebellum homes in Catoosa County. The house was completed in the late 1830s, with later additions made in the early 1900s, according to the Trust and Bowman. Presley Yates served as a delegate to the Georgia Secession Convention in 1861 and voted against secession despite being an enslaver.
(READ MORE: Dalton Masonic Lodge 238 named to Georgia's 2020 'Places in Peril' list)
But because the house is next to a critical water source that provides much of Catoosa County's water supply, public access and rehabilitation are not viable for now, officials said. The options for saving the Yates House may be limited, but the property owner, local historical society and community advocates are eager to preserve this early resource and its unique history, according to the Trust.
CHICKAMAUGA MASONIC LODGE NO. 221
The current home of Prince Hall Affiliate of the Free and Accepted Masons Chickamauga Lodge No. 221 was completed in 1924, according to the Trust.
Walker County African American Historical and Alumni Association Inc. President Beverly Foster said the lodge -- listed on the National Register of Historic Places -- is important for its role in the Black community of Walker County.
"It was originally connected to a school that was there in the community," Foster said Wednesday in a phone interview.
"Their first charter was in 1915, and it was formed by many of the people were who once enslaved African Americans," she said. The lodge has been on the list before, Foster said, and that led to funding to help shore up the foundation.
Immediate needs include a new roof and structural evaluation, and the interior and exterior of the building need repair, according to the Trust. Now cared for by local Masons from other regional lodges, the building remains an important space for the African American community in Chickamauga, officials said.
The lodge is owned by the Prince Hall Grand Lodge of Georgia in Atlanta, along with a local lodge in Chattooga County, Foster said. The Chickamauga Lodge's current members joined the neighboring lodge until the one in Catoosa County is restored and usable.
(READ MORE: Catoosa County, Georgia, residents look to future of existing hospital campus)
Foster said $250,000 has been injected into the effort by an anonymous donor, and the lodge's base of supporters have been fundraising to pay for work. The lodge is an important part of the early community and a priceless piece of local history, according to Foster.
"Back in those days, that was during the lynching era," Foster said. "We had to have our own organizations for community support to help build schools and churches and establish community activities."
Foster said Black organizations like the lodge were the only resources for members of that community. Original structures on the site at the corner of Cove Road and Knox Drive -- including the home of one of the lodge's founders -- burned "mysteriously," Foster said. The rebuilt, current lodge was completed in 1924.
Now, armed with funding to get started, lodge supporters in Walker County and Atlanta have their eyes on a goal, she said.
"We feel confident they'll do an excellent job," she said.
Photo Gallery
Places in peril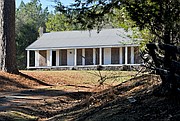 Georgia's 10 Places in Peril 2023
The Georgia Trust for Historic Preservation's 2023 list of 10 Places in Peril in the state.
— 229 Auburn Ave. in Atlanta in Fulton County.
— Beulah Grove Lodge and School in Douglasville in Douglas County.
— Chickamauga Masonic Lodge No. 221 in Walker County.
— Dasher High School in Valdosta in Lowndes County.
— Dudley Motel, Cafe and Service Station in Dublin in Laurens County.
— Lee's Mill Ruins on the Flint River in Forest Park in Clayton County.
— McConnell-Chadwick House in Milton Fulton County.
— Old Campbell County Courthouse in Fairburn in Fulton County.
— Wilkes County Training School in Washington in Wilkes County.
— Yates House in Ringgold in Catoosa County.
Source: Georgia Trust for Historic Preservation
Contact Ben Benton at bbenton@timesfreepress.com or 423-757-6569. Follow him on Twitter @BenBenton.