Downtown Chattanooga's trendy Southside will hold the city's first Hyatt hotel as a developer plans a five-level, 123-room location near the key Main and Market streets corner.
A nearly new brand called the Caption by Hyatt will go up at 105 W. Main St. if the proposed $30 million project receives city approval next month, said Hiren Desai, chief executive of Chattanooga-based 3H Group Inc.
Desai said the planned downtown lodging will be only the second or third Caption site worldwide.
"Hyatt wanted to be here," he said in an interview Tuesday. "It will be a pretty unique development."
Desai, whose group holds about two dozen properties, said the new hotel will offer a boutique experience that's "fresh, clean, elegant." He said plans call for an outdoor cafe along Main Street as well as a rooftop element, including green space.
"We'll create something cool," the developer said. "We'll create a whole different experience on the roof."
Work could start in the first half of 2023 on a tract that holds a parking lot and a portion of a building that 3H Group once considered renovating for a home office, he said. The hotel, which will offer more than 100 parking spots within the structure, is to open a year to 18 months after construction begins, Desai said.
According to Hyatt, the first Caption opened recently in Memphis. Hyatt, which has a strong international presence, also has new Caption units coming to Shanghai, China, and Osaka, Japan. Desai said Nashville, too, has plans for the hotel.
Photo Gallery
Hyatt hotel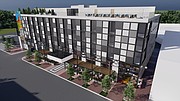 Project designer Selene Varela of Gonzalez Architects in Miami said the hotel will be "an exciting addition" to the Southside and offer a variety of public spaces, including a concept called the Talk Shop.
The Talk Shop will hold a colorful coffee shop and bar area with diverse industrial elements and wall art, she said in an email.
"The hotel will incorporate art from local artists and food that is unique to the area," Varela said. "The rooftop will offer lounge areas surrounded with lush landscaping, a rooftop bar and a restaurant pavilion."
Desai said he likes downtown's Southside because it's walkable and offers a lot of local eateries and options. He said the hotel "will bring that city life."
The Southside will have at least four hotels under development if the Caption receives a variance from the city's Form-Based Code Committee on Dec. 8.
This summer, a $25 million, five-story boutique hotel was proposed for East Main Street and Mitchell Avenue by Mountain Shore Properties of Charleston, South Carolina, one of the developers of that tract.
Work on that project is expected to start next year, with the hotel opening in 2024, an official said in an earlier interview.
Also this year, a developer revealed plans for a seven-story structure holding both the Home2 Suites and Tru by Hilton hotel brands near the Chattanooga Convention Center on Carter Street.
The $33 million, 180-room hotel project would go up at 1201 Carter St., said Sam Patel of Emerge Hospitality Group in an interview in February.
Last year, construction started on a La Quinta Inn at Cowart and 13th streets. That hotel will hold 123 rooms, an official said then.
In 2021, 3H Group formed a strategic alliance with an Alabama-based business to create one of the biggest hotel management operations in the Southeast. Desai's company aligned its hotel management operations with LBA Hospitality of Dothan, Alabama. 3H Group has shifted its corporate headquarters to the James Building downtown, Desai said.
Contact Mike Pare at mpare@timesfreepress.com or 423-757-6318. Follow him on Twitter @MikePareTFP.