Worsening mental health, overdose deaths, an increase in syphilis and falling childhood vaccination rates were areas of concern highlighted Monday at the first Hamilton County Regional Health Council meeting since the start of the pandemic.
The 27-voting-member council, made up of local leaders with a range of expertise in areas related to health, is tasked with monitoring health issues across the county and recommending strategies to improve the health of residents.
The county mayor appoints 16 council members, and each county commissioner appoints one. Since its last meeting 30 months ago, 14 new members and three new nonvoting members have joined the council.
In an effort to get members up to speed, staff from the Hamilton County Health Department gave a presentation detailing current health trends of concern in the county. Members will consider the information as they work over the next month to develop their focus areas for the post-pandemic era.
Photo Gallery
Hamilton County Regional Health Council meeting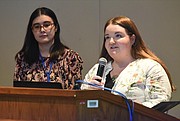 While COVID-19 has had a negative affect on mental health overall, epidemiologist Ayano Annis said that effect is worse among young adults and children.
"It is important to note that there had been a decline in children's mental health prior to the pandemic, as well," Annis said. "The pandemic just also had an effect on the decline of mental health in children."
(READ MORE: New 988 hotline provides immediate help for mental health crises)
Preliminary data on local drug overdoses, which will not include the most recent overdose deaths, shows that since January 2021, there have been 286 fatal overdoses in Hamilton County, with 241 of those occurring in Hamilton County residents, according to epidemiologist Megan Sloan.
Out of the 286 total deaths, 212 had a synthetic opioid such as fentanyl listed as either the primary or contributing cause of death. In the U.S., overdose deaths involving synthetic opioids in 2020 were more than 18 times what they were in 2013, Sloan said.
"There's this pretty steady increase for the last few years, but then once the pandemic hit, it's just an exponential climb," she said. "We're seeing that nationally and in our county, as well."
Syphilis, a bacterial infection usually spread by sexual contact, has also seen a significant rise, according to epidemiologist Janie Burley.
"We're at 122 (cases) for the year to date," Burley said. "This is a 47% increase from the same time last year."
There's also been an increase in the number of women of reproductive age testing positive for syphilis and an increase in congenital syphilis, which occurs when a mother passes the infection on to her baby during pregnancy. Congenital syphilis can cause severe birth defects and possibly death to the child.
Health Department staff also pointed to the decrease in childhood vaccination rates from a Tennessee Department of Health report that found 89.7% of kindergartners in Hamilton County were fully vaccinated during the past school year, down from 91.6% the year before.
Vaccination rates must remain above 95% -- a threshold that until 2021 Tennessee kindergartners consistently surpassed or nearly achieved -- to be at low risk through herd immunity for highly infectious, vaccine-preventable disease outbreaks such as measles or pertussis.
Council members said they will take a more in-depth look into those issues and establish focus areas for committees at their next meeting, which is scheduled for Nov. 7.
(READ MORE: These are Chattanooga's 2022 health care leaders that went above and beyond)
Committees in the past have focused on health disparities, tobacco use prevention, healthy eating and helping older adults in the county, among other issues.
Contact Elizabeth Fite at efite@timesfreepress.com or 423-757-6673. Follow her on Twitter @ecfite.