Tennessee football fans are allowed to celebrate Saturday's 52-49 victory over Alabama all week long, or significantly longer if they so choose.
Not so for Volunteers players, who went back to work Monday morning. Tennessee, which improved to 6-0 and moved up to No. 3 in the latest Associated Press poll, steps out of Southeastern Conference play this weekend when UT Martin arrives as the Homecoming foe inside Neyland Stadium.
"Obviously from the outside in, everybody is excited about the win," Heupel said Monday afternoon in his weekly news conference. "From the inside looking forward, we've got a lot of things that we have an opportunity to get a whole lot better at. The challenge for us is to become our best.
"We're in the early stages of that, so the urgency, preparation and focus has to remain consistent, and that was the message to the players."
Tennessee's triumph over the Crimson Tide was its first since 2006, snapping a 15-year series skid in which 13 of the outcomes were decided by double digits. Saturday's game was decided on sixth-year senior Chase McGrath's 40-yard field goal as time expired, which was followed by fans rushing the field that resulted in a $100,000 fine from the SEC office.
By Monday's practice, that frenzied scene was long gone.
"They got a good dose of reality from their position coaches and from me, too," Heupel said, "but the looks in their eyes said that they wanted to improve. I'm looking forward to this week unfolding the right way."
Vols junior defensive tackle Omari Thomas said his position coach, Rodney Garner, provided a brief reflection before moving on.
"Coach G congratulated us and was happy for us and told us how proud he was," Thomas said. "Right after that, he immediately said, 'Let's watch this film and make those corrections.'"
Said senior tight end Princeton Fant: "We're dialed in. We're on to the next game. We're happy that we beat Alabama, but there is more business to take care of."
Tennessee racked up in SEC honors Monday, as junior receiver Jalin Hyatt earned offensive player of the week, senior right tackle Darnell Wright received offensive lineman of the week, and McGrath earned specialist of the week. Hyatt amassed six receptions for 207 yards and a program-record five touchdown catches, while Wright played 70 snaps and did not allow a sack or a pressure.
Hyatt, who became the first Vols receiver to amass 200 yards since Cordarrelle Patterson tallied 219 during a 55-48 surviving of Troy in 2012, was also named national offensive player of the week by the Walter Camp Football Foundation.
Photo Gallery
Tennessee vs. Alabama football, Oct. 15, 2022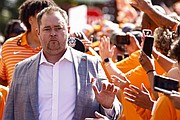 After the chaos
Following Tennessee's win, Heupel said his Saturday evening consisted of celebrating, media obligations and recruiting.
"That's a celebration we want to have more of," he said. "We had an opportunity on the back end of that to do a bunch of recruiting. There was a great amount of guys who were here, and that's important for the future of our program."
Heupel added that he got home around midnight and then spent time with family and friends.
From my angle on the field, the only way I could tell Bama had missed the 50-yard FG late was the crowd's reaction. A hush when it was in the air and then it got really really loud pic.twitter.com/dHxuCpaQ5M

— Stephen Hargis (@StephenHargis) October 16, 2022
Avoiding suspension
In the final two minutes of the second quarter, play was stopped in order to review whether Thomas had committed targeting on Alabama quarterback Bryce Young following a Young incompletion.
"I didn't try to purposely hurt him," Thomas said. "In that moment, I didn't know it was being reviewed until we were in the huddle and Coach G was talking to me about it. I didn't feel like I had done anything.
"I was just trying to make a football play."
Alabama coach Nick Saban said Monday that he hasn't received an explanation as to why targeting wasn't called.
"We turn the plays in, and I'm sure the league office will look at it and make a determination," Saban said. "I think there are two things at issue here -- targeting and you're not supposed to hit the quarterback in the head. Last year against Texas A&M, Malachi (Moore) got thrown out of the game when the guy was out of the pocket, and he jumped up to block the ball and ended up almost accidentally hitting him in the head.
"He got ejected from the game, so there are really two things that should be looked at."
Spoke with a security guy along the sideline during the timeout before McGrath's kick who said, "We've been instructed to discourage fans from coming onto the field but if he makes this, there's just no way! We'll just try to make sure nobody gets hurt jumping the wall."

— Stephen Hargis (@StephenHargis) October 16, 2022
McCollough update
Heupel was asked Monday about the status of senior safety Jaylen McCollough, who was arrested Oct. 9 on a felony aggravated assault charge.
"He's not suspended," Heupel said. "He's been around. He just wasn't available for Saturday. The process is still going on with him, and we'll continue to see how that plays out here.
"I look forward to having him available soon."
Odds and ends
In three SEC games this season against Florida, LSU and Alabama, the Vols have punted three total times. ... Tennessee has a noon kickoff this weekend on the SEC Network and will host Kentucky next Saturday night at 7 on ESPN. ... The only previous meeting against UT Martin resulted in a 50-0 win back in the 2010 opener.
Contact David Paschall at dpaschall@timesfreepress.com or 423-757-6524.
Snapped! What's left of one goal post pic.twitter.com/734C5YaSfY

— Stephen Hargis (@StephenHargis) October 16, 2022
Don't think that'll fit in the trunk of their car pic.twitter.com/ASrVrqYuLK

— Stephen Hargis (@StephenHargis) October 16, 2022