Tyner football player Trae Ruffin's start to his senior year has been nothing but exceptional, but what he has accomplished on the field and in the classroom suggests nothing about the challenges he faced over the past eight months.
Those were exceptional in their own way.
On Dec. 6, 2021, Ruffin had 15 seizures after receiving a hard blow to his head in a basketball game at McMinn County High School.
"I thought the seizures would just pass, and then I would be back out there in a month or two," Ruffin said. "I got to the hospital that night, and they told me I was going to have to relearn how to walk again and that I would never play football again. But I believed in myself and fought back."
Ruffin was put on bed rest for three months with orders to stay in a dark room, meaning no television or even the brightness of a cellphone was allowed because his eyes were too sensitive to light. He had to be pushed in a wheelchair by his family to get around before learning to walk again 2 1/2 months after the life-changing moment.
Tyner basketball coach E'Jay Ward rode with Ruffin to the hospital that harrowing night.
"To see him collapsed on the floor and having constant seizures for 15 to 20 minutes was scary. That injury could have ended everything for Trae. But with the stuff he went through after that, it woke him up and changed his outlook on life," said Ward, whose program dealt with the tragedy of losing a team member when 16-year-old Javon Craddock died during an offseason pickup game in May 2018.
Photo Gallery
Tyner football player Trae Ruffin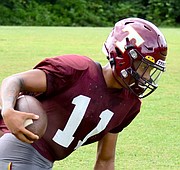 Ruffin underwent six months of physical therapy and was not cleared to start football activities until nearly a month before the start of this season. With two games behind them now, the Rams can take inspiration from what Ruffin has accomplished on the field and off it.
He has been an A student in the classroom while also serving as Tyner's most explosive playmaker on offense and defense. The 6-foot, 175-pounder has shown runaway speed by totaling 197 receiving yards on four catches — two of them touchdowns — and as an outside linebacker/safety, he has four tackles for loss and two sacks. Ruffin's intense play led Ward to compare him to the "Honey Badger," NFL defensive back Tyrann Mathieu.
Ruffin has also excelled on special teams as the Rams' long snapper, a position he did not start practicing until last season to address a team need.
"Sometimes you take stuff for granted and when it's taken away from you for a while, you start to think, 'I could be done,'" Tyner football coach Scott Chandler said. "I think that's what Trae felt. For him to come back like he did inspired him not only to be a better player and teammate, but a leader in the school and classroom as well. He wants to play college football, and he knows what he has to do to get there."
Ruffin has been a vocal leader in a stout senior class of 19 that has helped Tyner (2-0) earn a No. 3 ranking in Class 2A ahead of Friday night's Region 3-2A opener against visiting Marion County (1-1). Ruffin has been a good target for senior quarterback Josh Jackson, who has passed for 557 yards and eight scores combined in wins against Howard, 43-0, and Grundy County, 39-6.
"Being out here with my teammates means the world to me, and I will play my heart out for them," Ruffin said. "To make it back to where I am hasn't been easy, but nothing in life ever comes easy.
"You have to put the work in and stay focused. I have had a lot of people rooting for me and helping me get back to where I am. Sometimes God makes you go through tough challenges to come out with a better and fresh perspective on life."
Contact Patrick MacCoon at pmaccoon@times freepress.com. Follow him on Twitter @PMacCoon.